Binary Code: Spotlighting Queer Non Binary Excellence from Withing Las Vegas
Article By Jennifer Howe (They / Them)
Photos by Glen Wellen (They/Them) Vanta Vision Photography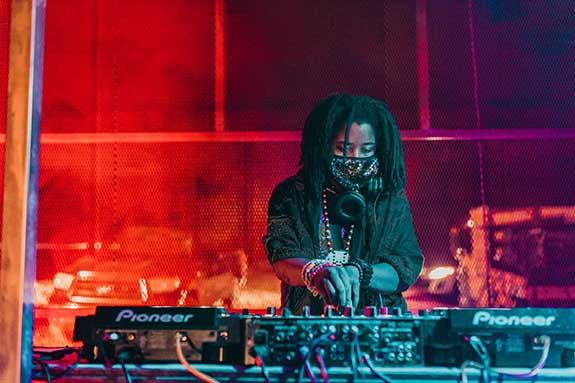 I kept crossing paths with DJ Moeejito, at queer events like Lilith at Badlands, where they are a resident DJ and the femme pool party hosted by Las Vegas PRIDE, where Moe was DJing and grooving alongside their fiancée Raven. My enby radar detector was going off, so I decided to approach them and ask, if they knew any non-binary folks that might want to be interviewed for Las Vegas PRIDE magazine. They responded as I had hoped, stating that they were non-binary and would be down to be featured.
It was a delight to get to know Moee better as we chatted and met up to work on this piece. They were very candid and open with me about their life and experiences. Their journey hasn't been an easy one, but they have forged a new path and you get the sense when you talk to Moee, that they are older than their 27 years. Moee talks with a voice that is smooth, deep, deliberate. They speak, move, and come off quite serious. However, it's easy to get them to laugh and crack a smile.
Their adamantine presence is colorfully juxtaposed by the stacks of kandi adoring their wrists (kandi is the name the raver community calls their stretchy bracelets made from letter beads and neon plastic pony beads), in true raver fashion. They have large brown eyes that sparkle when they talk about their music or things they love. Moee has locs that fall just below their shoulders, but they dress in style that has both femme and masc enegry with their clothing being more masucline but their accessories and style accents being more feminine. What I appreciate most about Moee, is their authenticity, as they exemplify that in everything they do.
How would you describe your gender identity?
I've always considered myself Moee. Moee first, which is essentially not necessarily fully man or fully woman. So, I found it very difficult to find a label for the majority of my life. Then I found the term agender, and I thought that was probably the best way to describe it. Not fully one or the other but on the spectrum containing both energies. Non-binary sounds like the broadest way to describe someone like me. I'm more masculine than anything but I am still a woman, and that is my sex and I do not wish to change my sex.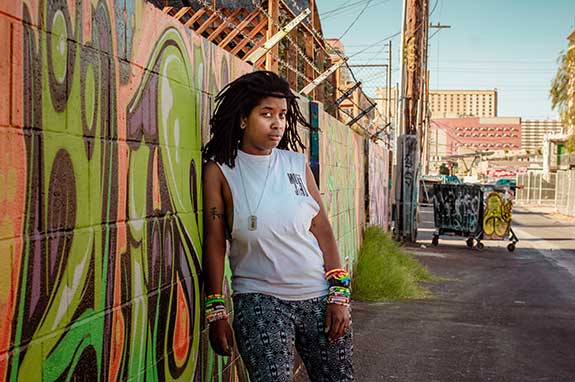 Tell me a little bit about your personal history and how you came out.
In 4th grade, I noticed something different. I always had, like, an attraction to hanging out with girls more so than males. I had a best friend at the time that I spent a lot of time with and I noticed I felt differently about her than my other friends and I wanted to be around her more than my other friends. When I noticed that difference, I really wasn't sure how to verbalize it and I didn't feel comfortable verbalizing it because I knew no one would understand. I didn't even have the word for it. That's when I first started journaling in 4th grade and everyday I would write about how I felt and noticing the feelings getting stronger and I was very scared to tell her. But, I was going to be moving soon and so I thought, ok, this is the best way to get this out. Worst case scenario I am going to leave and I won't have to deal with a negative reaction or ya know, her feeling uncomfortable around me after that. I decided the last day that I left school in 4th grade to just give her the journal and just walk away. I watched her open the journal and she read it and to my surprise, she was touched and flattered and felt the same way and then I moved away.
So in 8th grade, I told my mom, initially she had a very calm reaction, very positive and said she was going to love me regardless and we kinda left it at that. I came out, I had my first girlfriend and my mom was aware, slowly over time as I went through high school, things started to get more hostile in my home. I did not feel comfortable or safe talking to my mom, after about the age of 16 years old.
The last day or my junior year of high school, I didn't tell my mom that I had a half day I went to my friend's house and got a haircut, cut it all the way down to a fade and that was kinda of the beginning of her realizing that, "my child is very different from the daughter I thought I had". She was very confused and thought that I wanted to transition and at one point she asked me if I wanted a penis and I said, "No." That's when I knew, for sure, that this was beyond her comprehension [they gesture their hands wide as they emphasize] this gender spectrum. I had to leave in order to kinda take my power back and take ownership over my life. So, I left at 17 and from then on I moved in with someone, who became a mentor for me in the queer community, and from that moment forward I chose to live unapologetically despite my family's perspective.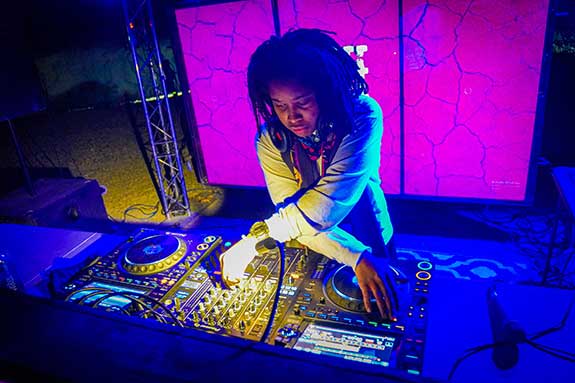 How did you start getting into the music scene and DJing?
I went to my first rave in 2017, and that was what ultimately inspired me to create electronic music. The only thing I had done before that was just creating music with my acoustic guitar and my words. I started making music in 2018, then COVID-19 happened and everyone was at home by default I thought it was the best time to finally invest in some affordable equipment so I that I could start practicing DJing, and by the time things started to opening back up I would be confident in my skills as a live DJ.
Who is someone who inspires you within the music world?
One of my biggest inspirations is Rezz, she is actually on my shirt. [They sit up straighter and pull the bottom of their psychedelic t-shirt down, so I can better see the full image of a smiling femme face with spiral rave goggles and a bunch of colorful lines and shapes indicative of scared geometry, eyes peak out between the negative space and the more the you stare at this art, the more details start jumping out at you.] This is one of my favorite shirts. The reason she is a big inspiration to me is because she is very young, around my age early 20s, she is a pioneer in the electronic music community because she created a sound, sorta a sub-genre, that is unique to her. Already in just a few years she has inspired a lot of other artists with those same sounds. Her shows are not like any other, all original music, created visuals by her, the lasers are programmed by her and her team. Everything is very authentic and it's different. It doesn't sound like anything on the radio or anything you would come across on your own. The community around it is very close knit because of her music.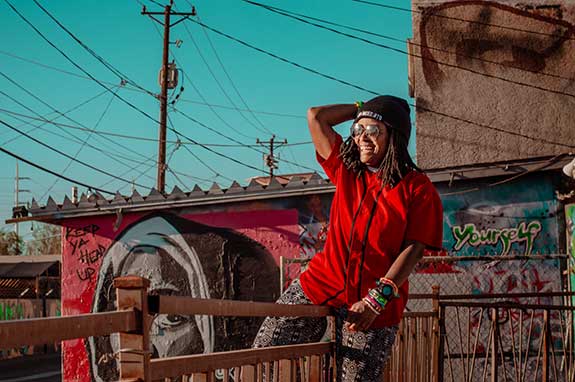 How would you describe the music that you make?
I call it, feel good music. It's music that is designed to get you moving, to get your body grooving. I have always found dance and music as an outlet, a therapy if you will. Whether it's house music, with an upbeat rhythm closer to the foundation, closer to disco, whether it's groovy or funky. Then there are other times it takes you somewhere else. It transitions into something, and you have no idea what's coming, and there are new sounds from an entirely new genre. I like to fuse different genres together and go back and forth, weave them together and show people new ways that they can be morphed and created into something else.
What do you think that the queer community in Las Vegas needs right now?
The queer community needs more safe space in particular for women, queer women. When I say safe spaces, I mean spaces that not only provide an area where people can come together and feel comfortable on the physical level and on the emotional level. Meaning that you are able to come as you are and share your opinions without being persecuted or attacked, whether that's verbally or physically. More, than ever now, I feel like women need these spaces and as a feminist (I believe) it's important for us to come together from all different walks of life and colors to learn from each other and unify.
You can find Moee where they are playing next on Instagram @Djmoeejito and stream their music on all major platforms.
#Femaledjsunite Live Event photo courtesy of Dj Moeejito
Editorial Photos by Glen Wellen (They/Them) of Vanta Vision Photography @vanta.vision.photo on instagram
Please reach out to Jennifer if you are an enby person in the Las Vegas area and want to be featured.
Jennifer Howe (They/Them)
Las Vegas PRIDE,
Associate Board Member
@Ladycoquine on Instagram
jhowe@lasvegaspride.org