Out and Proud – An Interview with United Way of Southern Nevada CEO Julian High
The United Way of Southern Nevada (UWSN) turns 65 this year and they are ready to celebrate. They are planning almost monthly celebrations throughout the rest of this year and will kicked things off with their 65th Anniversary Golf United Tournament on May 26. Events will include their largest day of volunteering on September 23rd, UWSN's Day of Caring, and culminate in the Spring of 2023 when UWSN will host their spectacular gala event, the 65th Anniversary Legends and Lions Ball. The United Way's mission is to unite our community to improve people's lives, and they do it by being innovative and collaborative. One of the ways they have done just that is by bringing on a new leader.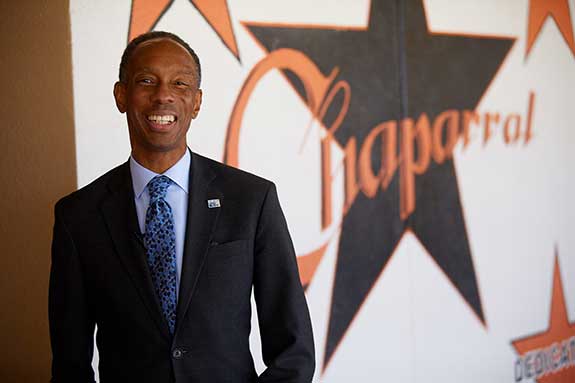 In September of 2021, Las Vegas native Julian High was selected as the organization's president and CEO. Returning to the valley and taking the helm of this fundraising powerhouse was like coming home for High. This was the match he had been waiting for and the perfect way to marry his years of experience with his devotion to Las Vegas. He credits the city and its community with giving him his sense of self and sense of power that has carried him through life. "I received a gift from this community in my formative years," said High. "I am humbled, honored and blessed to have the opportunity to be here now to give back. In this moment, my purpose in life has been realized."
So what do you know about the United Way, let alone the chapter in Southern Nevada? UWSN fundraises and they do it well. They then take those gifts and partner with local organizations to provide a variety of resources and programs to 1 in 4 residents across the valley. Since UWSN is a local chapter, gifts and donations they receive stay locally. And since its inception in 1957, UWSN has been committed to affording people the opportunity to succeed. Their impact on the community can be both seen and felt. From July of 2018 through 2021, UWSN provided support to almost 41,000 students, from pre-K through graduation. During this time period, they also ensured more than 3,000 people received job training and job coaching, and that 870,000 individuals received emergency assistance for housing, utilities and/or food.
"It's not lost on me that I have inherited a strong foundation for success, said High. "I have been president for seven months and I credit our strong and committed UWSN team of 35, who were here long before me, for much of the great work that has been done in Las Vegas."
The organization raised $2.4 million through the pandemic and has been dedicated to effecting change in our community. High hopes the work they do will institutionalize goodwill in the community and set an example for people, not only here in Las Vegas, but across the globe. A $10 million gift from Amazon's co-founder Mackenzie Scott will certainly boost UWSN's potential to help. In fact, they have already increased their funded partners from nine to 44 and want to utilize their work to make a lasting legacy in the community. "I would love for people to show up and show out to demonstrate what southern Nevadans are capable of," said High.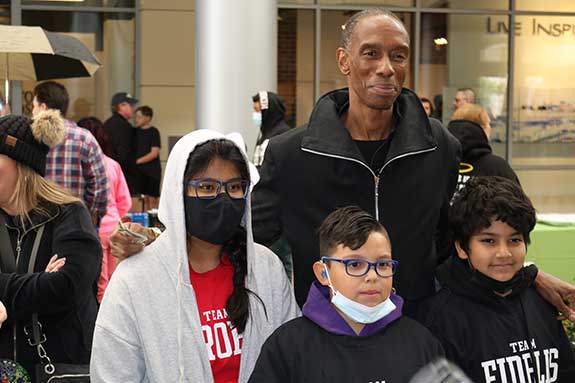 As UWSN celebrates 65 years, the organization will honor all those who came before and helped build the organization while focusing on helping develop the next generation of leaders. The kickoff event, the golf tournament in May, is a nod to the business community who were crucial in a United Way chapter being founded in Las Vegas and has helped sustain the organization. At the same time, High acknowledges the landscape of philanthropy has changed and the organization is changing with it. They plan on continuing their efforts to stay relevant in our community, align philanthropic giving with local issues and hope to be around for at least another 65 years.
Being a pioneer on the forefront of change is nothing new for High. His mother was a nurse's aide and did not know how to read when she married his father, who worked construction. His parents moved to Las Vegas in 1947. He was bussed to Chaparral High School and despite being one of only 120 black kids in a student population of 3,000, and openly gay, he was voted student body president. In 1994, he was named Director of Community and Government Affairs for Sahara Gaming Corporation, becoming the first African American to serve in that role at any gaming corporation in Southern Nevada. He later served as the Director of Diversity and Inclusion and Human Resources for the Human Rights Campaign (HRC), helping to propel the organization to be nationally recognized for their work with diversity, equity and inclusion.
His journey has taken him across the nation and around the world, but something called him back to Las Vegas. After a two-year trip around the world with his husband of eight years (together for 14), High found himself longing for home. Despite all the challenges the pandemic presented, he eventually threw his hat in the ring for the position with UWSN and once he got it, has not looked back.
"I am grateful for the opportunity to help the community that sustained and nurtured me," said High. "It feels good to be in the position to help my siblings in the LGBTQ community." He admits feeling like he let his community down when he left HRC. But, he has discovered that sometimes moments present themselves to help us realize our true life's purpose. "There is always redemption, always time for healing, always the opportunity to come back," he said. There is no time like the present for High showing up every day to help unite the community, out and proud.