Cowabunga Canyon Waterpark Makes a Splash
By Las Vegas PRIDE Magazine Staff
As the days draw closer to the official start of the summer waterpark season, the newly named Cowabunga Canyon in southwest Las Vegas is wrapping up a multi-million dollar offseason improvement program to create a fresh, new look and improved overall guest experience.
The former Wet 'n Wild has been transformed into a setting best described as "wild west canyon" featuring the popular colors of the southwest – coppers, gold and silvers – along with eye-catching graphics.
More than 25 attractions also have been renamed to reflect the new western canyon feel. The popular Zip, Zap Zoom is now Boot, Scoot & Boogie while others have been renamed Boomer Wrangler, Deuce's Wild, Ricochet Racer, Piñata Falls and Buckaroo Bayou. A 1959 Cadillac Eldorado will be the main focus of the newly themed Cadillac Shores wave pool.
"It's like walking into an all-new waterpark," says Shane Huish, Regional Manager of Cowabunga Canyon. "Our guests are really going to like the new look and feel."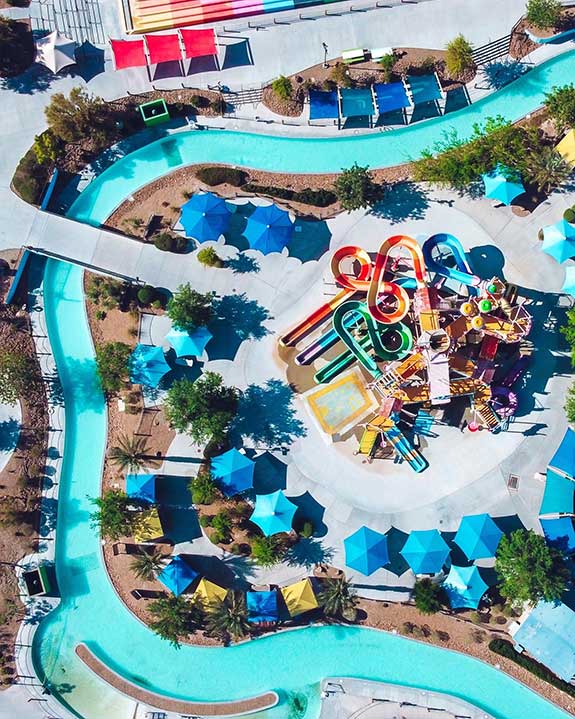 Huish adds the waterpark has upgraded the mechanical systems at several of its attractions to ensure their continuous operations. It also has doubled its employee base and implemented all-new training programs.
As for the waterpark's food-and-beverage operations, Cowabunga Canyon invested in new, higher-performing kitchen equipment and doubled the number of service windows to increase each outlet's service levels. A new point-of-sale program, including a new season pass wristband for cash-free purchases, also will improve each outlet's ability to serve guests in a more timely fashion, Huish says.
Two new food-and-beverage outlets, a Chicken Strip & Fry Shop and a funnel cakes booth, will be added in early summer.
Also for the first time, Cowabunga Canyon season pass holders will enjoy unlimited admission at nearby Cowabunga Bay in Henderson.
In addition to offering two parks for the price of one, Cowabunga Vegas Pass holders will save with free parking at both parks; 15-percent off food, non-alcoholic drinks and retail purchases; and discounted guest tickets. Season pass holders also will enjoy priority early entry and the convenience of cashless pay wristbands for in-park use.
Cowabunga Canyon opens daily starting May 26. The Las Vegas Valley waterpark is located at 7055 S. Fort Apache Road near Warm Springs Road.
To purchase season passes and tickets and to plan your visit, go to www.cowabungabayvegas.com.