LGBTQIA Community Housing Forum: Seeking a solution for affordable and welcoming housing in Las Vegas
By Alexandria Evans, MPA & Jason Flatt, PhD, MPH
On Monday, April 4th Building H.O.U.S.E. Las Vegas, a new group out of the UNLV School of Public Health with collaborators from the Department of Psychology, Nevada Minority Health Equity Coalition and The Center, facilitated an LGBTQIA+ Community Housing Forum to identify solutions to bring inclusive, affordable, and LGBTQIA+-friendly housing to our region. We've continued to see the cost of housing soar in our region, and a growing demand for housing as the number of people moving to Southern Nevada continues to rise. Many people in the LGBTQIA+ community, particularly those who identify as racial/ethnic minorities and as transgender and gender diverse, are at risk of losing their homes and are unable to keep up with rent increases.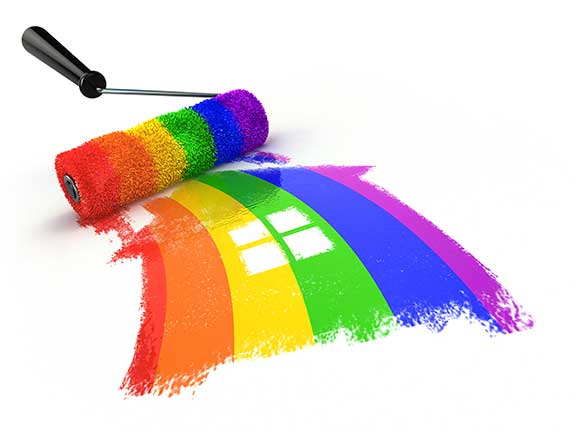 The primary goal of the LGBTQIA+ Community Housing Forum was to brainstorm and identify potential solutions for affordable and welcoming housing in our region by working with local community leaders. Our brain storming activities with 42 community leaders helped us to identify that familial structures, legislation, resources, safety, and funding were key areas needing unique programs and services to support those in the LGBTQIA+ community experiencing housing insecurity and homelessness. This input is the first step in finding new ways to create welcoming and affordable housing for LGBTQIA+ people living in Southern Nevada. A report on our work together will be coming out soon.
"LGBTQIA+ people are [often] homeless because of some harsh circumstances. They've been booted out of their homes. They've been alienated from their families. They've been abused, they've been assaulted. And they're already facing lots of traumas, and now they're being treated poorly [in housing opportunities] based on how they identify." – Community Leader
In an effort to promote visibility, and bring additional supports to Southern Nevada's LGBTQIA+ community, our group has applied for the 2022 – 2023 Community-Engaged Research Pilot Grant to increase and support our efforts. Be on the lookout for our second housing forum next year. In the meantime, we want to invite community leaders and advocates to join our advisory board!