Everyone is a VIP at Cheapshot
By Las Vegas PRIDE Magazine Staff
Welcome to Cheapshot,
Where Everyone is a VIP
Come one, come all to Cheapshot, a palace of varieties at 517 E. Fremont St. Suite that opened in early April. Presented by the notorious "Miss Behave" Amy Saunders, and Corner Bar Management, the creators behind some of Vegas' most imaginative destinations, Cheapshot showcases a loose, live, and down 'n' dirty entertainment.
"Showbiz runs through our blood at Cheapshot," said Saunders, maestro of entertainment for Cheapshot. "Without the need to play it safe, we're taking it back to the wild times of the old school Vegas showrooms and lounges."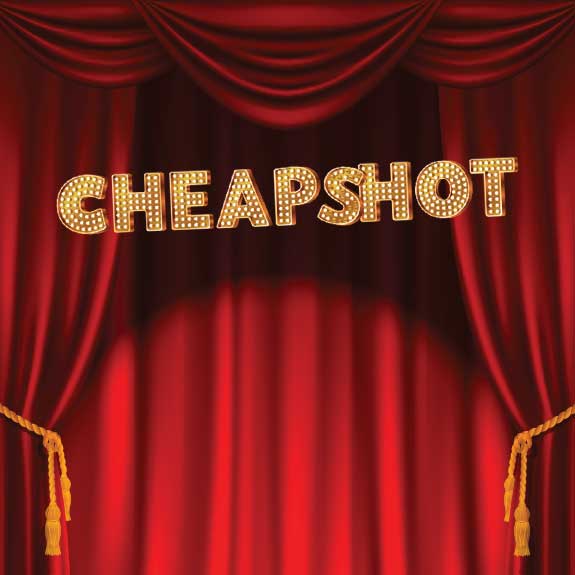 Draped in rich reds with touches of gold accentuated by soft lighting, Cheapshot will reign as the most intimate showroom and discotheque in Las Vegas at 3,000 square feet with seating for 99. Elegant booths and plush seating will surround the stage, which will present an ever-changing lineup of bawdy performances. Bartenders will serve cheap, stiff drinks with a wink and a grin, priming the audience for a night of irreverent entertainment.
The entertainment lineup will be unpredictable and wide-ranging. "It will be weirdly sexy," said Doherty, founder of Corner Bar Management. "Downtown Vegas is the Strip's naughty little sister and Cheapshot captures that live and loose feeling. Like anything could happen."
Saunders, a fabulously outlandish performer and curator who has spent the last 20+ years entertaining audiences as her alter ego, Miss Behave, will orchestrate entertainment for Cheapshot. One of the original stars of Absinthe and the award-winning global phenomenon, La Soiree, they are a trailblazer in the modern variety scene.
They produced multiple critically acclaimed variety shows, acquired Guinness World Records for sword-swallowing, and ran an anarchic festival favorite venue, Mavericks, at the Glastonbury Festival. They brought the cult smash, "The Miss Behave Gameshow," to Las Vegas; where it became a local favorite, awarded "Best Strip Secret" and "Most Outrageous Show" during its three-year run on the Strip.
With a long-time obsession for Downtown Las Vegas, Saunders has sought to bring their brand of irreverence and showbiz to the original home of entertainment, Fremont East.