Hustla Ball Returns
Le Cabaret Promises Sex Positivity and World Class Talent
By Joslyn Hatfield
HustlaBall returns to Las Vegas January 13-16, 2022, for its eighth year of sex positive mischief of the highest order.  The worldwide phenomenon returns bringing some of the hottest international names in entertainment and nightlife, as it has for nearly a decade. From Televiv to Berlin. Vancouver to Las Vegas. HustlaBall promises an inclusive multi-day party built on respect, consent and yes, a little pushing of the envelope.
According to Executive Producer Fabrice Marino, HustlaBall is for anyone who wants to escape the mundane and explore Le Cabaret, the 2022 theme for the event. "It's the only event of its kind in North America that combines erotica, bondage, kink and in a welcoming environment," said Marino. "HustlaBall is an inclusive space that celebrates body positivity and every identity represented in our beautiful rainbow."
Marino established himself in the nightlife industry with HustlaBall and is a key member of the production committee for Fire Island's famed Pines Party. His newest venture is executive producing Tech Maison (the newest Burning Man Inspired after-hours party) in jungle of Tulum, Mexico.
Marino beams with pride when he speaks about the caliber of entertainment, he has amassed for the Las Vegas event. "We have an outstanding lineup with some of the hottest DJs in the world and we've done a lot to differentiate this experience from the typical circuit party," he said. "You take someone like Pagano out of London, UK who is a really big techno name with a long list of credits. And pair him with someone like Isaac Soto out of Mexico," he continued. "Soto's roots are as a conductor of classical music. What he did for Zero Day Festival in Tulum is insane," said Marino. "At 24 years old he is exploring incredibly interesting things musically and quite different than his peers."
HustlaBall is home to arguably some of the most erotic dance parties in the world and boasts a weekend full of face time with the hottest LGBTQ+ Adult entertainers in the industry. The annual descends on the Artisan Hotel for a complete takeover. Visit www.hustlaball.com to purchase tickets.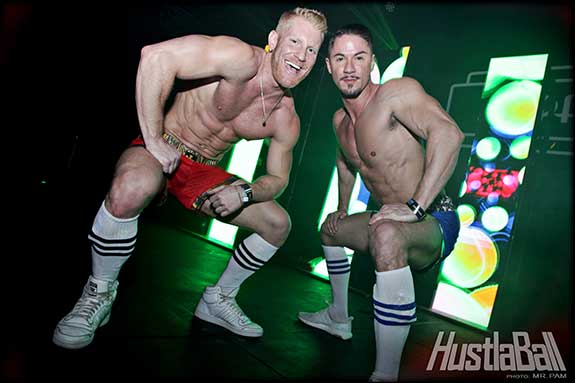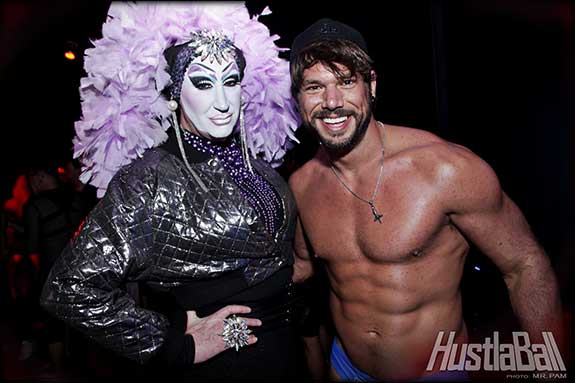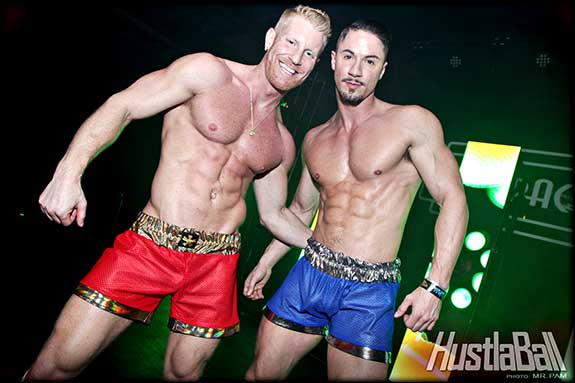 EVENT SCHEDULE
Artisan Hotel, 1501 W Sahara Ave, Las Vegas, NV 89102 (unless otherwise noted)
Thursday, Jan 13th, 2022

WELCOME PARTY – 10 pm to Late. Location TBA. ALL PASS WELCOME
Friday, Jan 14th, 2022
VIP COCKTAIL PARTY 8 pm to 10 pm
Location: Caesar's Palace VIP WEEKEND PASS ONLY- OPEN BAR EVENT
RED LIGHT DISTRICT 10 pm to 4 am
Location: Provided to valid ticket holders.
ALL PASS WELCOME/ RED LIGHT DISTRICT TICKET OPEN BAR EVENT
Saturday, Jan 15th, 2022
HustlaBall Comedy Brunch hosted by Sister Roma
Performance by Brad Loekle included for hotel guest and walk-in welcome ($38)
PLAY LIVE hosted by Falcon and NakedSword 5 pm to 7 pm ALL PASS WELCOME
HUSTLABALL CABARET MAIN EVENT 10 pm to late ALL PASS WELCOME
Sunday, Jan 15th, 2022
HUSTLABALL CLOSING PARTY 12Pm to 5pm (Artisan Pool) ALL PASS WELCOME
Featured Entertainers
Pagano
UK based Italian blends House and Techno with his own reworks of classics and has crafted a solid niche for himself. DJ MAG UK said of him "Pagano has emerged as one of Italy's finest DJs. An accomplished hand in the studio and behind the decks… Pagano is no overnight DJ sensation. A keen studier of sound, the man is obsessed with finding obscure gems and unique cuts and layering them together in his own inimitable manner" Through the years he has collected under his belt a series of high profile DJ residencies including London's club EGG and the legendary TRADE and has DJed at some of the most renown venues worldwide such as Amnesia, Space Ibiza, Privilege, Ministry Of Sound, Fabric, Stereo, The Brooklyn Mirage, Space (Miami), Razzmatazz, Fuse, Kitkat, Paradiso, Westerunie.
As a producer, Pagano has released on many labels worldwide: TOOLROOM, 1605, DEEPERFECT, UNITY, BITTEN, FUNK'N DEEP, STEREO, NERVOUS, HOTFINGERS, Cr2, CUBE, ALCHEMY, KULT, PACHA, MINISTRY OF SOUND. In 2015 Pagano launched his own independent label KISM Recordings. His work has graced the Top 10 of dance charts in UK, USA, Germany, Italy including Billboard, DMC, Buzz charts reaching #4 in the iTunes Dance Album Chart in Europe and five #1s in Beatport House and Techno releases TOP 100 charts.
Isaac Soto
Born in Mexico City in 1990, Isaac Soto produces and DJs experimental and downtempo electronic music. He started studying piano at the age of 7 and in 2014 formed DODECAEDRO, an experimental music collective. He played with field recordings, samples, and digital textures that mirrored percussive and melodic elements of music. Isaac doesn't play but produce live music in front of you.
Brad Loekle
Loekle was a semi-finalist in Season 9 of NBC's Last Comic Standing. But TV audiences may also recognize him from past seven seasons on TruTV's hit original series, World's Dumbest. Brad's snarky wit was also put to good use as a writer for comedy icon Joan River's on E!'s Fashion Police. In 2016, he was one of the stars of Logo TV's "Bianca's Comedy Cabaret: a comedy special hosted by Drag Race winner, Bianca Del Rio. Brad has also made appearances on an assortment of shows on E!, VH1, MTV, Logo and many more.