Telling Our Stories:
Talking 'About TurnAbout
On October 2nd the music will play, the wigs will fly, and the lights will rise on Las Vegas PRIDE's Annual TurnAbout event. Taking place at StarBase LV, TurnAbout 2021 will be a thrilling evening showcasing the rarely seen amateur drag talents of our local community members. The evening will be hosted by our current reigning Mr. Las Vegas PRIDE as Ms. Ling Ling, and emceed by our current reigning Miss Las Vegas PRIDE, Daniel Ciacci, and promises to be an evening you won't forget! But what is TurnAbout, and how did it come to be? For that we need to rewind a couple decades to 1999.
1999 conjures up a LOT of memories! Like Cargo pants (you either loved them, or loved to hate them), jamming out to the Spice Girls (#TEAMGINGERSPICE), or even imagining yourself in the cast of FRIENDS, and while everyone else was anxiously awaiting Y2K, The Imperial Royal Sovereign Court of The Desert Empire was in their first year of inception. As a member of the International Imperial Court System, Mark Jenson-Jewel helped found, and became the first reigning Emperor of, IRSCDE. During his reign Emperor Jenson-Jewel decided to bring the time-honored event known as TurnAbout to Las Vegas.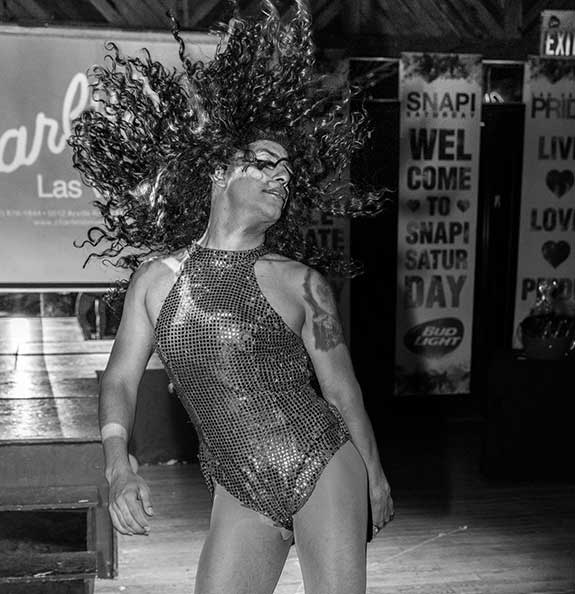 Above: Las Vegas PRIDE TurnAbout held during SNAPI Saturdays at Charlie's in 2015. Photo courtesy of Barbara J Maeker
TurnAbout, created in San Francisco in 1965, was created as a way for the male presenting members of IRSCDE to have a chance to imitate, and show appreciation for, their female impersonator counterparts. As they say, the sincerest form of flattery is imitation.
While TurnAbout began, and still is, a night of campy fun and drinks it has also grown to include the LGBTQ+ community at large. Under those stage lights, and with a face beat for the gods some have even found a home! Performers such as our current Ms. Las Vegas PRIDE, Midori Ice, who still remembers her first time on stage fondly. "I never thought I would ever do drag until I was transformed…totally amazing!" Midori has said. Brock Allen, current Parliamentarian, performed in Turn-About 2019 and describes the experience as terrifying, but one of the most liberating experiences!
Drag Queens and Kings have been an integral part of the LGBTQ+ community for many years. From protesting at Stonewall to being a mentor to others our Queens and Kings don't always get the appreciation they deserve.
TurnAbout is a chance for everyone to come together and show the members of our Drag community that they are seen, and we are willing to walk a mile in their shoes. Well, in this case pumps and stilettos!