JoJo Siwa and the Next Generation of LGBTQ+ Superstars
Jojo Siwa first burst on the scene as one of the youngest contestants on the hit show Dance Moms. Her bubbly personality, talent, and signature oversized bows in her hair made her a staple amongst the younger generation. With her beaming smile and over the top passion the 18-year-old, took that and turned it into a business. The multi-talented singer, dancer, actress and all-around good human boasts an impressive 12.3 million subscribers on YouTube with well over 650 videos.
Her Instagram following is 10.9 million die-hard followers, but even more impressive is Siwa's ability to ink business deal after business deal. If you are not familiar with Siwa, chances are you have still seen her face somewhere as her merchandise is everywhere from JCPenney, Target, and Walmart. Dolls, candy, watches, clothes, her face is all over everything, even her own Mercedes parked just outside her house.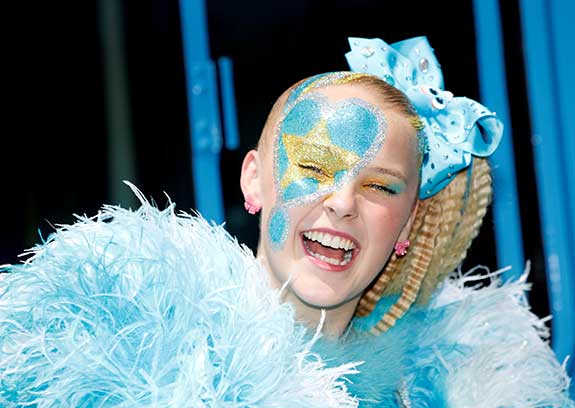 JoJo Siwa at the world premiere for the film The Angry Birds Movie 2 – Photo courtesy of REUTERS / MARIO ANZUONI – stock.adobe.com
At such a young age, Siwa has had a huge impact on pop-culture especially for the youth. Beloved by her fans, she is a pillar of positivity and light everywhere she goes. She is interactive and involved in all her social media platforms. In January 2021 it was a fan question that led Siwa to explain her understanding of her own sexuality on social media. Accompanied by the iconic song "Born This Way" by Lady Gaga, Siwa delivered a now infamous video that has been viewed more than 3 billion times of her coming out journey.
With a huge smile and other hinting photos, like a shirt she got as a gift with the phrase "Best Gay Cousin," her fans had wondered if something was up. Within her video, Siwa announced she was a part of the LGBTQ community. She talked about the support she received from her friends and family, and especially her loving girlfriend Kylie. Since that video, Siwa has stated that she is a proud pansexual and is happy with who she is.
Siwa received support and love from all over the globe including big nods from Ellen DeGeneres and Lil Nas X. In a time when being out and proud can still be difficult and met with the lack of support, to get a young superstar like Siwa to be out and proud is huge for the LGBTQ community. Siwa has been a role model for young people for quite some time, so to see a celebrity of her stature at this age to tell people it is ok to be authentically yourself is hopefully going to change the way the world sees the LGBTQ community.
In true Siwa fashion, her life didn't stop with any big announcements, she jumped head-first into the next experience. She sings, she dances, she acts, and now she can add Dancing with the Stars to her resume. Siwa will be the first ever contestant to be dancing with a same-sex partner. In the shows 20 years there has been people from the LGBTQ community all over that stage, but this will be the first time we will see two women dancing together and that is huge.
Representation matters, and Siwa is going to impact a lot of young queer people who will see her on national tv, on a main network, on a popular show that gets nearly 10 million viewers tuned in a week.
Since Siwa got on the scene she has done everything a little different and a little better than the generation before. Her larger-than-life personality and even bigger hair bows helped her burn and turn to the fast lane of popularity. But it's going to be her openness, positivity, and confidence in herself that is going to change lives for the younger LGBTQ generation. Tune in to ABC's Dancing with the Stars on Monday, September 20th to watch history pivot into the right direction.