Building HOUSE is Coming to Las Vegas
Did you know that Las Vegas is home to more than 10,000 LGBTQIA+ people aged 50+? Did you also know that 1 in 3 people from the LGBTQIA+ community has experienced housing discrimination? With rising housing costs in our region, many people will not be able to stay in their homes as they get older. Other cities like Washington D.C., Los Angeles, Houston, Dallas, and Cincinnati, are way ahead of us in terms of housing security, and now is the time to step up and honor those who have advanced LGBTQIA+ rights!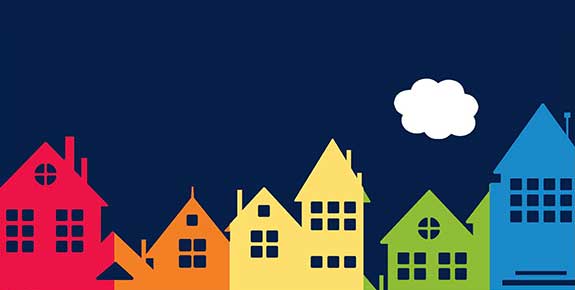 "Our community needs support now. As LGBTQIA+ adults get older, many of them don't have family and resources. We definitely don't want them to have to go back into the closet to get them. This is why we need to bring housing like SAGE has to Las Vegas. Our community deserves a place to call home, where they feel welcomed and can get the resources and programs they need."
– Judy Bowenwiener,
Stonewall Forever
Judy Bowenwiener and Dr. Jason Flatt of UNLV School of Public Health have founded a new group, Building HOUSE Las Vegas. This new group is working with local leaders to create affordable and welcoming housing for LGBTQIA+ people aged 50+ in Las Vegas. These leaders include Dr. John Waldron of The LGBTQ Center of Southern Nevada (The Center), Dr. Renato Liboro of UNLV and The Center, Brady McGill of Las Vegas PRIDE, Dr. Jennifer Pharr of UNLV, Dr. Krystal Kittle of UNLV, Preston T. of Southern Nevada Asian Pacific Islander Queer Society, Justin Tyme, Reverend Wil Moore of Abundant Peace UCC, Jose' Melendrez of the Nevada Minority Health Equity Coalition, and additional partners from UNLV, Las Vegas, and our regional Housing and Urban Development Office.
Our group plans to develop unique programs and services to support the LGBTQIA+ community, including those living with HIV and experiencing homelessness or housing insecurity. These are important plans, as our region is not prepared for current housing demands and the growing number of people moving to Las Vegas.
Judy and Jason have been talking with LGBTQIA+ housing leaders from New York City, Los Angeles, and San Francisco. With their input, our group plans to find new ways to create welcoming and affordable housing for LGBTQIA+ people so they can age in place and remain in the city that they love. Judy and Jason will also be speaking on a panel on November 4-5, as part of a regional LGBTQIA+ Housing Symposium hosted by SAGE Advocacy and Services for LGBT elders and Openhouse. Registration information will be available soon.
The group is also working with the Nevada Minority Health Equity Coalition to promote visibility and get the word out! We will be hosting community listening sessions, and releasing a community survey to better understand our community's housing needs. To learn more about our efforts, visit Facebook.
Keep an eye out for our future article series on key concerns for affordable and welcoming housing for the Las Vegas community.