Plum on Point
Las Vegas Aces Star Kelsey Plum on Going for the Gold
Look who's back, back again. With rehab complete and the first half of the 2021 WNBA season in the books, Kelsey Plum of the Las Vegas Aces set her sights on Olympic gold for Team USA at the 2020 Olympic Games in Tokyo, Japan, AND delivered. Las Vegas PRIDE Magazine sat down with her for a fireside chat to talk about her rise to a world-class athlete, rehabbing a torn Achilles tendon, and balancing the demanding schedule of a professional athlete in the WNBA.
Plum rounds out a stacked Aces franchise, including the likes of reigning WNBA MVP A'ja Wilson and international sensation Liz Cambage. But the 5'8" guard from San Diego, CA, boasts a decorated history of her own. As early as high school, Plum contributed to state championship teams in both basketball and volleyball. Her work on the court earned her national recognition, and she went on to play basketball at the University of Washington (Go Huskies)!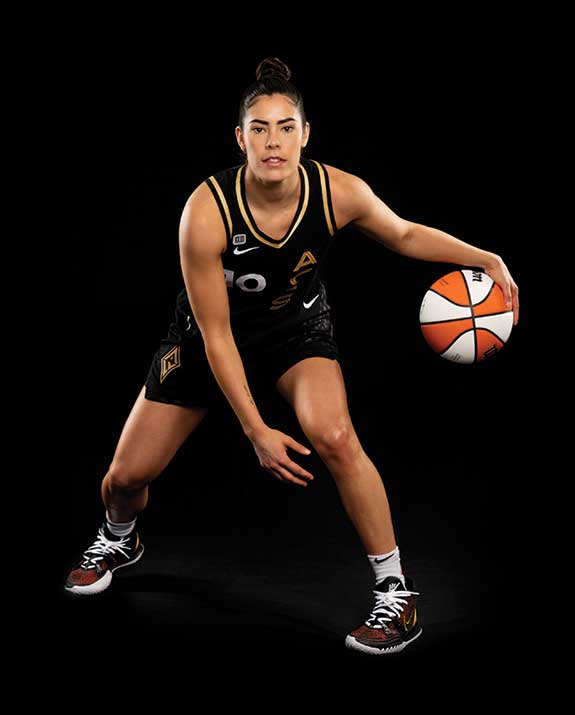 Photograph of Kelsey Plum by Al Powers, courtesy of Las Vegas Aces
She has worn the iconic number 10 on the court since high school. Does it have any significance? No, it was the last number available in the size she needed when she was in high school, and since 10 was available in both college and the pros, she stayed with it.
Plum ended her career with the Washington Huskies as the NCAA career scoring leader, the leader for most career free throws made, and holds the record for single-season scoring, all of which are records hold to this day. During her final season at Washington, she was named PAC-12 Player of the Year by both ESPN-W and Associated Press. She was also the first player in PAC-12 history (of any gender) to score 3,000 career points.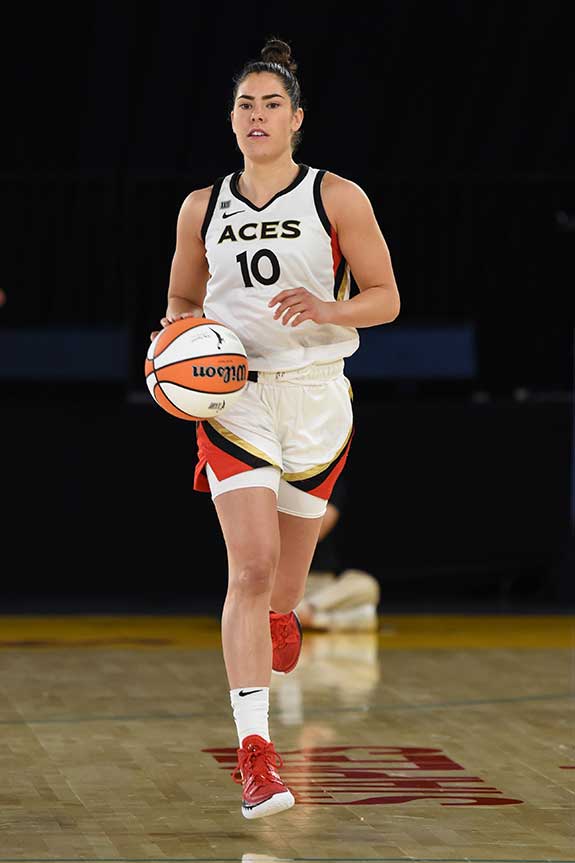 Photograph of Kelsey Plum by Al Powers, courtesy of Las Vegas Aces
Plum is known for exceptional ball-handling skills, quick feet, and a remarkable consistency shooting from the perimeter. Fans and teammates alike have anxiously awaited her return to the court.
The number one overall pick in the 2017 WNBA draft has played both domestically and abroad but missed much of the 2020 season in the Wubble after suffering a torn Achilles tendon. Nine months later, she was better, but feels her rehab is an ongoing process.
"I'm an early riser," said Plum. "The early bird gets the worm, and it's really a privilege to have a full schedule as a professional athlete. This is what you dream about as a young athlete coming up."
Plum attributes part of her success to her ability to focus. "It's important for me to remain focused and give whatever I am doing my full attention." Anything less is unacceptable for the WNBA veteran. "I keep this mindset until the job is done."
Her love of the game and passion for competition is evident in her voice. The magnitude of the current moment is not lost on her. "I love what I do, and I know this is once in a lifetime opportunity," she said. "I am making the most of all of it."
Plum competed for Team USA in the new 3-on-3 basketball event at the 2020 Tokyo Olympic Games (postponed a year due to the pandemic). She joined a squad of four elite athletes in bringing home gold for Team USA. Her fast-paced style of play was key to her team's success in the new format of ten-minute games to 21 points.
Although there were COVID-19 impacts and precautions in place, she hoped to get a chance to catch some track or gymnastics events.
Plum looks forward to resuming the second half of the WNBA season when the Olympics conclude, and she hopes to continue her gig as a UFC matchmaker. She connected with the organization while rehabbing her Achilles injury at the UFC Rehab Center. However, she is adamant she won't get into the ring herself. But, for the record, she would match Breanna Stewart and A'ja Wilson, Sue Bird, Courtney Vandersloot, or Jewell Lloyd and Courtney Williams.
But first, Tokyo. Plum has soaked up this fantastic opportunity and knows going to the Olympics is a dream for every athlete. In her case, coming back from a serious injury, she feels blessed. She views her injury that may just have been the best thing that happened to her. It allowed her to evaluate what was important in her life and how she could be better: as a woman, athlete, and teammate.
Plum has come a long way from the kid getting bullied about looking like a tomboy and having a unibrow. Basketball has always been her comfort, her sanctuary. It was a place she could be herself, and with the support of her family, she thrived. She would give that message to young girls today: find something you love, be passionate about it, have fun and enjoy it.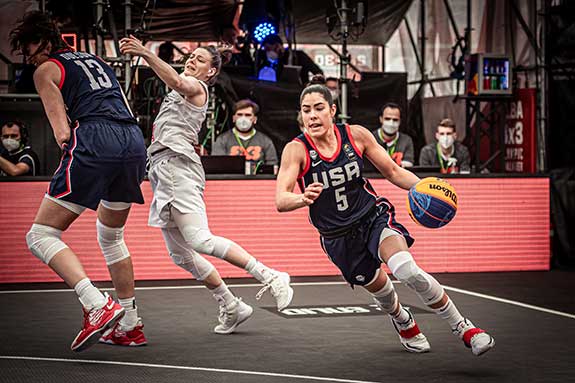 Photograph of Kelsey Plum by Al Powers, courtesy of Las Vegas Aces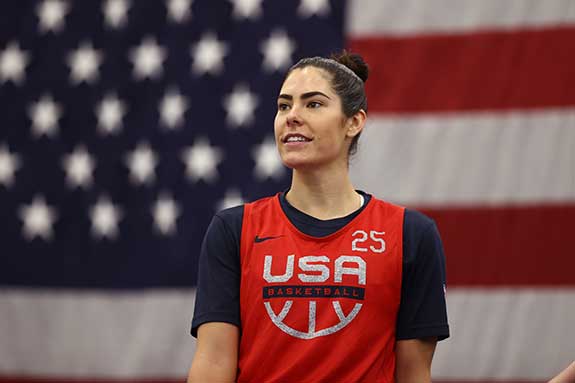 Photograph of Kelsey Plum by Stephen Gosling, courtesy of NBA Photos