Kuma Health Club Las Vegas
Explore the newest gay-owned and operated
bath house in the heart of the Fruit Loop
Las Vegas has a new health club, Kuma, located in the fruit loop area (700 E. Naples Dr #107, Las Vegas, 89119) and within walking distance of Quadz, Free Zone and Piranha. One of the coolest aspects of Kuma is that the owner started this club from a place of passion. More than just a gay-owned business, this is a labor of love.
The goal is to create a safe space for the queer community to safely explore sexuality while having fun. Sexuality, and sex, shouldn't be a taboo topic. It is an important part of human nature. To that end, Kuma is not a typical, traditional bath house. It is designed as more of a European "after hours" club. It has an open maze design with small areas of privacy. Words like "fun", "hidden" and "mystery" came to mind as I toured the club.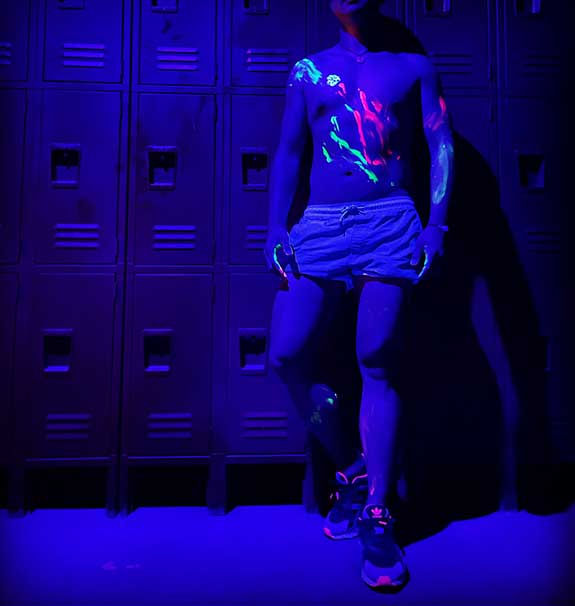 "Fun" seems to be the operative word. They already have a full menu of social events creating a friendly, social atmosphere. Friday and Saturday nights offer different themed parties. Each of the various parties happen once a month. This includes an all-gender queer party for all orientations, called "Queer Intentions". 99% of the time it is an establishment catering to gay men, but this one party is open to all genders. The club runs specials Monday – Thursday.
The experience at Kuma is different from similar establishments. They are not looking to compete but to create a different experience. Much thought was given to the planning and layout of the facility. They offer clothing-optional Yoga and more group exercise activities are planned. The spa is warm in the winter, but transforms into a "cool room" during the summer months. The club is full of unique spaces and offerings not found in other local venues and Kuma offers tours to the curious club goer.
Unlike other health clubs, there is no specific dress code. The key is that you can come and comfortably and safely be who you really are. Kuma is completely open to the transgender community. Respect is a highly prized value which manifests in a safe space and a "no is no" environment. Consent is very important. They are currently producing a bathhouse etiquette video.
They cater to the whole spectrum of the community from first-time visitors to those who have frequented health clubs for many years. It is a good first experience, and they are open to any kink/fetish providing dark rooms and unique experiences.
It is already a busy and happening establishment. It is used for film and music productions. They have hosted charity events for Golden Rainbow and The Center. The owner serves on the Board of Directors at The Center. And, they are actively reaching out to, and work with, local LGBTQ businesses.
The staff is open, friendly and diverse. There is no time limit as your entry fee permits you to stay as long as you desire.
Check out their social media pages. Their handle is @kumaclublv on all social media sites. Their website is https://www.kumaclublv.com
They are happy to answer all of your question. You can reach out through any of their social media pages.