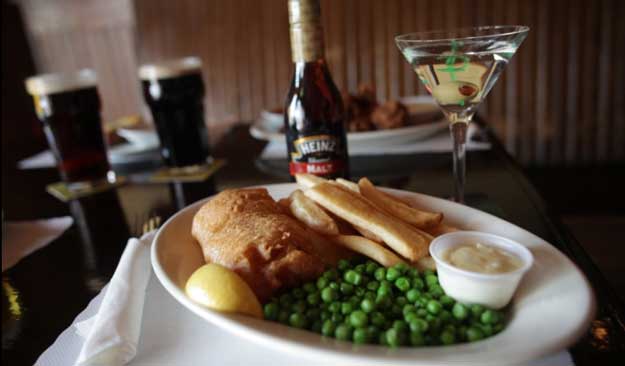 Grand Opening – September 10, 2015
Gurl! Ditch that light beer and get yerself a Cosmopolitan! There's a fun new pub and dining experience coming to the Arts Factory in the downtown area. We spoke to owners Ernesto Perdomo a former Vegas performer and Ron Schultz, owner of 2 similar bar/restaurants to learn what The Downtown Crown Pub will be serving up…
"We decided last year that it was time to move forward and follow our idea to have a casual pub in the downtown area" says Ernesto. "I have always been the happiest and most fulfilled when I create a space that I feel the Vegas locals would enjoy" offers Ron. "Creating a friendly 24 hour pub felt like a natural gap in the downtown market to be filled."
The Downtown Crown Pub was inspired by its sister properties, The Crown and Anchor British Pubs. This new pub will also be open 24 hours and evolve over the day from breakfast, through working lunches and after work drinks to dinner and late night cocktails with full menu available.
Be prepared for frequent events like Vintage Bike Night, Vintage Car Night, themed/costumed parties, and of course First Friday. You can visit nearly every day for a different food or drink promotion. Live entertainment will be offered, and don't be surprised if you see the female (and also male) bartenders and servers in kilts.
For the players, there are video poker machines, with food, drink, and player rewards promotions. You can also play pool, test your skill with real steel-tipped darts and outdoor games. For the downtown residents, they will provide a gaming restaurant and bar as a new focal point that will be open 24 hours, and include a Saturday and Sunday specialty brunch with live entertainment.
The Downtown Crown Pub is located at the Arts District's former "Bar+Bistro" (the corner of Charleston and Casino Center) in the Arts Factory, 107 E Charleston Blvd. It is easy to find- just one block east of Main Street.
The Smith Center is five minutes away, making the pub a perfect spot for pre or post-show dinner and drinks. The huge outdoor shaded patio (dog friendly) is a great spot for cocktails and food for the residents and nightlife hedonists in the area.
Get ready for traditional English food and fast American-style service in a flirtatious environment. The fun begins with the pub's grand opening on September 10th, 2015.
Are you ready to show your PRIDE? For PRIDE Weekend, the Downtown Crown will be hosting the Last Vegas PRIDE Pre-Parade Party starting at 3pm. There will be free transportation from the end of the parade back to the Arts District. There will also be food and drink specials throughout the PRIDE weekend!
With a full and varied menu you are sure to find something to love from their selection of traditional English favorites like Fish & Chips and Bangers & Mash. Spotted Dick anyone? Don't wory if that isn't your preference, there are also American specialties available which range from chicken fingers to burgers. And don't forget the brunch specials on the weekends…
14 British, European and American beers are available on tap, and the wine list has been carefully selected to accompany a full bar with a specialty cocktail list and house specials.