Celebrate Diversity at the Las Vegas PRIDE Festival where everyone is welcome. GLBT families, couples, and singles along with their friends and straight allies come together for an entire day of fabulous fun at the Clark County Government Center Amphitheater (just west of downtown Las Vegas and the world-famous Fremont St. Experience).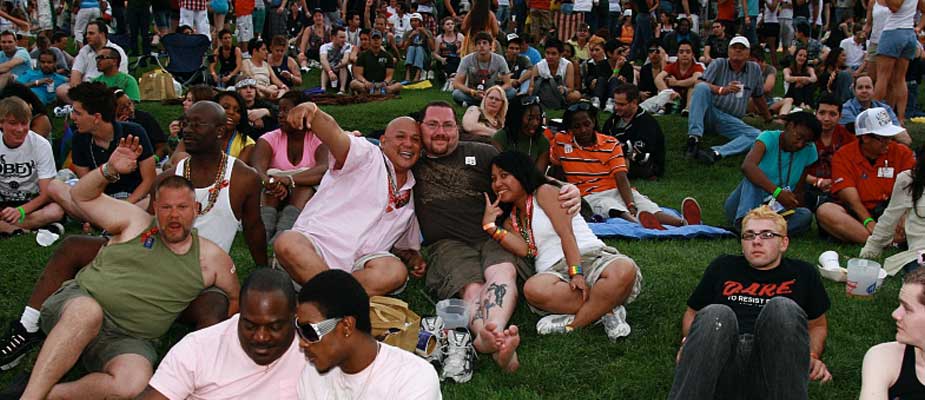 The Clark County Amphitheater features a beautiful outdoor main stage surrounded by soft, cool grass, plus a food court and convenient drink stations. There will be more than 100 exhibitors on site. You can relax on the lawn as you are entertained by the festival's featured performers, as well as great local talent. Watch for more revisions to the festival grounds (and overflow parking at the World Market Center with free shuttle service to the festival). We are also pleased to announce the continuation of the Family Activity Zone filled with fun activities for parents and children 12 and under.
Bartenders from local LGBT bars will be will be serving water, soda, Bud/Bud Light, wine, and mixed drinks to whet your thirst. We are working to bring you a delicious food court this year so you will have even more great food from which to choose.
Las Vegas PRIDE is proud to continue its green efforts following the success of last year's recycle program. As in previous years, RENUoil will be donating the labor hours of a team of their employees that will work with their portable sorting table. All bags of trash will be collected and then sorted by RENUoil's Recycle Team. They will recycle all of our plastic water, beer, and soda bottles as well as all aluminum, paper and cooking oil from our food vendors. This will prevent potentially thousands of pounds of recyclable materials from ever hitting the Las Vegas Landfill. Southern Nevada Association of PRIDE, Inc is proud of their continued quest to become a more environmentally responsible PRIDE. Go ahead and throw all your recyclable materials in any of our trash receptacles. We'll do the recycling for you!
The PRIDE Festival is open to the public from noon to 10pm on Saturday, September 19th.
PLEASE NOTE: You may NOT bring coolers, beverages of any kind, or animals into the festival grounds. (Service animals are permitted.)
Photos from past Las Vegas PRIDE Festivals
Clark County Government Center
500 S. Grand Central Parkway
Las Vegas, NV 89106
Additional Parking Information
World Market Center
495 S. Grand Central Parkway
Las Vegas, NV 89106
Additional parking is also available at the World Market Center (Point B) just north of the PRIDE Festival Grounds (Point A). Please enter the World Market Center parking structure from Symphony Park Ave as shown in the map below. A FREE Shuttle is available to transport you from the parking structure to the PRIDE Festival Main Entrance.