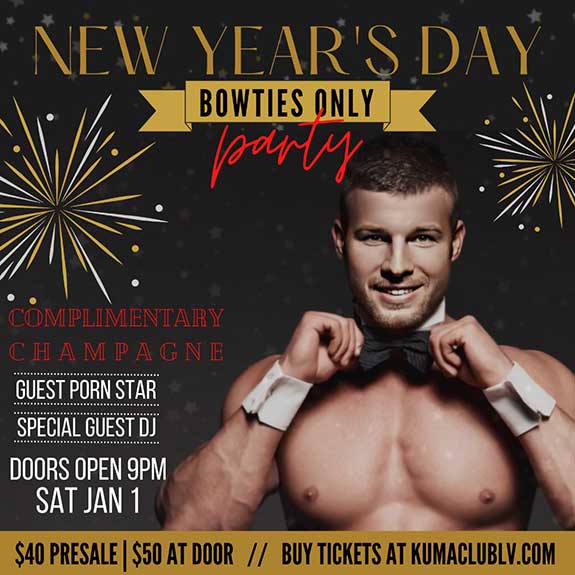 Kuma Club Las Vegas
700 E Naples Dr #107, Las Vegas, NV
New Year's Eve is right around the corner.  By now, everyone has plans for that always-fun night of the year.  But what about January 1st?  Save a little energy for, what promises to be, another great party.  Kuma is throwing a party.  The theme is "Bowtie's Only".  Of course, you can complete the outfit with some cufflinks, too.  The party begins at 10 pm, with Doors at 9 pm.  DJ LukeDice will be playing keeping the vibe up starting at 11 pm.  There will also be a live show at midnight by porn star Daniel.  And to top it all off – there is unlimited champagne!

2021 was another tough year.  Celebrate the new year in a happy, party atmosphere where the party doesn't end – literally!  Kuma doesn't close on Saturday so you can roll right into Sunday morning and even Sunday afternoon.  The party doesn't end for you until YOU say it ends.

Tickets are $40 Presale / $50 at the Door

Kuma keeps the fun going further into January as the Official Afterparty for Hustlaball on January 15th.  Peter Fever will provide the live show at 2 pm at the after party.