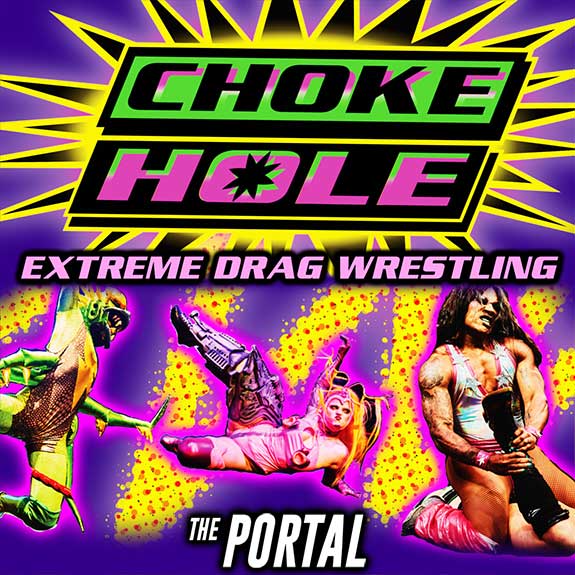 CHOKE HOLE: Extreme Drag Wrestling
October 6, 2022 @ 8:00 pm
fusion_builder_container type="flex" hundred_percent="no" equal_height_columns="no" menu_anchor="" hide_on_mobile="small-visibility,medium-visibility,large-visibility" class="" id="" background_color="" background_image="" background_position="center center" background_repeat="no-repeat" fade="no" background_parallax="none" parallax_speed="0.3″ video_mp4="" video_webm="" video_ogv="" video_url="" video_aspect_ratio="16:9″ video_loop="yes" video_mute="yes" overlay_color="" video_preview_image="" border_color="" border_style="solid" padding_top="" padding_bottom="" padding_left="" padding_right=""]
CHOKE HOLE : Extreme Drag Wrestling is based in New Orleans, LA, but has performed around the world, including NYC, Germany, and now Vegas. The group was also recently featured in episode 5 of Peacock's Queer as Folk, aptly titled "Choke". The event itself combines lip sync performances, choreographed wrestling matches, acting, character building, and prerecorded "backstage drama" videos to create an overarching storyline, which builds a fully immersive nightlife experience.
Set in the near distant future, CHOKE HOLE is the universe's most popular form of entertainment, regularly broadcast to billions of viewers. Hosted by intergalactic television mogul, Gorlëënyah, and her sex-robot minion Visqueen, CHOKE HOLE is a no rules, no holes barred, Battle Royale, where hopeful contestants fight to the death, for a chance to win fame, glory, and a lifetime supply of SQUELSH*, the energy drink that calms you down. *now with alcohol!
What began as a crude justice system for solving disputes, grew into a gladiator-esque cultural and capitalist phenomenon, birthing superstar fighters in the ring. Even brands have begun to send their representatives to wrestle for advertising dominance, including CHOKE HOLE's TOP sponsor SQUELSH, a mysterious beverage sweeping the galaxy. "SQUELSH! It's good for your health."
[/fusion_builder_container]
Share This!