Kathy Griffin
The Resilient Voice of Laughter and Activism
Interview by Andrew Ryan // Article by Las Vegas PRIDE Magazine Staff
Photography courtesy of Mike Ruiz & Christopher Sherman
In a candid and heartfelt conversation, Andrew Ryan sat down with the legendary comedian and activist, Kathy Griffin, to discuss her life, career, and the profound impact she's had on the LGBTQ+ community. From her daring stand-up routines to her unyielding commitment to advocacy, Kathy Griffin has become an icon for many. Andrew delved into her experiences, challenges, and the enduring connection she shares with her fans and the LGBTQ+ community.
Andrew: It's wonderful to hear your voice and talk to you after all these years, and I was just wondering, how have you been? I know a lot has gone on, and so many things have happened in your world, but how have you been, and what's been going on since we last saw you at Las Vegas PRIDE in 2012?
Kathy: Oh my God. I'm surviving and thriving, but it hasn't been easy…
Kathy's journey over the years has been marked by both triumphs and hardships, from her battle with the Trump administration to her fight against lung cancer. Despite the challenges, her indomitable spirit shines through.
Andrew: Well, I know I'm speaking for all of us here in Las Vegas when I say we were so thrilled when we saw the announcement that you were coming back on stage in Vegas at The Mirage…
Kathy: It was amazing and fantastic, and I'm so grateful to The Mirage…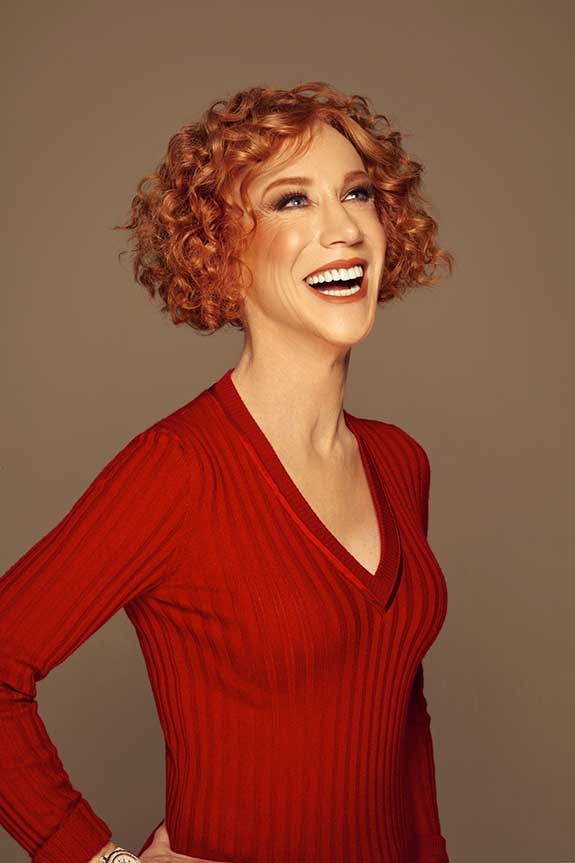 Photo of Kathy Griffin by Mike Ruiz
The Mirage holds a special place in Kathy's heart, and her triumphant return to its stage was a momentous occasion. Kathy shared her gratitude for the warm welcome she received from the audience and how she's found her voice again, quite literally.
Andrew: Can you talk to us about how your relationship with your fans has changed since the Trump photo and what it meant to you to have the continued support of the LGBT community through all of that?
Kathy: The LGBTQ+ community stood by me. When the Trump incident unfolded, I felt like I had become marginalized. The controversial photo was subversive but not shocking, given the administration's targeting of various marginalized groups.
The queer community recognized the urgent need to shed light on the destructive actions of the Trump administration, which included separating families and spreading hate. They understood the gravity of the situation and supported me. Some fans turned away, unable to see the bigger picture, but it's crucial to remember that the queer community's legacy includes advocating for issues that impact people profoundly.
While some may have overreacted to the photo, it's essential to recognize that it was a First Amendment case. The federal government, under the United States Attorney General, put me on the no-fly list, severely affecting my career as a touring artist.
We must unite and vote consistently, not just every four years. Elections occur every year, and it's crucial to stay informed about bills that affect our rights. The other side is effective, but our mobilization can make a difference. Together, we have strength and safety in numbers.
Kathy Griffin's unwavering support for LGBTQ+ rights and her outspoken activism have endeared her to the community. Her thoughts on the Trump incident and the subsequent fallout shed light on the importance of solidarity.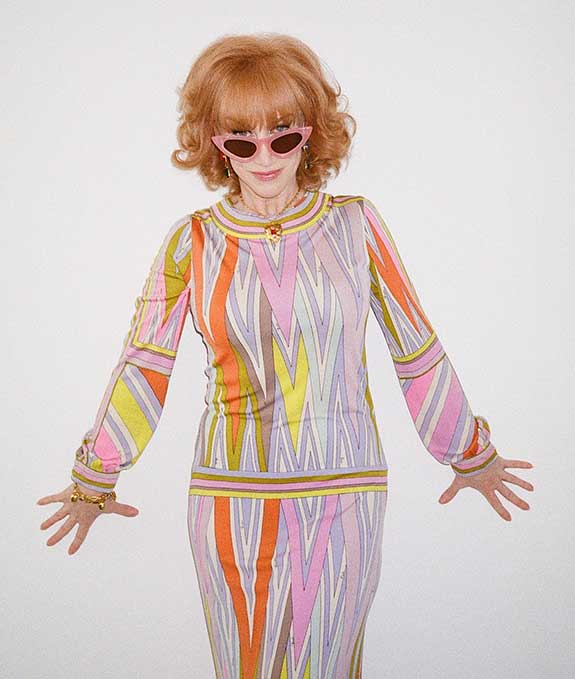 Photo of Kathy Griffin by Christopher Sherman
Andrew: I think people would like you to share if you've had a memorable or touching experience at an LGBTQ+ event that left an impression on you.
Kathy: I think the best compliment I can get is when a queer person comes up to me and says that watching "Kathy Griffin: My Life on the D-List" either helped them come out to a parent or was a bonding moment with a parent that didn't know they were gay yet.
Andrew: Can you share a particular achievement or moment that started your activism for the LGBT community?
Kathy: You know you'll laugh, but it goes back to my grade school memories…
Kathy's journey as an ally and activist for the LGBTQ+ community began early, shaped by her friendships and experiences in grade school and high school. She emphasizes the importance of being aware of the challenges faced by LGBTQ+ individuals across the country.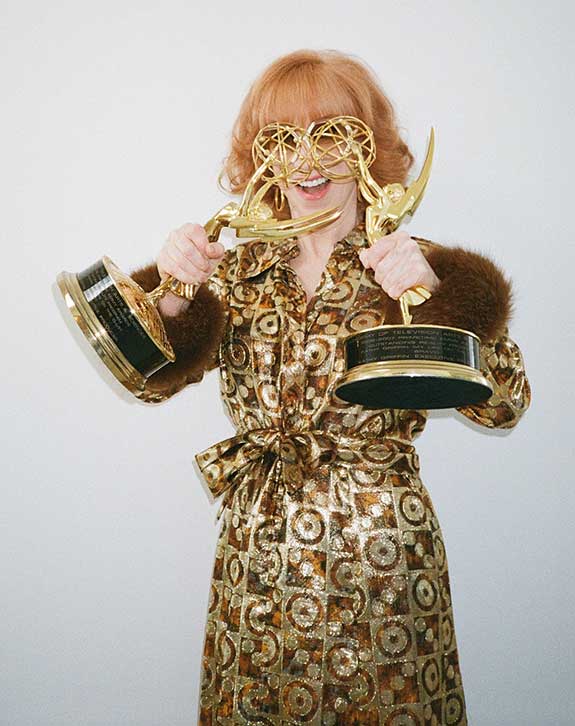 Photo of Kathy Griffin by Christopher Sherman
Andrew: What advice would you give other celebrities or public figures who want to be more active allies in the fight for LGBT rights, especially during Pride?
Kathy: Oh, that's easy. Just get out there and do it…
Kathy Griffin's advice to celebrities and public figures looking to become allies is simple yet powerful: show up, donate, and use your unique skills and talents to support the community. Just get out there and do it.
Andrew: And where can we see you next?
Kathy: I got nothing on my *** **** horizon but this amazing show at The Mirage on October 6, 2023.
Kathy Griffin's future is filled with the promise of laughter and connection. She shared her hopes for a return to touring, potential new projects, and her unwavering commitment to making people laugh. As she continues to inspire and uplift, Kathy Griffin remains a beacon of laughter and advocacy for all.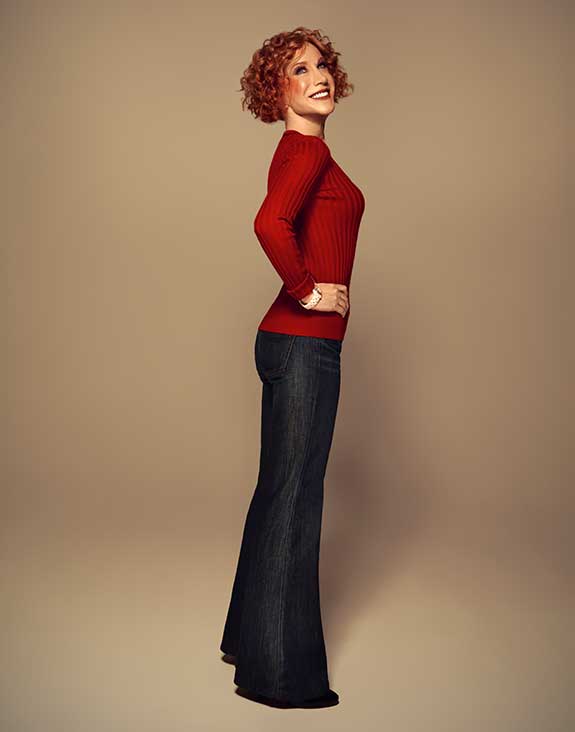 Photo of Kathy Griffin by Mike Ruiz