A Royal Couple
Meet Derek Guerrero & Norma Llyaman, Las Vegas PRIDE's 2024 Royalty
By Carolyn Dick
Photography courtesy of Derek Guerrero & Norma Llyaman
Las Vegas PRIDE is PROUD to announce, in celebration of their 40th Anniversary, the appointed royalty in waiting, Mr. and Mrs. Las Vegas PRIDE 2024, Derek Guerrero and Norma Llyaman (Jim McCoy). In collaboration with all previous royalty, our 2024 sovereigns will be present throughout the next 18 months, honoring Las Vegas PRIDE's eminent past, present, and future.
"You gotta live life before it lives you!" States Miss Chi-Chi Rodriguez in the legendary film Too Wong Foo: Thanks for Everything, Julie Newmar.
This statement has become the doctrine for the loving, eclectic, and devoted relationship of our newly announced Mr. and Mrs. Las Vegas PRIDE 2024, Derek and Norma. A first for Las Vegas PRIDE by having a married couple (one with a drag persona) that has survived the battles of PROP 8 and joyously been united in marriage for the past 15 years!
The couple have been principals in Las Vegas for decades with their volunteering, philanthropy, activism, and diversity. Living in Las Vegas for almost three decades, they have witnessed the city's incredible growth and the escalation of the Queer community. Although small but mighty and sometimes dysfunctional, both see our community as a family of wanderers and dreamers—all with merit, hope, and a purpose.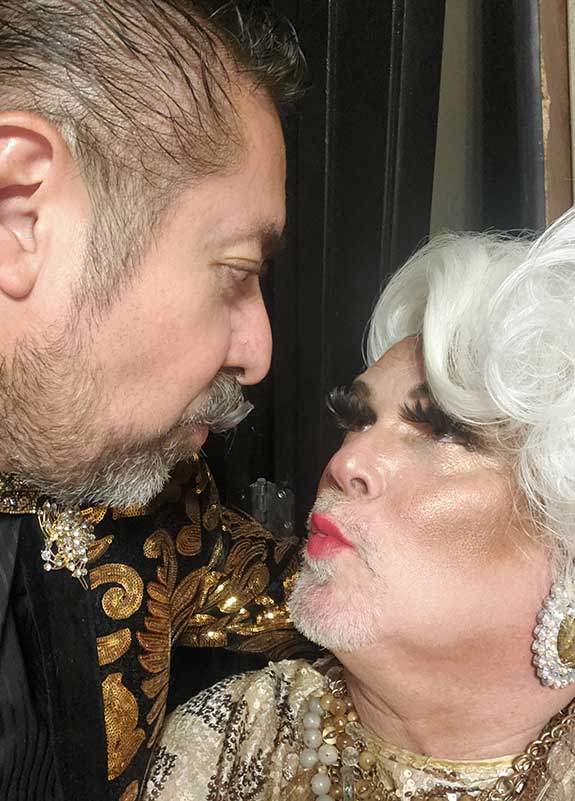 Derek Guerrero & Norma Llyaman
As Mr. and Mrs. Las Vegas PRIDE 2024, Derek and Norma will publicly focus on several key interests that are continually on the Queer platform: Houseless Youth, Mental Health, and Senior Care. Houseless queer youth risk more harassment, manipulation, and discrimination while seeking assistance, often lost within an outdated system that fails to recognize the realities of diversity. The Mental Health issues within the queer community are also incredibly intricate, complex, and more than double those of the cisgender individuals. And finally, the limited focus on Senior Care comes as no new revelation in the queer community. So, how does one find the facilities and programs for assisted living without returning to the closet, gender-expansive healthcare, or suitable housing for limited financial resources? As representatives of the community, Derek and Norma hope to use their platform to enlighten and create awareness for these and other important matters.
The couple met in the late 90s while working on volunteer projects in the Magical Forest at Opportunity Village! They are transplants from other lands: Derek from Orange County, California, and Jim from Magnolia, Ohio. Derek established his event career with Knott's Berry Farm and Disneyland at an early age, finally relocating to the desert to join the infamous Mirage Events, which at the time was under the direction of Elaine Wynn. They both have enjoyed extensive award-winning careers within the professional special events industry, representing some of the largest hospitality venues on the Las Vegas Strip. They love calling Las Vegas home but prefer the historic eccentricity and bohemian nature of New Orleans!
Norma Llyaman, a stage-fright Bohemian eccentric performer (Jim McCoy), has delighted audiences for the past two decades with her "vaudevillesque" stage persona. She was originally born at a BEAR event in Ohio, BEARVILLITIES! She can proudly state that she has performed in every gay bar in town and major hotel/casino on the Las Vegas Strip. She can be seen regularly hosting Las Vegas PRIDE Family Bingo and every 3rd Sunday at The Phoenix Bar and Lounge hosting her show, "Old Broads, Ballads and Booze!"
"We are ecstatic to be a part of the 40th Anniversary of LV PRIDE! Now, let's make some noise!"