Nevada Gay Rodeo
Serving the Las Vegas Community for Over 30 Years
Article contributed by Nevada Gay Rodeo
Photography by Kristopher Minnich
History
Seven men sitting at Badlands Saloon became inspired. 'Bring gay rodeo "home" to the state of Nevada where it all began.' The year was 1992, and this group was a tight-knit circle of friends and experienced regional rodeo participants. Bob Edwards, Randy Larson, Tom Blythe, Robert Kingham, Tom Tyre, Gary L'abbe, and Randy Parker decided Las Vegas must have its own gay rodeo association. "The Southern Nevada Gay Rodeo Association" was born and gained fifty new members in the first year.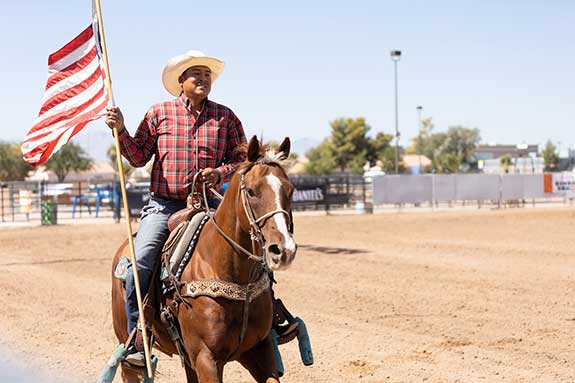 The name was altered that same year to the Nevada Gay Rodeo Association (NGRA) to represent the entire state when the founders took their places as the 13th membership delegation at the International Gay Rodeo Association (IGRA) convention in Minnesota. This change includes and pays homage to sister city Reno, NV, where Gay Rodeo started in 1976.
NGRA's purpose has not changed in the past two decades: First, to produce gay rodeo and thus enrich and enhance the Western lifestyle; second, to raise monies for various local charities through ongoing fundraising. Over the years, NGRA has supported the Nevada Aids Project, Pedrigal House, Aide for AIDS of Nevada (AFAN), Golden Rainbow, and Reach Out – an organization dedicated to children afflicted with AIDS and many more. Currently, NGRA is proud to support Wild at Heart Mustang Sanctuary and the Sin Sity Sisters AIDS Drug Assistance Program.
Rodeo
NGRA's largest fundraiser is the BigHorn Rodeo held at Horseman's Park, with events starting at the park on Friday, September 15th. Rodeo School is on Friday at 11 am, registration begins at 6 pm, and CowBoy Bingo will be held in the pavilion starting at 7 pm. Bingo is open to everyone of all ages and is just $10 per person. The BigHorn Rodeo will be held at Horseman's Park September 16-17, 2023. The best part is that Rodeo is FREE to all! Tickets can be acquired by visiting https://rodeo.eventbrite.com.
The gates will open on Saturday and Sunday at 10 am, and the Rodeo will begin at 11 am. The festival pavilion features local vendors, community organizations, food trucks, games, silent auctions, entertainment, and of course, the BigHorn Rodeo bar. This year will feature a unique game you won't want to miss, Chicken Schitt Bingo! You'll have the opportunity to win some cash by buying a number in the chicken coop, and if your chicken Schitt's on your number, you will win the cash!
Rodeo School
Have you ever thought being a cowboy or cowgirl was easy, or just thought it looked fun? Join NGRA at their Rodeo School on Friday. From beginner to advanced, they have the tools to help. Instructors will teach Calf Roping on foot, Barrel Racing, Chute Dogging, Steer Deco, and Goat Dressing. Please email them at rodeodirector@ngra.com to reserve a spot. Rodeo School starts at 11 am on Friday, and if you like it, you can register for BigHorn Rodeo at Horseman's Park starting at 6 pm.
Get Involved
As an all-volunteer organization, NGRA's most important asset is its volunteers. If you would like to volunteer at BigHorn Rodeo, email Volunteers@ngra.com or visit their website to fill out a volunteer form. They have positions for all abilities and will even buy you a drink after your shift is done for the day.
NGRA has two monthly fundraisers to help raise money for BigHorn Rodeo. You can find them on the 2nd Saturday of every month at Badland's Las Vegas for a show at 8 pm and at Quadz Video Bar on the 4th Saturday of every month for CowBoy Bingo at 7 pm. They will also be at Quadz on Sunday, August 13th, starting at 9 am for a car wash for just $5!