PRIDE OUTside Hikes Mary Jane Falls
Las Vegas PRIDE OUTside hosts monthly hikes all around the valley. These events are free to attend, open to all, and a nice way to get a little exercise and time in the great OUTdoors.
Mary Jane Falls is in the Mt. Charleston recreation area, just to the West of the Mt. Charleston Lodge. Ample parking is available along the road and at the parking area adjacent to the trailhead (drive up to the end to check first). Roughly 30-40 minutes from the US-95 and Kyle Canyon, you'll find yourself in pine trees and cooler weather.
We ascend most of the distance from the trailhead of this there-and-back trail. A charming resting area with carved log benches allows some time to take in the tall trees and snow on the mountain peaks. Switchbacks increase our elevation sharply as we ascend to the falls.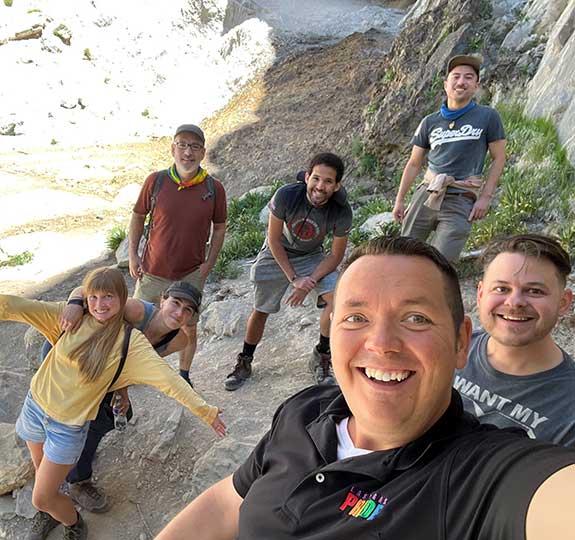 At Mary Jane Falls peak, there is a year-round active waterfall, small caves, many trees, native plants, and always present in rest areas, ground squirrels that are always eager for snacks. From the falls, it's a quick descent to the parking area and back to our Sunday adventure.
If you plan to attend a hike, please take some precautions with appropriate footwear and clothing. Wear sunscreen and bring snacks and plenty of water! If you have any questions or would like to connect with Brady, please email Hike@lasvegaspride.org
June 11, 2023 & July 9, 2023
(Second Sundays Monthly)
Meet at 10 am
(hike until roughly 2 pm)
Mary Jane Falls – Mt. Charleston Info
Intermediate/Steep Incline; there and back is 3.9 miles with nearly 1,200 feet gained in elevation; the terrain is firm and level but steep; fixed-leashed pets are welcome; all ages welcome.
PRIDE OUTside Hikes are FREE monthly events that are available in a variety of locations and difficulties throughout the year. Mark your calendars!