So Funny it Hurts: The Dynamic Story of Mikalah Gordon
Article by Megan Williams
Photography by Chris Martin
You might recognize Mikalah Gordon from the fourth season of American Idol, where at 16 years old, she was the youngest contestant to reach the top 12. Or it could be from her four-year run on the first national LGBTQ morning show on Channel Q. You may have seen her on shows like "The Tyra Banks Show," "Living with Fran," or "The Unit." Or seen her as a correspondent every Friday night on the CW on "World's Funniest Animals." Wait a day, and you could have seen her again as a host of "Totally Weird and Funny." Gordon's familiar face and voice have been all over the place in the last decade. Hilariously though, one of her most notable performances was during the pandemic, where she infamously impersonated Melania Trump, which grossed her more than 1.6 million followers on TikTok.
Gordon does it all, but most importantly, she does it all well. As an out and proud member of the LGBTQ community, this powerhouse has been a headliner and host at different sapphic festivals and weekends all around the US. In September, Gordon dropped her first album, "Vivian," named after her beloved late grandmother, in which she backs the LGBTQ community and people working through mental health struggles. One of the most powerful songs on the album, "Hands Off," advocates strongly for women's rights and has resonated with survivors across all categories to take their power back. The incredible songstress is also a wildly funny comedian. During the pandemic, Gordon and her fiancé Lisa Pittman, the legendary DJ who was at one point solely responsible for the booming sapphic parties in Vegas, created videos that were all too relatable and pee-your-pants funny.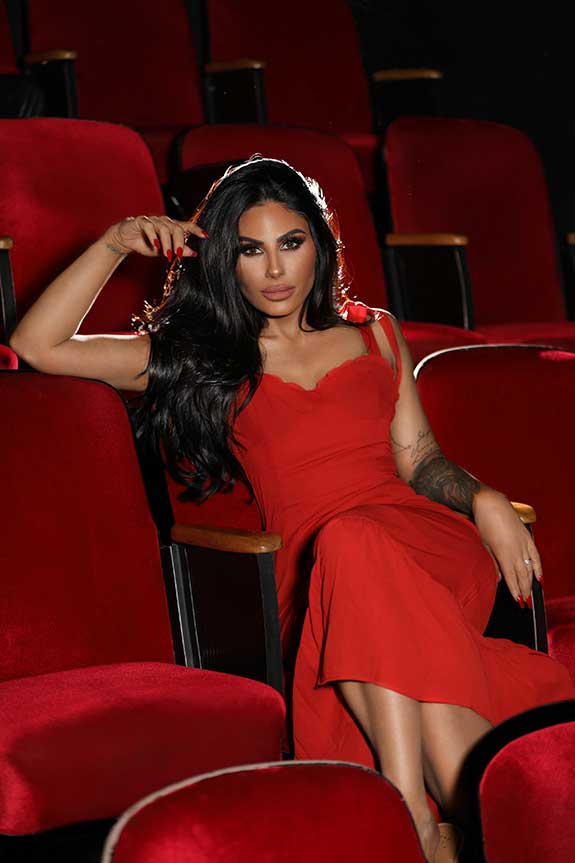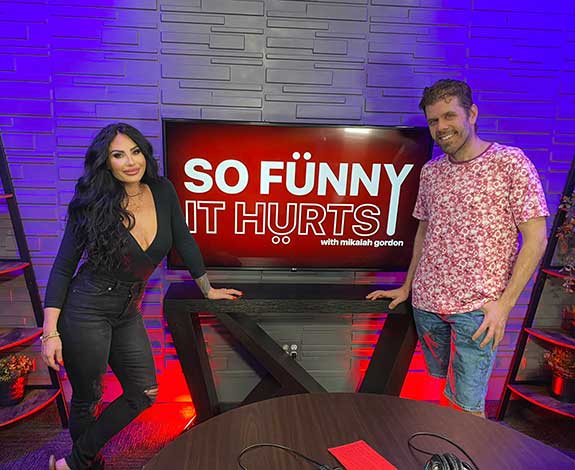 The self-proclaimed MAJOR tomboy who is wildly in love with her fiancé has big goals and dreams for herself. She has successfully started her podcast "So Funny it Hurts," sponsored by Fit Club and Pacific West Injury Law. Gordan interviews all your favorite funny people and explores the trauma that made them that way. It's dually hysterical and impactful. She ultimately hopes to turn her podcast into a must-watch show. Gordon would eventually want to build a show based on her life in a showroom in Vegas.
Having had the pleasure of meeting, hanging out with, and working with Gordon, I got the luxury of witnessing her in action and seeing exactly what she's capable of. To someone else, Gordon's goals might sound lofty and probably out of reach to the average person. But, if you know Gordon, you innately know she is not average. When she says she's going to do something, it gets done. Her bubbly, infectious, gritty, and warm personality indicates that nothing is out of reach and nothing will get in her way. She is single-handedly the funniest and kindest person I've ever worked with. She has depth and substance and is a perfect example of how kindness can look and feel in a world overrun by harshness. At 16, Gordon took on the world and provided everything she needed for herself with zero apologies. In real-time, this pint-sized powerhouse continues to climb and will be one to look out for in the coming years.
Find her podcast "So Funny it Hurts" on Spotify, Apple Podcasts, and YouTube, as well as on Instagram @sofunnyithurtspodcast. The Vegas local can be found at different spots and venues, so be sure to keep up to date on her whereabouts on her personal Instagram account @mikalahgordon. Catch her every Saturday night on the CW as the host of "Totally Weird and Funny." And do yourself a huge favor, go on Instagram, and watch my personal favorite video of her fiancé Lisa assisting her while she's attempting to roller skate. You will not be disappointed. Get to know the name, Mikalah Gordon, soon enough we'll be seeing it in lights.