Let There Be Lesbians: The Party You Didn't Know You Needed.
Article & Photography by Megan Williams
In the heart of the central coast of California is a city called San Luis Obispo, or SLO for short. The city isn't necessarily known for its queer community; however, there is one sapphic party worth talking about. "Let There Be Lesbians" is the brainchild of Renee Periat. The name originated as one of the tag lines on her t-shirts for her clothing line Androgynous Fox, a gender-neutral, androgynous forward clothing line for everyone who wants to be true to themselves. Periat and her partners in crime, Reese Galido and Julie Workman have created something uniquely pointed to something the market in SLO desperately lacked: sapphic-centered parties.
LTBL was born out of a chance encounter at the famed lesbian weekend in Palm Springs called Dinah Shore. Periat was promoting her clothing line Androgynous Fox that weekend. From their booth Periat, Galido, and Workman could watch the Dinah gogos. Dancers Jazmine Black and Rachel Helzer caught their eye, and a friendship sparked. Black and Helzer's effervescent energy and fantastic ability to lure people in with their warm vibe and compelling eye contact made it a no-brainer to make them a centerpiece of their event. Periat said, "San Luis Obispo deserves a party like the ones at Dinah Shore."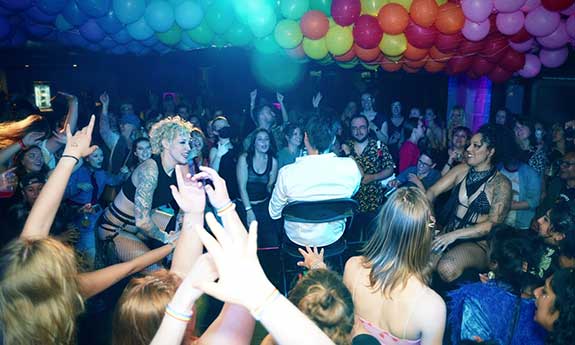 The equation for this successful party came together piece by piece. The original idea was to promote the Androgynous Fox clothing line with a party. The party's name got officially etched as Let There Be Lesbians. Throw in the groundwork of Periat, Galido, and Wokrman, and sprinkle the magic of Black and Helzer's gogo talent, all let loose in a market that needed an event like this; you can see why it was a booming success.
Periat goes on to describe, "The response from the community was overwhelming, and the demand was fierce. We are now on our fourth event, and they have just gotten bigger and more diverse."
The parallel between Periat's clothing line Androgynous Fox and LTBL cannot be denied. AF was created after years and years of fruitless effort to find a style and fit that reflected Periat's gender-neutral aesthetic in an almost non-existent market. So Periat made her own, and arguably busted down the walls. LTBL took on the same business model…not a market for a sapphic-centered party on the Central Coast? She'll break the barriers down on that too.
For a party like this to work in a market that doesn't already have the blueprint in place, one of the utmost requirements is having a safe space to party. Periat sings the praises of their current venue, Bang the Drum Brewery in SLO, owned by the fantastic Noelle DuBois. Being woman-owned and an avid queer supportive place is paramount to finding stamina in this market. Safety meetings, de-escalation tactics, having female security personnel, and overall being on the same page has led to the tremendous success of the four LTBL events.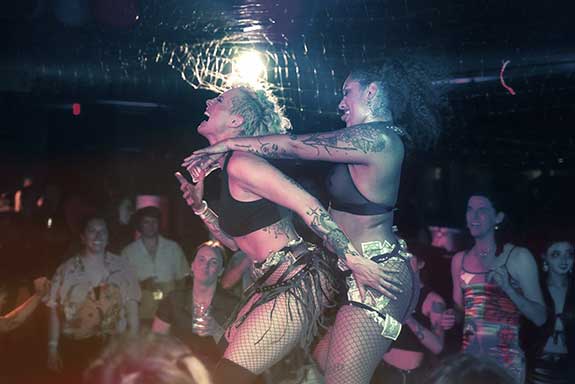 As a first-time attendee of LTBL, there were a few large takeaways. The first and most obvious was the vibe Periat, Workman, and the phenomenal MC for the night Galido have cultivated. It's fresh, fun, joyous, palpable, and has an "all love" vibe. The second takeaway was how brilliant the idea was to bring Black and Helzer in to be the primary source of entertainment for the party. Black and Helzer bring a different vibe to every party they are a part of. The way they can captivate a crowded room all from just a three-foot-high platform is undeniable and makes these events what they are. Flanked by incredible local drag performers, a banging DJ, and Galido MC'ing, the night was an instant success.
Finally, the most important takeaway wasn't just that LTBL brought a much-needed sapphic night to SLO, but it was how they did it. With the perfect home base in Bang the Drum Brewery, the hospitality, love, comfort, warmth, and pride-filled vibe of LTBL has something different here. I've been to a lot of parties and worked a lot of events, and a short list of them have resonated so feverishly that it's hard to shake the high out of my system. I felt the love, and you could feel just how much this type of party was needed in this city. There is no telling what Periat and the rest of the LTBL crew can do with this recipe for success and this momentum!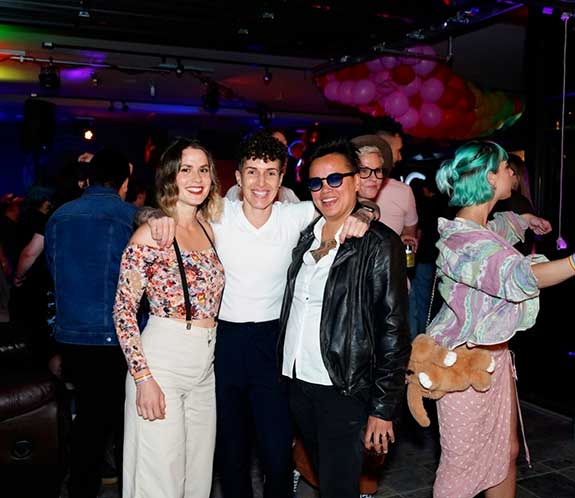 If you are anywhere near the SLO area and looking for a party with a palpable energy that you'll be talking about for days after, Let There Be Lesbians is a must-do!
You can keep up to date on everything LTBL on their Instagram page @let_there_be_lesbians, and don't forget to check out Androgynous Fox on their website androgynousfox.com and check out their Instagram page @androgynousfox where you can find exclusive drops, like their highly anticipated swim-suit line in June. We need more sapphic energy, so let there be lesbians.