Queer and Vegas Influences Converge in Downtown
Article and Photography by Jennifer Howe (they/them)
The lobby of The English hotel, located on Main Street in downtown Las Vegas, is playing host to the artwork of Thomas Putzier. Thomas is the seventh artist in residence for the Neon Museum, and he is a queer visual artist based out of Minneapolis, MN. Putzier debuted his cumulative work from his six-week residency entitled "Forgotten, Redux.", which is currently on display inside The English Hotel's lobby in partnership with The Neon Museum. He immersed himself in Las Vegas' art and culture scene to develop a striking work that dives into the city's themes and history and showcases his art in several mediums.
I had the opportunity to attend the opening gala in The English Hotel's lobby and chat with Thomas Putizer about his work. Thomas was friendly and articulate. He wore a blue plaid shirt, black pants, a bright pair of red plaid socks, and black velvet loafers. He has a chest-length red beard, a tightly cropped fade haircut, and donned a pair of stylish oversized black-rim glasses that tied his look together.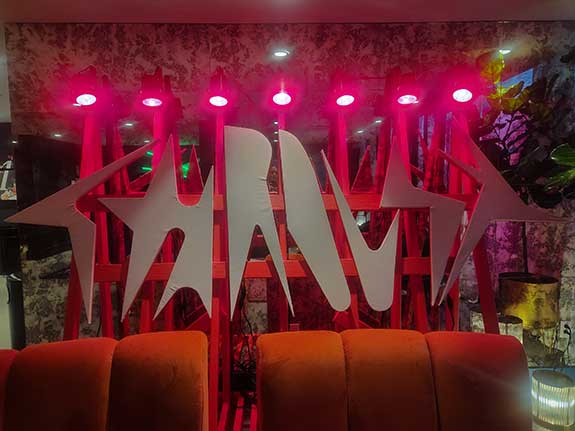 Another Place Another Time
We chatted about the multiple influences for his original pieces on display. Each had many sources of inspiration that Thomas drew upon to create and build something relevant to the current political climate and ideological struggle.
"I think there is a working-class narrative here about how things get done and what it takes for society to function. I think that is a relating element. But I will also say that my work is like a mythology, an exaggeration, and a mirroring of things happening in our contemporary society. There are some elements to it that are different and yet uncanny. The other thing I will say about the geometric language that I'm using is that I am trying to pull in forms that relate to the area while I walk around studying the area, and then combine them in a different way. I'm taking something inherently familiar, editing it, and making it feel slightly different. So there is a conversation going on throughout a number of these pieces about othering."
We also talked about the LGBTQ+ influences in his current and past work. There are definitely queer themes in his work, especially regarding finding agency in our voices as LGBTQ+ individuals.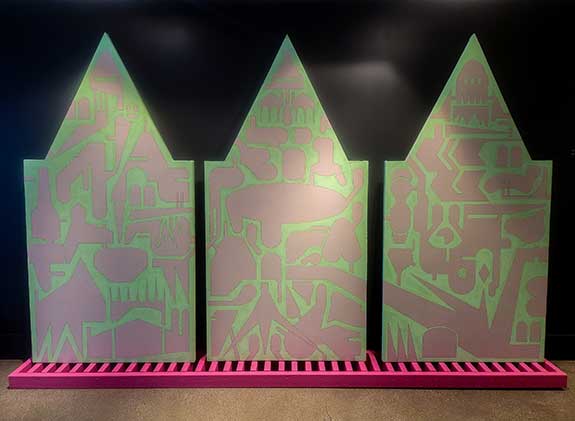 Additionally, his work amplifies the background structures of the art, the hidden structures, who made it, and how? Like the back of a neon sign, what holds it up? Who designed that? Spending time thinking about who's in the background often leads back to queer folks that had a hand in its fabrication. Thomas likes to present complex and contradictory themes and topics. Still, he will break it down, deconstruct it, and model it into something that is presented in a soft, safe way, so it helps open the conversations about these complex subjects.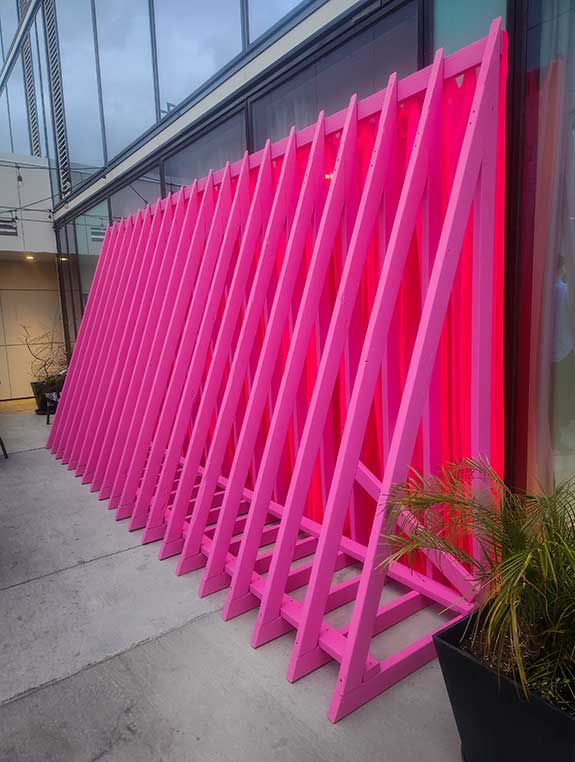 Before we parted, I asked Thomas what advice he would give to a queer artist that might be struggling or just getting started.
"Be consistently persistent, ask for things, and give yourself permission. It took me many years to realize that I could call someone and say, 'I think my work makes a lot of sense with your organization.' I didn't think that was appropriate, and then I did it, and it worked, and I did it again. Don't hold yourself back from doing what you really want to do. I think it's societal to question ourselves. For me, someone with ADHD, taking that actual step sometimes can take months, then when you do it, it makes doing it again so much easier. So just do it. Let yourself do it."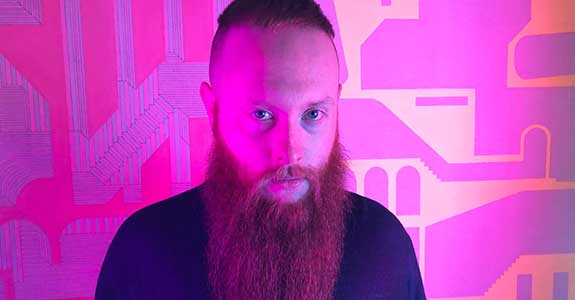 Artist Thomas Putzier
Photo courtesy of the Neon Museum