New On-Site Pharmacy Announced for The Center
Contributed by The LGBTQ Center of Southern Nevada
The Center at 401 S Maryland Parkway is proud to announce the opening of a new onsite pharmacy. In partnership with Genoa Healthcare, The Center will now be able to provide prescription medications to persons who may visit the clinic, people in the surrounding area, and anyone who simply choses to stop by. This is yet another pivotal step towards The Center's goal of having complete LGBTQIA+ services, specifically healthcare services, that are dedicated to the community and located in one place.
The pharmacy is currently open daily, Monday through Friday from 8:30 am to 5:00 pm and closed for lunch between 12:30-1:00pm. These hours are being evaluated periodically so that we can continue to meet the needs of this community. The pharmacy is also important for The Center because of the 340B program. This program is a US Federal Government program that allows eligible health care organizations and covered entities to access medications at a significantly reduced price. By participating in the 340B program, The Center can use the savings for services such as providing care for uninsured patients, implementing medication management programs, and continuing to expand community health programs.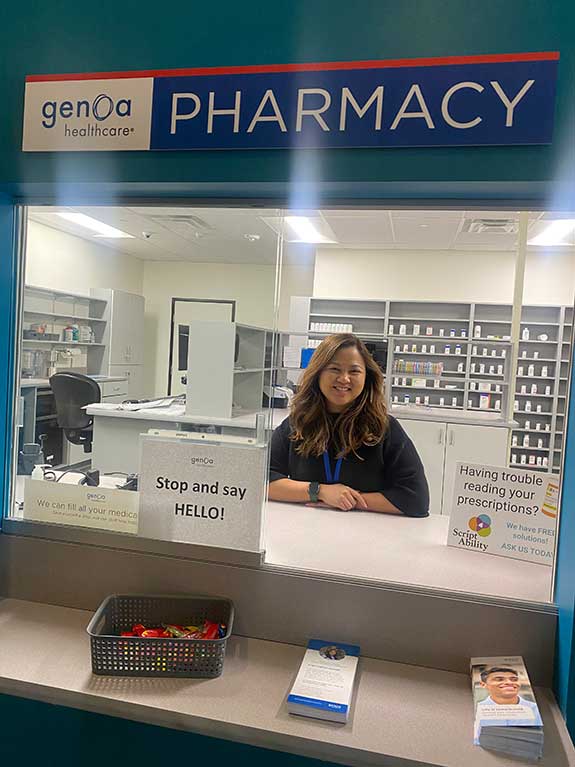 Genoa Healthcare provides hands-on, personalized services and is dedicated to serving and celebrating people from all backgrounds and communities. They tailor each location to serve the specific needs of that community and here at The Center, they will also provide specialty services for HIV/AIDS and sexual health.
Genoa partners with organizations to improve healthcare outcomes and supports patients by filling all medications, including PrEP pre-exposure prevention and PEP post-exposure prophylaxis, providing free, discreet delivery, offering financial assistance and on-site immunizations, including long-acting injection management. Genoa uses a high-touch approach to ensure the adherence, health, and safety of the patients they serve.
Additional services they offer include pre-filled pill organizers at no extra charge to assist patients in keeping track of their medications, a 24-hour customer service line as well as competitive pricing for medications not covered by insurance plans. The Center and Genoa's pharmacy team look forward to this collaboration and how this can serve The Center community.
The hours of the Arlene Cooper Community Health Center are Monday through Thursday, 12pm to 6pm and Friday through Saturday 8am to 2pm. By having both of these services open and available, The Center hopes to continue to expand the offerings and services for improved healthcare access. The current Arlene Cooper Community Health Center offers free HIV testing, testing and treatment for syphilis, gonorrhea, and chlamydia as well as PeP and PrEP access.
Stay tuned as we will be hosting a Grand Opening event in the next month.