BIPOC Vegas launches meetup for LGBTQ+
By Jennifer Howe (They/them)
Photos by Ebony Jackson
Walking inside The Mixer Lounge, the energy in the room was vigorous. This black lesbian-owned bar located off Twain Avenue in inner South East Las Vegas played host to the first Bipoc Vegas Meetup, presented by Setlife Images.
I have often found networking events stuffy and impersonal. Maybe it's because I feel like the only visibly queer person in the room of austere-looking professionals or because I'm the only alternative business owner in the room. The Bipoc Vegas Meetup was quite the opposite experience. The venue was full of queer professionals representing a wide range of different businesses and backgrounds. The Mixer lounge's wide circular bar was surrounded, and the large sunken dining room area with booths and tables was popping with people that came out to the event. The mood was spirited and fun, and exuberant conversation filled the air around me.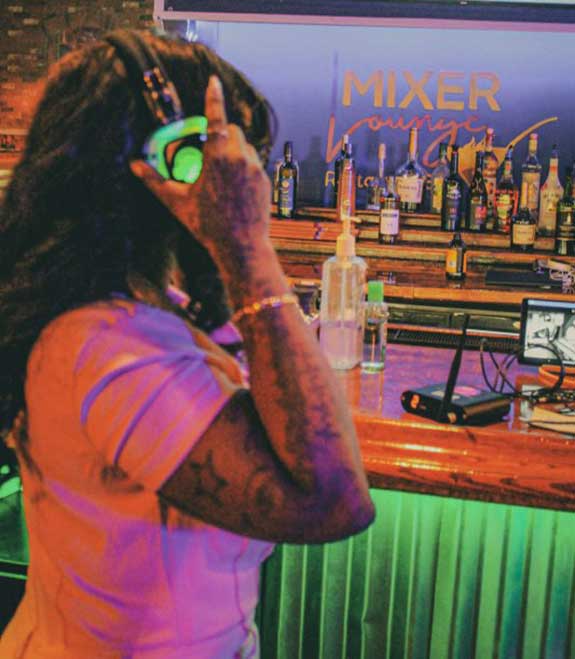 The emcee for the evening was Nicole Williams, the producer of The Bipoc Vegas Meetup and the owner of Set life Images and House of Vegas Pride. There was a live Dj, and a raffle prize was drawn about every 15 mins. The winner not only got a fabulous prize from one of the sponsors but they also got the microphone and the opportunity to talk about themselves and their business or businesses. There were prizes sponsored by Ronnie D. Ron of The Shakedown Love Reunion and Vitalize Vitamins, Jason Tuietle of Tuitele Real Estate Group, Kayla Cummings of Dollz & Queenz Surgery Bar, Michael and Demetris of I am Batti Bwoy Clothing, Kristie Spain of Hush Entertainment, and Cece Lawton of Because You Deserve It catering.
Everyone who attended was so welcoming, and it was easy to move from group to group, chatting with all the folks that turned out for this new monthly event. At the end of the evening, I left with a stack of business cards and new social media followers. It was great to meet new people with whom I wouldn't have likely crossed paths and learn about what they are doing for the community or what business they are building. Kristie Spain of Hush Entertainment group set up their equipment at the bar and let people try out the multichannel light-up headphones they rent for silent disco parties. Silent disco parties were popular in the last major city I lived in, Portland, Oregon. I hope to see them catch on in Vegas as well.
Overall, it was a joy to be surrounded by fabulous business-minded and entrepreneurial queers. I definitely plan on attending the next event. The Bipoc Vegas Meetup will be an ongoing monthly event that caters to LGBTQ+ and Bipoc business owners and professionals.
The best way to find out about the next event meetup and other events that Bipoc Vegas is hosting is to follow @BIPOC_VEGAS on Instagram.