The Rising Star, Pure XTC
Taylor Hughes, better known as pure xtc, has long since had a musical instrument in her hands. When she was five, she wanted to play drums, and was so relentless on the subject that her parents gave her every other instrument to play instead. She blew through those, and eventually her parents caved and got her the drums set. Her tenacity is one of the reasons she is on the rise. With her sophomore EP, "Shed my Skin" coming out this month, she is breaking through to some huge festivals and venues on the way up.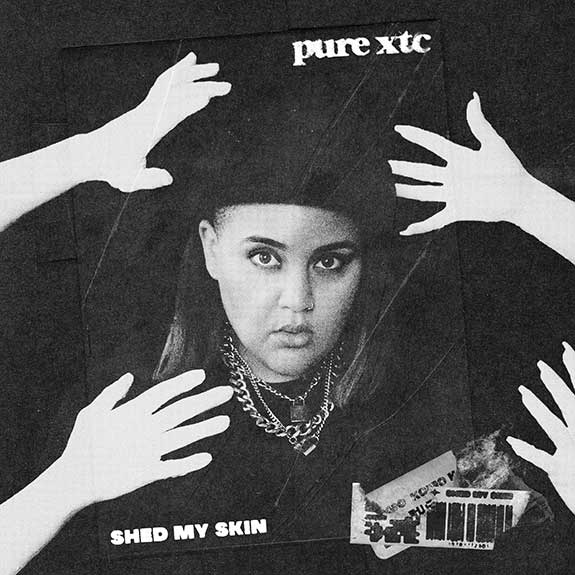 Most recently, Hughes took the Dinah Shore Stage as one of their up-and-coming acts, she was voted in as the artist that people wanted to see the most. The Dinah Shore is the nation's largest lesbian music festivals, and this year had headliners like Fletcher and Taylor Dane leading the way. Getting on the line-up was no small feat. Along with The Dinah Shore, she toured both coasts, and performed at two music festivals, which she wants to expand upon leading into 2023. In a fun twist, Hughes released a hazy blood orange IPA craft beer called, "summer of pure xtc". In collaboration with Crane Brewing Company, she even helped brew it herself.
For Hughes, her music and shows are about so much more than her instruments and lyrics. As a gay black woman, she wants to be the person she never had growing up. The out and proud woman who loves women. Who speaks about the conversations she has with herself. Who lets her heart and emotion run rampant, and to give everyone a safe space to be exactly who they are. She wants every show to feel like you're hanging out and having a conversation with a friend. And being yourself is important, especially in the world we live in.
Hughes understands the power of speaking your truth and staying in the positive mindset. Her stage name, pure xtc was a play on a sarcastic remark during the core of the pandemic. Someone asked her how the pandemic was in metro New York, and she replied, "We're living in pure ecstasy". Although the retort was funny in nature, it stuck. It personifies how Hughes has lived her life in the last year.
"A friend of mine told me to wake up every day and manifest greatness…I'm really not the type of person to relate to inspirational mottos, but it really made me shift into more positive thinking, and in turn lead to more positive outcomes."
Some things Hughes is manifesting is to play more music festivals and Prides, doing longer stints on tours, opening for national touring artists, and making a point to do a few European dates in the next few years. With a mindset and drive like hers, you will likely be seeing Hughes all over the place in the coming years.
You can find her on every platform of social media @purextc.