Telling Our Stories: Lost Queer History Resting in Gold Butte
Article and Photography by Jennifer Howe (they/them)
When we try to look back at people's lives and reframe their stories through a more modern lens, it's often too late to get the information we need or want to tell the story that appears so obvious through context clues or our more modern way of thinking. This is especially true when it comes to the lives and loves of LGBTQ+ individuals, even if that history isn't too far in the past. The visibility we enjoy as queer folks today has come in part from the work of activists like Marsha P. Johnson & Sylvia Rivera; who had to literally fight to remain visible and to be treated with the basic human rights everyone deserves.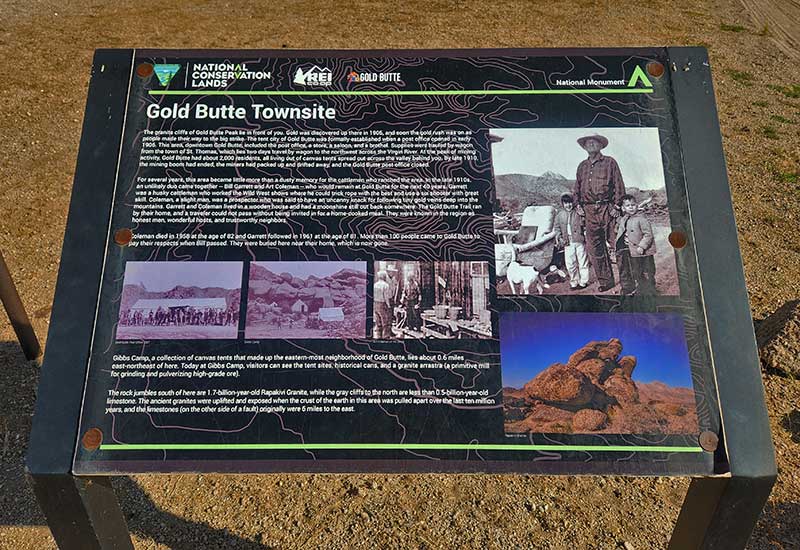 So much of our queer history is lost in translation. As quoted in the musical Hamilton, "You have no control. Who lives, who dies, who tells your story?" When we take a look at the narrative that is prolific in the Western United States, we think of ultra-masculine cowboys, the hard lives of pioneer settlers, shootouts, and the idea that the West had its own type of laws and vigilante justice. This western stereotype grew into a whole genre of movies and tv shows that are still popular today.
Being Las Vegas residents, we're not far from ghost towns, pioneer cemeteries, abandoned mines, and the interesting histories attached to these extinct desert settlements. It's hard to imagine the type of life queer folks were able to carve out for themselves in these outposts. It's a mental exercise that I have often thought about in my excursions to find these forgotten towns and places. Visiting ghost towns, cemeteries, and crumbling foundations is one of my pastimes. Something that I do for fun.
This is how I found myself over 3.5 hours North East of Las Vegas outside of the Lake Mead Recreational Area but still in BLM territory at the location of the previous townsite called Gold Butte. There isn't much left of Gold Butte, only 2 graves, a few old mine entrances, and the typical desert flotsam that is left behind in places like these. The graves belong to Bill Garrett and Art Coleman, the last 2 residents of Gold Butte. For many, the history of these last 2 remaining residents would appear quite normal. When you arrive at the townsite, there is a small sign next to the graves, which has been fenced off to keep folks from walking on or vandalizing them. The sign, which was erected by the BLM next to their graves, gives a few short paragraphs about these two men and a bit of information about the townsite of Gold Butte.
After I read the sign, it struck me that so much was left out here; and how couldn't it be? Trying to sum up the lives of anyone, let alone 2 people, in a few short paragraphs would be hard. I spent some time researching and looking into the lives of Bill Garret and Art Coleman, and I wanted to offer an alternative biography while remaining factual. I took only a few creative liberties while trying to summarize the lives of these two seemingly common Nevadans.
Bill Garrett and Art Coleman were the last remaining residents of Gold Butte, NV. This devoted couple lived together for the last 40 years of their lives in the defunct mining town located in the Moapa and Virgin Valleys. They were known to everyone in that area and the Arizona strip. They had irreproachable reputations and were called affectionately by nicknames like "The Odd Couple" or "The Long and Short of it" by folks in the region.
William Houge "Bill" Garrett was 6 foot 1 and born in 1880 in Paint Rock, Texas. He was the 3rd of 12 children. Bill had many different jobs, but all were associated with 'cowboying'. Bill was an excellent marksman with a six-shooter and a trick rope performer. Besides being a cattleman and rodeo performer with impressive equestrian skills, he worked with talent and stuntmen for movies. He had contacts in the rodeo and circus worlds and was renowned in the Southwest for his ability and skill.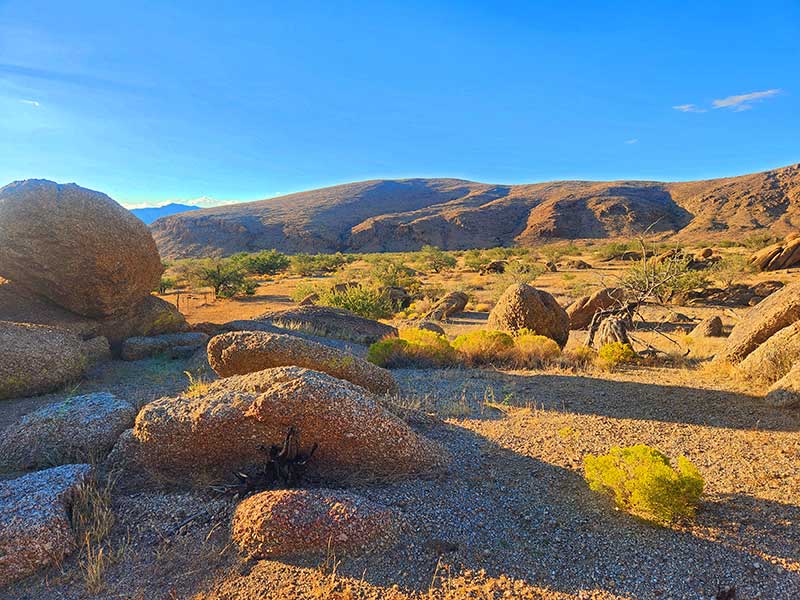 Ed Yates, a friend of Bill's, said that long after Bill Garrett was past his prime, they were drinking together, and Yates challenged his marksmanship, saying, "Bill, you couldn't hit the broad side of a barn." Bill apparently said nothing but instead walked into his house, took his six-shooter out of the holster on the bedpost, walked outside, threw a small pebble into the air, and blasted it to pieces. Bill returned and sat down by Yates, saying, "Now, you s.o.b., you better be careful who you're talking to."
Garrett came to Gold Butte to outrun some of his troubles. He had recently been released in Utah after being acquitted by a 2nd jury that found him not guilty of killing a man in self-defense. He was trying to create a fresh start and get back to doing what he loved to do, cowboying. He was known for his tall figure, balding hairline, and he was only ever seen wearing long underwear or his Levi's.
Arthur Strayer "Art" Coleman stood at 5 foot 1 inch and had darker eyes and hair that stood out in contrast to Bill. Born in 1876 in Chicago, Art came to Nevada to mine gold, and he lived much of his life as a prospector. Coleman was a bit more thin, frail, and dealt with more health issues. He had one leg 2 inches shorter than the other, the result of a possible gay bashing in his younger years by a group of brothers. He was quiet, loved to read, and could discuss a wide array of topics. He was considered the academic of the two.
It's unknown when these two became a couple; the best guess is about 1916. Bill met Art in his late 30s, and they likely met in Arizona and moved to Gold Butte together, where they continued to have a very close relationship until their deaths. Art passed away in 1958 at the age of 82, and Bill in 1961 at the age of 81. Both men revered the solace and beauty of the rugged desert landscape. They both valued their privacy, and it is assumed that they did not openly discuss the nature of their relationship publicly, which is likely one of the reasons they chose to live so remotely.
They lived in a wooden board style house that had previously been abandoned since the mining boom in the area. They made it their home and lived without many modern conveniences like running water or electricity. They got their water from a nearby well, which they also used to distill their own whiskey. Their still and the quality of the moonshine it produced was one of the things that made them notorious in the area. Art was likely the mastermind behind the operation. He had previously taken a break from mining during the 1920s to run a Moapa bar during the time of prohibition. Both of these men were, at times, on the fringe of society for civil disobedience, perhaps one of the things that bonded them together. Reportedly, both men liked to drink and entertain guests. Their door was always open to passersby on the old cattle road that ran in front of their humble abode. They were remembered as excellent entertainers. Guests were always welcomed with a meal, and stories were shared and embellished over a glass of moonshine. Their hospitality is remembered by all they encountered.
Bill and Art purchased a Ford Model A pickup truck second hand, and they used it to drive into St. Thomas, NV (now an uninhabited ghost town) for supplies. In the late 1930s while driving home on the desolate roads, both men had consumed a fair amount of their own brew and ran their car off the road into a large cactus. Bill walked the 5 miles back to their home to get a horse to pull the car out. When he returned, Art had fallen asleep in the backseat. Bill decided to wait until the morning to dislodge the car with the horse. When they woke up the next morning, the horse had trekked back to their home. They had a good sense of humor about the incident as they both walked back to the house for the horse.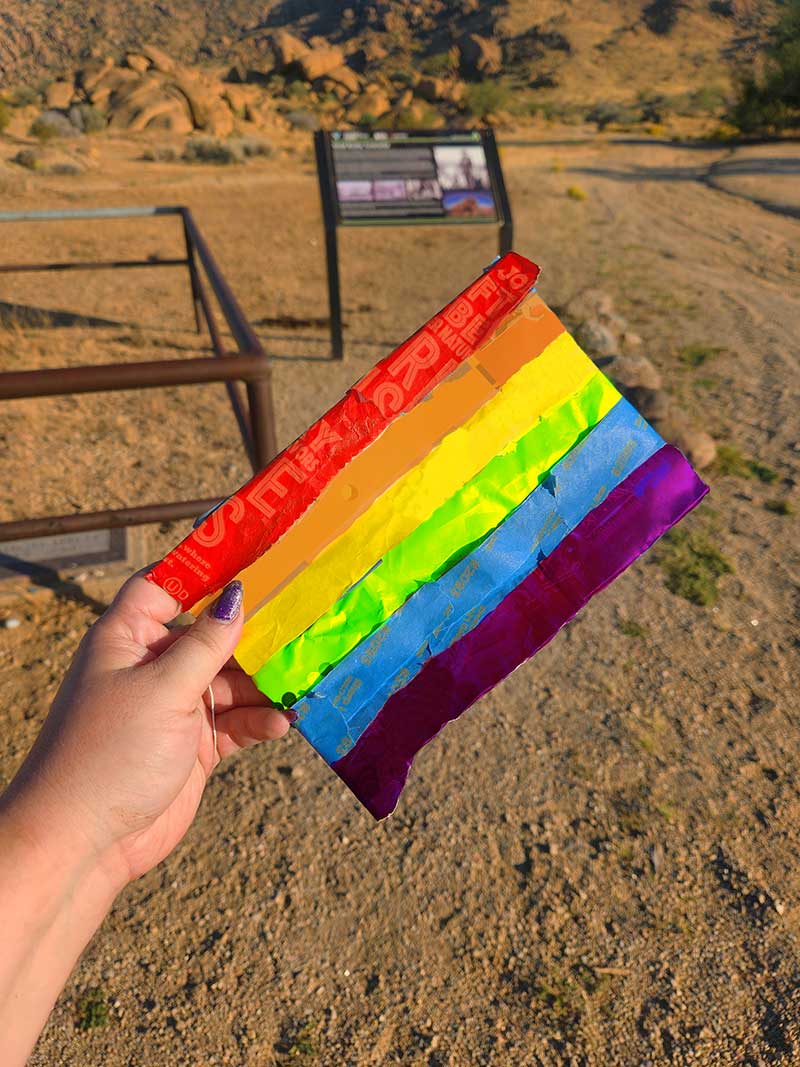 The two found a home with one another and helped to support each other. When cattle farming was good, they focused on making money that way. When cattle weren't prosperous, they focused on mining. They squeaked by with whatever little they had and lived out the rest of their days together. Eventually, they were both laid to rest behind the house they shared in Gold Butte. The house is no longer standing, but the graves of Bill and Art are still there, and you can visit them.
When I went to visit the graves at Gold Butte, I had no idea the rabbit hole the lives of these two men would lead me down. However, immediately after I read their "incomplete" memorial sign, I knew I wanted to honor this obviously queer couple. I was out in the middle of nowhere with whatever I had in my Subaru.
However, I was able to make a rainbow flag from several colorful scraps and materials I had on hand. Sure, the flag was patchworked, but the more I learned about Bill and Art, the more I think they would have approved of its character and recycled bits. I placed the flag between their two headstones as a memorial, a badge of honor. Perhaps this small gesture will help to recontextualize the narrative to the next person, who happens to stumble upon these lone 2 graves in this beautiful desert landscape.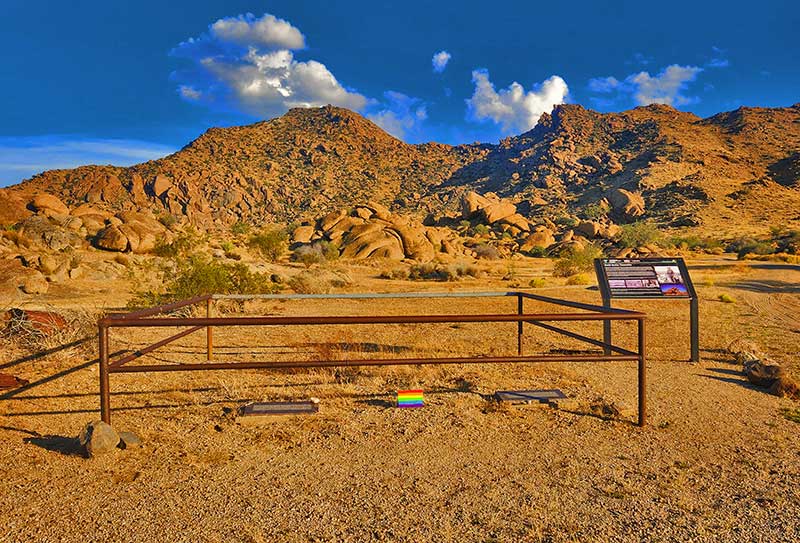 Sources:
The Long and Short of Gold Butte, by Rex Jensen, Las Vegas Review Journal, January 3, 1982
The Life Story of Robert Elliot Lee as told by his grandson James Elbert Lee, by John David Lee, October 30, 2014
A Legend Returned Home, by Vernon Robison, Mesa Valley Progress, March 30, 2016
Remembering The "Grand Ol' Men of Gold Butte", by Dustin Nelson, Mesa Valley Progress, March 30, 2016
Findagrave.com, Bio William Houge "Bill" Garrett provided by Michael Horne