8 Holiday Mocktails to Keep the Party Going this Holiday Season
It's that time of year again, the fireside is burning bright and sleigh bells are ringing, not in Las Vegas, but surely to hell, somewhere. 'Tis the season to celebrate another year down and a return to the some of our most cherished traditions. It won't be long until the cocktails are flowing to celebrate the end of another year of fierceness. Another year of fighting for our fundamental rights and another year of fighting to not be erased. With existential threats looming so large, it's a hell of a time to be sober. It's no secret that alcohol remains the focal point of socialization in the LGBTQ+ community. So we are rounding up eight of our favorite holiday mocktails to have on hand this holiday season to support your sober friends.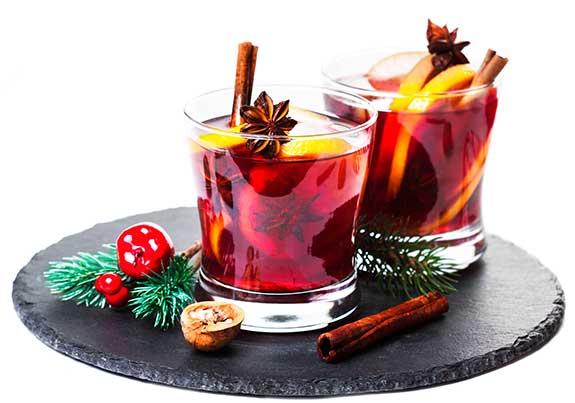 Lip Smackin' Citrus Collins
Fill a 10–12 oz. glass with ice cubes then add:
2 oz. orange juice
1 oz. lemon juice
1 oz. flavored syrup
Fill with club soda
Garnish with an orange slice or a cherry.
Sweet Ass Holiday Delight
Blend the following ingredients in a mixer:
1/2 cup orange juice
1/4 cup frozen strawberries
1/4 cup cranapple juice
1/4 cup half-and-half
1/2 banana
Pour into a tall glass.
We are Viennese If You Please Coffee
Combine:
1/4 cup whipped cream
1 tbsp. powdered sugar
1/2 tsp. vanilla extract
Beat until stiff.
Pour 3 cups of very strong coffee (decaffeinated is fine) into four cups.
Float whipped cream mixture on top.
Garnish with 1/2 tsp. grated orange peel. Use cinnamon sticks in each cup as servers.
The C&C Music Factory
In a blender, mix the following on low speed to smooth consistency:
6 oz. chocolate chip ice cream
1/4 cup brewed espresso coffee
1/4 cup half-and-half
3 tbsp. cream of coconut
Pour into an 8-ounce serving glass. Top with whipped cream and chocolate shavings. Garnish with a cookie and serve immediately.
Frosty Bitch Mocha
1/2 gal. chocolate ice cream, softened
8 cups coffee, chilled
1 pint half-and-half
1 tsp. almond extract
1/8 tsp. salt
1 square semisweet chocolate, grated
1/4 tsp. ground cinnamon
With a mixer at low speed, beat the ice cream and 3 cups of coffee until smooth.
In a chilled 5–6 qt. punchbowl, stir the ice cream mixture, half-and-half, almond extract, salt, and 5 cups of coffee until blended.
Sprinkle with grated chocolate and cinnamon. Makes sixteen 8-ounce servings.
Basic Bitch Fizzy Wine
1/2 cup white grape juice
1/2 cup lemon-lime soda
1/2 tsp. sugar (optional)
Combine ingredients in a tall glass; stir to blend.
Add ice. Makes 1 serving.
Fishing in the Dark
Southern Style Eggnog
4 eggs, separated 1 cup whipping cream
1/2 cup sugar 2 tsp. vanilla extract
1/4 tsp. salt Nutmeg
3 cups milk Whipped cream to garnish
While beating the egg yolks, gradually add sugar and salt.
Gradually stir in milk and cream. Heat mixture over hot water or over low heat, stirring constantly, until it thickens and coats a metal spoon. Cool.
Add vanilla extract and chill thoroughly.
Beat egg whites until soft peaks form; gradually add the remaining 1/4 cup of sugar. Beat the refrigerated mixture until smooth and frothy.
Fold in beaten egg whites.
Sprinkle nutmeg and garnish with whipped cream.
Sat Down B Cider
Heat in glass pot or enameled pan:
6–8 cups apple cider
1/4 cup orange, lemon, or lime slices with peel, or any combination
One 2-inch cinnamon stick
4–6 cloves
Serve with fruit slices in mugs. Makes 6–8 servings.