The Jet Foundation: Resources for All
By Las Vegas PRIDE Magazine Staff
Dr Jeffery Eugene Thompkins Jr is the Founder & Executive Director of JET Foundation, Inc. Since 2018, the organization has led outreach support and advocacy in Nevada contributing to a dramatic decrease in the divide of what services people need and the barriers that exist in receiving them. Having gone through personal trials since birth, and not having the needed resources to help in my time of need he knows what a tough time is; being a single father and dealing with a multitude of health issues for several years, has spearheaded his passion and purpose in life.
In 2020 with the onset of COVID-19, determined to host their annual Easter event to not only serve the community but boost morale and give hope to our city and some of the most underserved people impacted by the pandemic. JET Foundation pivoted to be one of the first organizations to put on a drive-thru event that provided food and Easter goodies to over 600 individuals. For those disabled, elderly, or immune comprised, the organization and its volunteers personally delivered meals and gifts to those individuals. JET Foundation has ensured that our disadvantaged communities have received service and support, since their inception and throughout the pandemic. Their mission is to help those in need and transcends race, gender, sexuality, and economic status.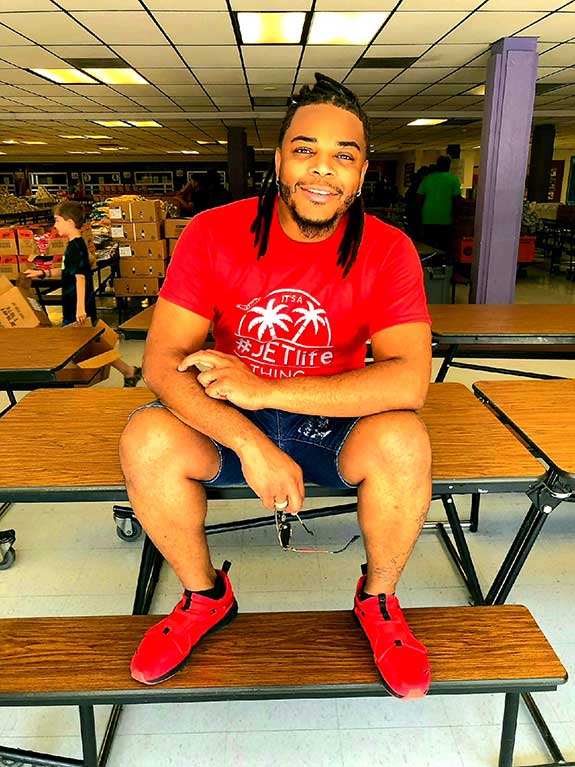 Dr. Jeffrey Eugene Thompkins Jr.
The passion for serving comes from Dr. Thompkins experience as an 18-year-old single father working to get through school while also battling stage 4 cancer while trying to make a better life for he and his son. Many times, throughout his journey he needed assistance and was sometimes met with resistance for one reason or other. With his son Savion being born on his 18th birthday and not having any support from family or friends; he has always been determined to succeed at all costs; even at 19 getting unbelievably sick he thought he would not be around to see him grow into the amazing young man that he is today. His hope is through JET Foundation, he can provide help while removing some of the barriers that often make it near impossible for individuals and families to get the immediate help they need.
Dr Thompkins can remember countless nights of laying in MANY hospital beds after being diagnosed with stage 4 colon cancer and only having a 6% chance of survival, Chronis disease, irritable bowel syndrome, Gerd, acid reflux Disease, gastritis, having a hernia on his esophagus, congestive heart failure (CHF), sleep apnea, Asthma, supraventricular tachycardia and high blood pressure; he got TREMENDOUS comfort from planning to help those around him in our community. He can remember back to crying and staring in the face of my sleeping son, while being displaced and staying in a shelter after losing his job and home; not knowing where to go, or what to do; That there had to be a better way! After gathering his own thoughts, he put pen to paper and hatched a plan, because there is a lack of resources in the community, and even less for those with any sort of income.
In January 2021 JET Foundation in partnership with Dreamsickle Kids Foundation, the first Sickle Cell organization which has now expanded to service the over 7000 Rare Diseases in Nevada, came together and curated, The Aspiration Center. This is a one-of-a-kind community center which allows us to not only serve our targeted populations but collectively offer our services to the community so that; there is nobody that reaches out to us in need, and we cannot serve. The Aspiration Center is a sanctuary for children and adults, offering a kid and adult friendly atmosphere where one can enjoy themselves and take care of necessary business.
We wanted to be somewhat of a one stop shop. If you need something we cannot directly provide, we can refer you to one of our over 40 community partners who will be able to help you from start to finish. Along with being the first Sickle Cell community center in the state, we boast a state-of-the-art JET Foundation community pantry, and JETbus our mobile resource center that is always stocked with not only food and snacks for our guests and community members, but other products that are useful to those in need such as sanitizer and diapers.
Recognizing how much further we could go, and how many more people could be served with what we have to offer along with understanding the challenges faced by minority led nonprofits; JET Foundation and Dreamsickle Kids came together despite our differing missions and visions with only one goal in mind, to serve the community in any way we can. We are grateful that we understood early how important partnerships and collaboration were to increase our ability to serve our community with boots on the ground.
Dr Thompkins serves as a President of the Nevada Chapter of the National Nonprofit Minority Association created in 2018, Las Vegas Chapter President of Blacks in Nonprofit and co-creator and partner of The Aspiration Center (1st and only comprehensive Sickle Cell Community Resource Center in Nevada) which boasts a staggering 29 programs and services that benefits all ranges of community members. He sits on the board of Boy Scouts of America Las Vegas Chapter in addition to being the Vice Chair for the Diversity & Inclusion Committee of BSA as well. He holds a BSA in human resources, a master's degree in business administration and a Doctorate in Philosophy with a concentration in Organizational Leadership all from the University of Las Vegas.
When not working, traveling, and spending time with his two main men are essential. Allocating time to both relationship with Dr. De'Mario Mims, MSN, PA-C, PsyD a certified Physician Assistant & Son Savion a 6'4 11th. grade basketball star at a local charter school comes second to nothing. Due to all three of us having uniquely challenging and busy schedules I truly look forward to taking them on individual and family dates. Realizing that I had to put more work into my personal relationships than work, came with a lot of tough lessons. Making plans and waiting to the end of the week to take De'Mario on what I call BAEday is my favorite thing to do. Picking, planning, and surprising him with unforgettable dates, places, trips and experiences make all the smiles worth it! I look forward to continuing growing my relationship and community outreach work and taking them to heights that were never thought possible.
Having events that welcomed over 20,000 community members and distributing over 238,000lbs of food and other resources in the past year has been great, with current plans we are looking to double our output and elevate our work in assisting individuals from getting from a state of situational-crisis to stability.
I am not sure there are many small, newly formed organizations in Nevada that offers the number of services we do in on a budget as modest as ours. If there is need; we are here #JETlife #MakePeopleMatter