Meet our New Publication: PROUD & Kinky
By Jennifer Howe (They / Them)
As the Las Vegas PRIDE organization continues to grow, with the support from our community, the organization will continue to undertake new initiatives that engage and help to unify the LGBTQ+ community of Southern Nevada and beyond. We have just launched one of these initiatives, with a new magazine, website, events and more. This branch of the Las Vegas PRIDE organization is PROUD & Kinky and we hope you will check it out with curiosity and fervor. With this branch, we also get to the opportunity explore topics around cannabis and queer cannabis culture. The Mission of PROUD & Kinky is to connect and serve the queer kink community by fostering sex positivity and embracing the alternative lifestyles of LGBQTIA2S+ individuals, through our magazine, events, education and activism.
From the Editor of PROUD & Kinky:
According to NASA, Las Vegas is the brightest city in the world, many countercultures in the LV community are cast in the shadows just behind these bright lights. The kink scene is no exception to that. The juxtaposition of light and dark has been the core of many fictional and nonfictional battles. I believe the kink scene
always operates in a shade of gray, no matter where the community is located (and no it doesn't have just 50 shades). Just because something is created and explored in the shadows does not mean that it can't have ethics, protocol, consent, accountability. These fundamentals are the foundation of kink and sex positive movement. I haven't heard them talked about enough within our local scene.
The goal of PROUD & Kinky is to spotlight and connect the local community; build bridges between groups, radically showcase the erotic arts, and foster pride. Let's bring more accountability, enthusiasm and joy to the light, because that is affirming and contagious.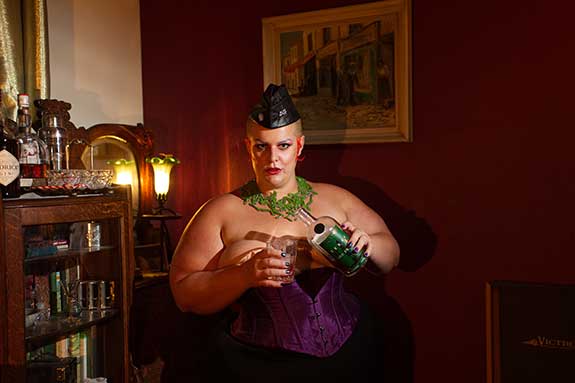 Photo of Jennifer Howe by Bettina May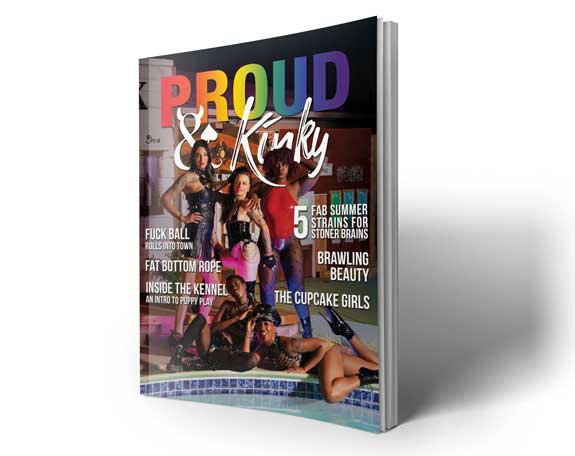 When I think about light and dark it's easy to draw upon memories and experiences related to organized religion. No matter what you believe, if you believe, or if you don't, Organized religion has a successful business model. I'd love to see that model implemented in the local and national kink scene. Whether you feel you belong to a denomination of leather, bondage, sex education, sado-masochism, service, domination, fetish, voyeurism, et. al, we all have something in common. That something is special and deserving of jubilation.
Let's actively choose to be visible and proud of our individual identities and radical self expressions of pleasure and kink. One of the wonderful things about kink, is its diversity. Kinky people come from all walks of life, let's celebrate that diversity too. When we organize and acknowledge each other, it is powerful. Any community that can organize has the ability to affect and create change. While individuals can certainly do this, a community is a stronger muscle, a stronger force, to bring about change quicker.
When I envision that change it looks like more queer kinky safe spaces & events. Advocating for the change of some of the outdated laws that our state still has that forces even safe BDSM underground. Community support for sex positive businesses. Continued communal support of sex workers. STD & Sex education workshops and salons. Queer weed consumption events. Training and a network of dungeon masters that can provide safety across all community events. More accountability. More sex positivity. More visibility.
People who visit or choose not to stay long in Vegas, might not get the opportunity to see the rich culture and community shadowed just beyond the bright lights. I hope PROUD & Kinky will point people in the right direction; so they can learn, discover, or find the connections, community or resources they are looking for. I also hope that folks from all factions of the queer, kink, cannabis, and sex positive communities will also help shape this publication with their voices, contributions, and collaborations. Consider this an open invitation. My email will be at the bottom of this letter, and I hope you will reach out. At the back of this publication you will find a resource guide. This section will continue grow and share LGBTQ+ friendly resources for sexual health, mental health, mutual aid, harm reduction, sex positive businesses, education opportunities and more. If you or someone you know has a resource to add, let us know, help us grow. PROUD & Kinky also has an community calendar online, that folks can submit their community events to and find out about upcoming sex positive events.
The annual Las Vegas PRIDE Festival is coming up October 7-8, 2022 and our theme this year is Beautiful Tomorrow. Tomorrow will always be more beautiful when we work together. PROUD & Kinky will have its own stage area, for folks over the age of 18, within the festival grounds at Craig Ranch Park on October 8th. This area will be approachable and engaging and sexy no matter your background, gender, or orientation. There will be sex positive entertainment on stage all day featuring educational demos, bdsm scenes, fetish fashion show, vendors, and live music. Plus magical performances that feature fire, aerial, burlesque, circus, pole artists and more! I hope to see you there on Oct 8th.
Thanks for being PROUD & Kinky.
Your editorial pervert,
Jennifer Howe
(they/them)
PROUD & Kinky Magazine Editor
Associate Board Member of
Las Vegas PRIDE
jhowe@lasvegaspride.org
Check out PROUDandKinky.com &
Follow us on instagram
@Proudandkinky