Little Skittle'z
By AJ Huth (she/they) – Youth and Family Services Manager, The Center
The Center and Las Vegas PRIDE are proud to announce the kickoff of PRIDE for Kids for all our little skittle'z on October 1, 2022.
At The Center we strive to listen, understand, and meet the ever-changing needs of our community. Change happens fast in our youth population. Young people are the visionaries and change makers. They drive trends, technology, legislation, and language. The need for services for the youngest of our community has become known as we regularly receive calls for kids coming out as young as 10 years old. Considering this change, The Center is working with Las Vegas PRIDE to hold a special event for youth ages 5-12 and their families at The Center on October 1 and will be participating in their Kids Zone at the PRIDE festival on October 8, at Craig Ranch Regional Park.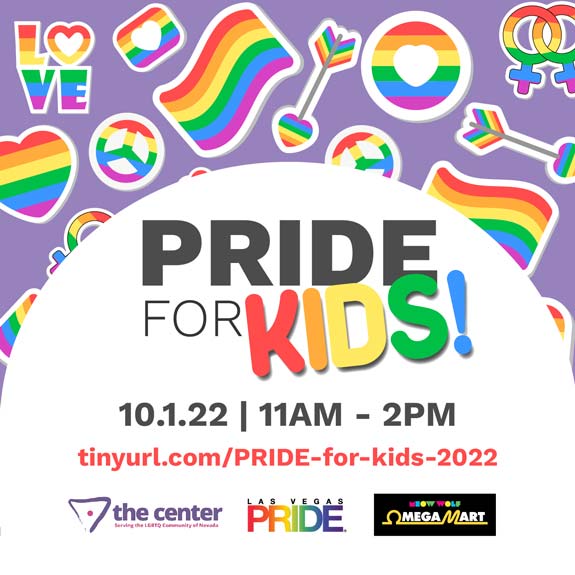 PRIDE for Kids will be a place where our youngest can come and celebrate being their authentic selves with all the fun and beauty that is our community. We will have games, food, prizes, face painting, a dress up area, activities, and much more. Youth will then be the stars of their own pride parade!
The Center's flagship youth programs are QVolution for youth 13-17 years old and Pivot for families.
QVolution meets every Tuesday from 4-5:30pm and is a place where teens can come and find friendship and support with other LGBTQ+ youth and allies.
Pivot is a group for families that want to support their LGBTQ+ child. Parents and teens attend group once per week for 6 weeks and learn about language, communication, and how to be good allies. This year Pivot will expand with the addition of Pivot Littles. Pivot Littles will be a play place for our younger group during Pivot and one Saturday per month alongside the PFLAG group.
PRIDE for Kids, QVolution, and Pivot are all offered free of charge. Please see details at thecenterlv.org. For more details on Kid Zone at the Las Vegas PRIDE Festival, visit lasvegaspride.org.
Hope to see you soon, at The Center.