Laganja Estranja
PRIDE Festival Headliner Spotlight by Clair Koetitz & Lyndon Marquez
Photography by Alexander Fost
We caught Laganja Estranja for a brief interview before she left on her upcoming tour. She will be closing out the season in Dewey beach, Delaware, Hawaii, where she has been performing 2 to 3 times a year since 2014. Then Canada and closing the tour in New York. She grew up in Dallas, TX with very supportive parents.
We asked her several questions touching on numerous subjects that are near and dear to her heart.
What encouraged you to become and entertainer?
I was born with entertaining in my blood. After trying sports of all sorts, at the age of 7 my parents enrolled me in a ballet class since that is where I was comfortable. I graduated from Brooker T. Washington High School for the Performing and Visual Arts and went on to obtain my BFA in dance from the California Institute of the Arts.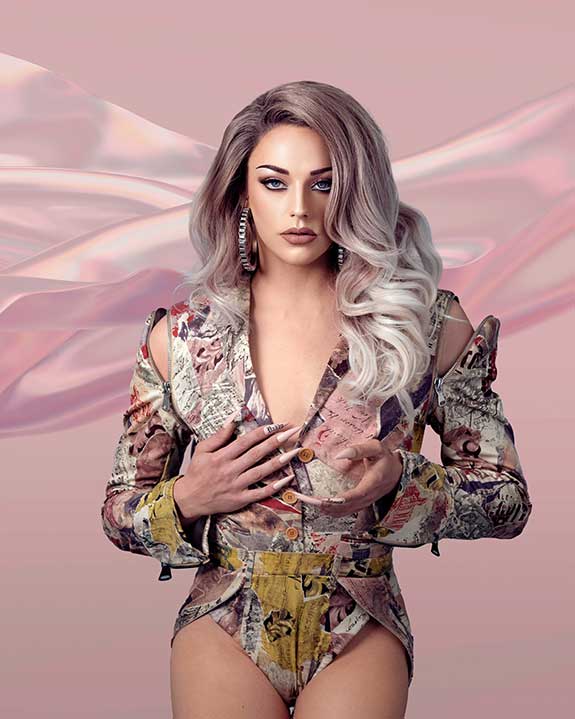 When did you start Drag?
My early career in drag started in California, At Micky's West Hollywood, after winning the Amateur competition I was on my way. Alyssa Edwards was my Drag Mother and took me under her wing. She didn't really encourage me to continue in Drag, but I proved that is where I should be.
What is your favorite memory of RuPaul's Drag Race and RuPaul's Drag Race: All Stars?
My best memory was entering the work room, that is something I had always wanted to do, I knew it was where I wanted to be, I was going to stay there, we had been locked in our hotel room, so it was exciting to be out of our hotel room and finally be dressed up and seeing that international stage. I had told them that I would like to do my famous move The Dip, so the camara would be prepared to catch that, so I was definitely known for producing myself right off of the jump. It was a very special moment for me. For All Stars, I think my favorite memory of that was for winning, obviously I wanted to go back and prove myself so when RuPaul announced me as winner of the lip-sync, that was a special moment I will never forget.
So how was it being the Lip-Sync Assassin?
I had a little PTSD being honest, I was very nervous stepping back on that set after so many years gave me anxiety, but it was a great experience, everyone was so kind to me and all I had to do was the lip-sync, so I was in and out in a couple of hours. It was definitely a great experience and revived my career in such a special way.
Is there something that we would be surprises about being on the show?
Probably that I did my jump split entrance from the ceiling about 7 times. I had to do it a number of times from different angles to make sure it was right, then I did it 1 time for the judges and the contestants.
Are you still involved in your Cannabis advocacy?
Absolutely, cannabis is synonymous with my brand, with a name like Laganja I don't think that is ever going anywhere although my relationship has changed to the plant specifically with starting hormones. I am still very much an activist to this day and believe in having access to the type of medicine that it is and continue to fight for the plant daily, weather it is talking about it on Instagram, talking at colleges or working at different dispensaries. I just did an amazing endeavor here in California at a dispensary, known as the Artistry with one of my best friends where we did a photo shoot in front of the audience which showed what our process is. That was special and speaks to how cannabis is a medicine.
Do you have any products available here in Las Vegas?
Not at the moment. I am working with companies here in Los Angeles to create my own brand which would eventually branch out into other states. As you know to create my own brand, takes millions of dollars so I am not quite there yet.
We noticed that you are a fashion designer.
I like to say I am a lifestyle brand, I work with designers, you may have seen clothing that is on my website. I am intracule to that process, but I definitely believe in collaboration when it comes to my clothing and merchandise.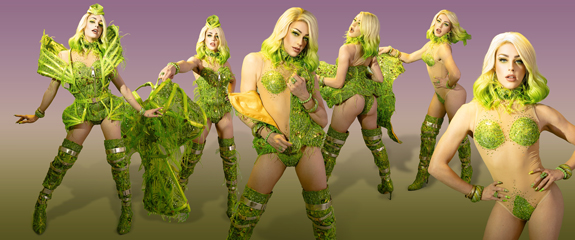 We see where you have been involved with the Perez Art Museum in Miami.
Yes, that was with an organization known as Young Art, I was a recipient of their award and went on to be a presidential scholar in the arts back in 2007. The only way you can become one of those is by going through their program where participants come to compete. I have stayed very involved with them through the years. I specifically did an arts residency where I completed a immersive piece of art in their Jewel Box building where 40 people at a time could go through and experience the piece I created. It was about gender.
What do you go through to get your creative juices going?
Well, I have different processes for different projects, definitely yoga, smoking cannabis and of course down time which I am not very good at taking. I did just complete some down time in August so that really revived me.
In all your international travels is there a place near and dear to your heart?
Anytime I get to go to Brazil, it is my favorite. I have connected with the people and their culture. I would like to live there one day, especially Rio., it is like the LA of Brazil. I am definitely a beach girl. My supporters there (I call them my Buds) are definitely there for me. They have even shown up at the airport to meet me, so I feel like a total rock star when I am there.
Are you working with your dance and choreography?
I am not currently involved with that. It is something that I want to get back to, but right now people are requesting performances, so I go with the flow, I give people what they are asking. Hopefully in a year I can get back to the dance studio and choreography.
Have you performed in Vegas previously?
Yes, I performed at Piranha for many years. I am definitely looking forward to coming to PRIDE this year.
On your personal life, do you want to share anything about coming out as Transgender?
Sure, my journey so far, I am only about a year in, has definitely been a lot of joy, not to say there hasn't been hard times, there definitely have been, but overall, for me accepting who I really am has allowed me to be more free and more important to inspire the people that are following me. I used to tell people in my show "If you can't love yourself, how the hell can you love somebody else" but I never took that advice to heart. When I started doing that it shifted my perspective and my follower's perspective, and it has allowed a lot of them to look within themselves and ask the hard questions. It has been really rewarding. I have had a lot of Trans individuals come up and share their stories this past year. I also work with Los Angeles organizations including the Trans Wellness Center and Trans Latino Coalition doing the hard work, as an artist I am not able to do. They specifically work with Trans wellness. They have been credible with keeping me sane to be honest. I have a therapist that helps me with making sure I keep everything in place, and I have everything needed. I use my platform to spread acceptance and excitement.
How would you like to prepare your Vegas audience?
They can prepare for shows, stunts, and shenanigans. The show will be off the wall with crazy excitement.
Would you like to comment on the political atmosphere in the country at the moment?
I am lucky to have been raised by two political individuals. I have always been politically inclined with the platform, I think it is important that I am educating people, especially the youth today. I think we have a part of Gen-Z on Tick-Tok that is inclined to engage in political conversations, but I think ultimately a lot of the youth, it is over their heads. I know when I was their age it was over my head, so I try to explain to people what is going on. Specifically with Texas, it is my hometown.
Is there anything you would like to say to close the interview?
My signature, "Stay Sickening!"
Thank you Laganja for your time in giving us this interview, have a successful tour and we can't wait to see you in October at our Las Vegas PRIDE Festival.