Hard Summer – Soft Landing
Article & Photography by Megan Williams
On a scorching weekend at the end of July, the NOS Event Center in San Bernadino, California we witnessed Insomniac Events do it again. Hard Summer Festival's line-up was packed with talent across different genres and intensities. Every single event Insomniac produces they make the right call, with the right combination of line-up, with the right ambiance, in the right setting.
During Hard Summer, there were two main stages you could choose to view your favorite artists from. One was their "Hard Stage", where, on Friday, we saw the likes of James Hype, Vintage Culture, and Megan Thee Stallion. Megan is always a hard hitter and a dynamic female force, but the artists in who took the night home was Griz. With his ensemble cast of singers, hype crew, and his impeccable timing with his saxophone, he made us jump for 90 minutes in the heat. The absolute best part about Griz is the way he makes it his mission to transform his shows into safe havens for fans. After coming out in 2017, he makes it a point to let the world know that you can show up to his sets exactly as you are, and no bigotry, oppression, racism, or homophobia are allowed at his party. Evident in his immense talent both behind the decks and playing his perfectly timed saxophone riffs, it's easy to see why he's a hit on and off stage.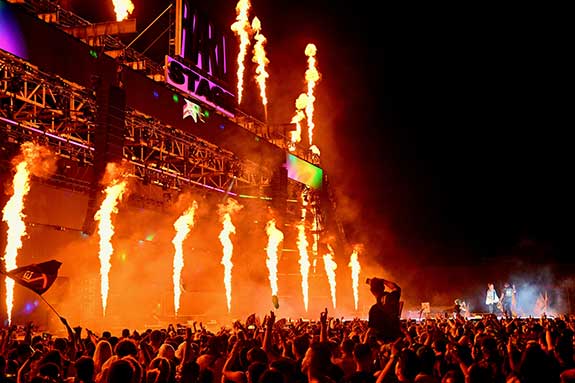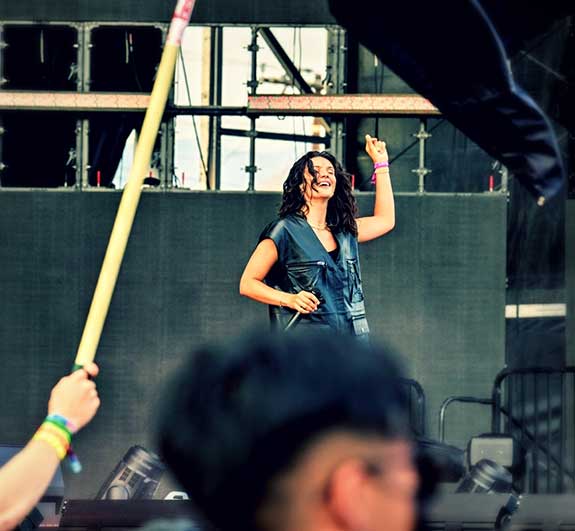 Saturday brought talent like Lucii to the aptly named "Harder Stage", the second of the two main stages. You could hear her thumping baselines and drops thundering through the festival. Lucii, known lovingly by her IG handle @luciithealien is an out and proud artist as well. Her message is simple: "Never feel bad for being who you are." Beyond her edgy style and her powerful messages Lucii can slam down beats and make a statement in a festival filled with world traveling headliners like Alison Wonderland. Who, in my opinion was the breakout performer of the weekend. She tore down the house with some of her old hits she performed and sang live. While flawlessly mixing in some of the hits on her newest album "Loner". One thing that makes Wonderland such an upper echelon performer and artist is her thoughtful and particularly choreographed graphics that are synced to her rhythm throughout her set. She even went as far as to do some scratching and mixing on her turntables to old-school Hip-Hop hits that immediately tore the roof off the place. The girls ruled Saturday.
Sunday the women continued to slay. Evan Giia took the Harder Stage over for a power hour of her hits and upbeat tunes that got our hearts racing. Over at the Hard Stage Las Vegas PRIDE Headliners DRAMA, the collaboration between producer Na'el Shehade and vocalist Via Rosa make one hell of a blur of R&B and dance-pop tracks. The pair brings us a nuanced groovy experience in a space full of rail riders. Sunday ended with the hard-hitting Wax Motif set that took all of us by surprise, his blend of heavy bangers and smooth transitions kept us waiting for what he was going to play next. Closing the festival out on the Hard Stage was the positive affirmation forward Porter Robinson who gave us all a soft place to land.
Hard Summer was hot, the line-up was hotter, and every single one of us left with a new love for at least one queer artist or ally. And that is always a win.