Starting the Conversation
Family Planning & Fertility Options for LGBTQ+ Patients
By Joslyn Hatfield
Photography by Keem Ibarra Photo
LGBTQ+ families are an indisputable and vital part of communities across the United States. In fact, recent data from the Family Equality Council suggests that as many as 3.7 million children are raised by LGBTQ+ parents and decades of research shows that children with LGBTQ+ parents grow up as happy, healthy and well-adjusted as their peers.
As the definition of what makes a family evolves to mirror our ever-evolving reality, so do the options available for starting a family and the cultural competence of health care providers helping LGBTQ+ patients explore their family planning and fertility options.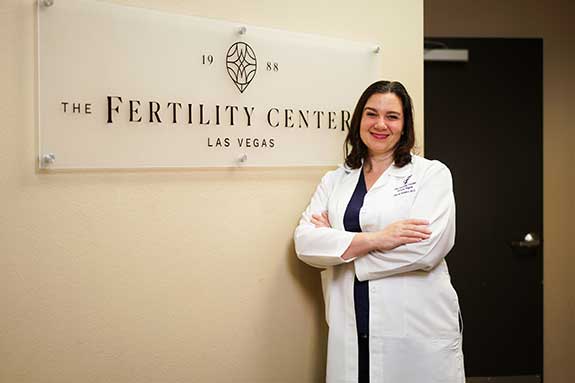 Dr. Carrie Bedient at The Fertility Center of Las Vegas
Las Vegas PRIDE Magazine sat down with Dr. Carrie Bedient, Fertility & Family Planning Specialist at Fertility Center Las Vegas & Fertility Docs Uncensored Podcast to get the scoop on all things family planning for the LGBTQ+ Community.
What are the main fertility treatments available?
Some of the most effective treatments include ovulation induction, intrauterine insemination (IUI) and in vitro fertilization (IVF). But there are other pathways available and it's important to understand all the options available to make the best health care decision for you. Some people find success with over-the-counter medications or working with an OBGYN on a prescription medication plan.
When people make there way to me, it's often because they want to be pregnant, like yesterday. And, it is at that time that our team completes a comprehensive evaluation to help people make the best decision for themselves. This includes a full assessment of the biological elements of fertility.
IUI can be quite effective, it's largely using medication therapy to help healthy eggs grow and release and it utilizes technology such as ultrasounds to help monitor the embryo along the way. However, you cannot control how many will grow an implant, so there is a higher likelihood of twins, triplets, etc.
IVF is by far the most controlled. From a clinical standpoint it is ideal for many clinicians because we can control more of the variables. We select, control, and directly combine eggs and sperm. We allow embryos to grow and we conduct genetic testing. All of these yield a higher success rate for our patients and allow us as clinicians to address potential issues or problems before they happen.
Perhaps most importantly, it allows for singleton pregnancies, which is important to help families conceive babies and not basketball teams. However, it is more involved and more expensive.
What kind of doctor most commonly treats patients with fertility considerations?
There are options. For someone who has typical medical considerations and simple treatments, a general OBGYN may be a good choice.
A reproductive endocrinology and infertility (REI)— not the sporting goods site— specialist like myself tends to treat more complicated cases. Both an OBGYN and REI have completed four years of college, four years of medical school, four years of an OBGYN residency, but an REI has completed an additional three years of fellowship.
90% of that fellowship is fertility focused and a REI specialist will have access to a host of very specific tools and technologies for this work. And, it's competitive, a pool of around 100 candidates are competing for approximately 40 fellowship spots nationally. So in that sense, one can be sure that an REI is all in on the work they are doing.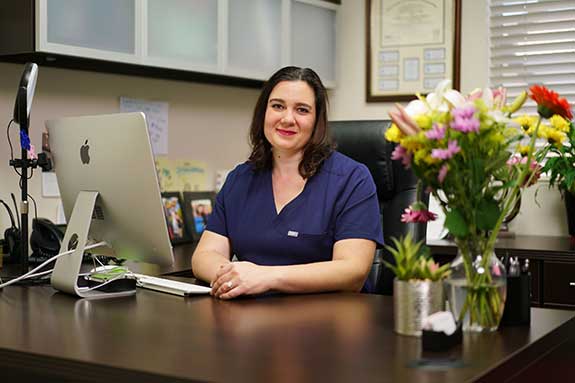 Dr. Carrie Bedient at The Fertility Center of Las Vegas
What are the most common fertility options pursued by LGBTQ+ individuals?
It depends on who you are talking about. Clinically, my focus is what reproductive assets are available to you in your family planning, i.e., what reproductive organs do we have to work with. For example, in the case of two cisgender women who have typical reproductive organs, we would discuss things like insemination cycles using donor sperm, options for shared maternity (using the uterus of one partner and the egg of another).
In the case of two cisgender men starting to start a family, it will require both an egg donor and a gestational carrier.
For people transitioning, or who have transitioned the priority is generally fertility preservation and that varies depending on the patient. For some it is as easy as collecting a sperm sample and preserving it until the patient is ready to start their family. In the case of egg preservation, the process is obviously more involved. It involves the full IVF process, but rather than ending with insemination, it culminates in preservation of "freezing" the eggs for future use.
For an individual who has received gender affirming care and/or transitioned some time ago, there may be different considerations. There are many options on the table and it's important to point out that these options don't necessarily come at the cost of gender affirming care for the trans community.
It's also important to note that there is still relatively minimal research and data available for the treatment and care of trans people overall. That's certainly true in fertility care and family planning. That is changing. Therefore it's vital that LGBTQ patients have access to culturally competent clinicians who have a working understanding of their needs.
Let's talk donors—eggs and sperm. Can you tell us a bit more about the process of selecting a donor?
In many ways searching for sperm donor is online shopping at its finest. There are somewhere between 6-12 sperm banks nationwide. And there are very few barriers in terms of interstate selection, etc. There are key medical considerations including CMV status and genetic carrier screening including a panel of 300 genetic considerations all of which is available online. Of course, there are also more superficial was to screen, height, eyes, hair, college education.
What are you actually buying with a sperm donor?
That will also depend. There are ART or IVF vials available for purchase which typically contain a smaller number of sperm. Which makes sense, if you have chose IVF, you don't typically needs as much sperm.
If someone chooses the IUI route— say for instance, chooses to perform insemination on their own, they would need a higher sperm count to improve their chances of success. In that sense, you need to know what you are in the market for. From there, it's advisable to choose multiple donors to increase your chances of success.
What are some of the other considerations when choosing a sperm donor?
Assessing the total number of offspring from a single donor if important. We assess the risk that biological siblings from a single donor could procreate in the future. It's an icky thought, and a relatively nominal risk, but one that must be assessed none the less.
How does this differ from choosing an egg donor?
Egg donation typically takes a lot more work on the part of the donor. Egg donors are subject to two weeks of labs, and ultrasounds, self-monitoring, medication therapy and a surgical procedure. That's a much different experience than a sperm donor has.
From the patient perspective there are still multiple options. There are local clinics and national donor pools and if you are working with an agency, the donor pool will typically be pulling from the entire country. And, of course there are frozen egg banks.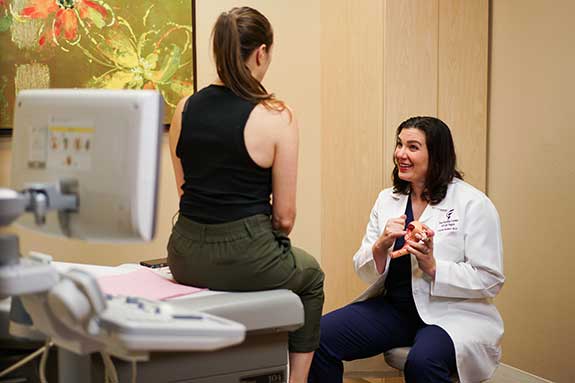 Dr. Carrie Bedient with a patient at The Fertility Center of Las Vegas
What are the advantages of each?
The advantage of using a local clinics system is that it's usually more cost effective, the advantage of using an agency is that they will pull from more areas and the advantage of a frozen egg bank is that the work is already done. The eggs are there and ready to go. So it really depends on what the patient values the most.
What are the disadvantages of each?
The disadvantage for a local clinic system is that the selection will be smaller. The agency will be less cost effective, and the frozen egg bank is that it will probably cost more and you will get fewer eggs than say working with a fresh egg donor.
What is the difference between a surrogate and a gestational carrier?
Traditional surrogacy means that a woman provided both the egg and the uterus to carry a pregnancy to term, which is not currently legal in Nevada.
A gestational carrier is someone who carrying the pregnancy but has no biological or genetic relationship to the child. Which is a very different situation and an important distinction. In fact, many clinics will not facilitate surrogacy because we have a duty to protect all parties involved and that includes the intended parents.
What can LGBTQ+ plan for a budget for fertility treatment?
There are certainly socioeconomic barriers to access fertility treatment. In most cases it's a costly and time-consuming process. But challenges can be overcome. I recommend starting saving as early as you can if you know it's something you may want to pursue in the future.
What are some of the legal considerations for LGBTQ families pursuing fertility treatments?
I am not an attorney, but some things to consider include: pre-birth orders, determining who will be on your child's birth certificate (luckily this is fairly easy to navigate in Nevada).
I recommend consulting an attorney well-versed in not only family law but assistive reproductive family law.
And, I would recommend investing in your mental health (whatever that looks like for you) at the beginning of the process.
---
Dr. Bedient is a board-certified reproductive endocrinologist who treats patients at the Fertility Center of Las Vegas. Before completing her REI fellowship at Emory University Reproductive Center, Dr. Bedient attended undergrad at Washington University in St. Louis, medical school at The University of Arizona and completed her OB/GYN residency at The Cleveland Clinic and Metrohealth Medical Center.
Dr. Bedient is faculty at the College of Medicine at University of Nevada in Las Vegas and Director of Reproductive Endocrinology at Mountainview Residency Program.
When she isn't helping patients become parents and co-hosting Fertility Docs Uncensored, she loves baking and doing artsy-craftsy activities.