Frankie Fictitious: The Queer Burlesque Powerhouse
Article & Photography by Megan Williams
Frankie Fictitious lived many lives before her rise to burlesque infamy. This small-town girl from The Bay has been dancing since she was six, she was the lead guitarist in an all-girl band, she studied painting in college, and has always had a passion for art. One fateful day in San Francisco, Fictitious witnessed the power and sexuality of the incredible Dita Von Teese. This inspired her to start performing burlesque, and since 2013 she has been doing just that.
By 2017, she became Miss Viva Las Vegas, this year also started her reign as being named one of the top 50 burlesque performers in the world by 21st Century Burlesque. Also, on her list of achievements, in 2019 she won the most coveted title in burlesque, Miss Exotic World, Queen of Burlesque. She is the longest reigning Miss Exotic World in the history of the pageant and only the 4th Asian-American to win the title. And if that wasn't enough, she was named the #1 burlesque act by Risky Spotlight Magazine.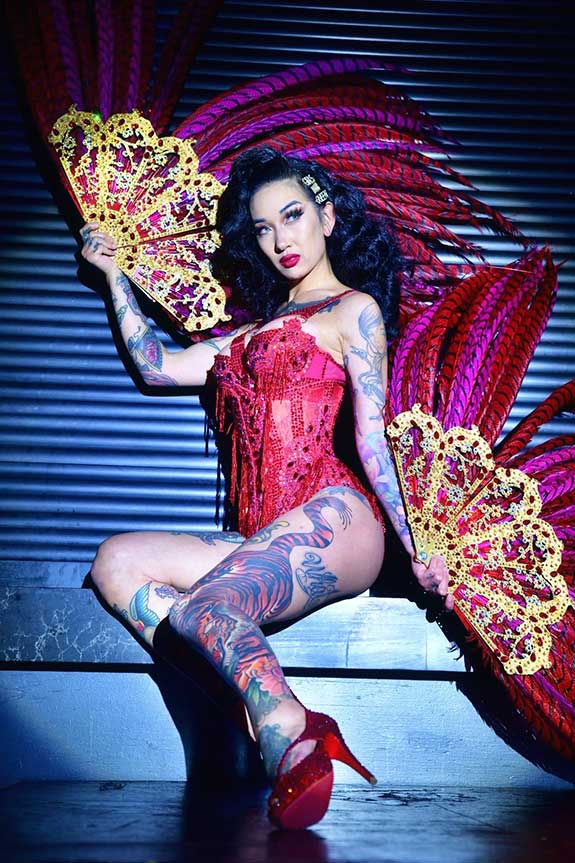 And she's still dropping jaws and cracking her whip….no seriously, she really uses a whip in one of her acts.
All these accolades, and Fictitious is genuinely one of the kindest, most soft-spoken, and humble, women I've ever met. If you didn't know who she was, you could easily forget she is a sexy, tattooed, bold, bossy, and aggressive persona on stage. To Fictitious, her favorite part of performing is getting others to own their feminine sexuality.
"It warms my heart when other women of color approach me after a performance and tell me they've never seen someone that looks like them be so powerful and sexy," she said. "Especially in Asian culture we are taught to be modest; so being able to expand people's minds and embody a representation of women being unapologetically sexy while creating art, is amazing."
I have experienced a Frankie Fictitious performance firsthand, and I can attest that everything she wants to stand for, she does. Even her entrance is captivating. She's a slow burn, a sultry glance, incredible athletic ability, her costumes and creativity with her outfits are otherworldly, and she owns every inch of her sexuality and makes everyone else feel her presence. We are still talking about the 5 minutes of feminine impact we just experienced long after she leaves the stage.
Speaking of costumes, Fictitious' are top shelf. She rhinestones and embellishes all of her own costumes, with some assistance when she needs it from friends like Sophie Rose Bisou. She turned a full-length romper (complete with a full lion head) into a barely-there, stripped-down dress and bra. The creativity is unmatched, and her accessories can range from two fake pistols to a life-sized Japanese-inspired dragon complete with two people maneuvering it around the stage. Take a look at her Instagram or Twitter accounts: @frankiefictitious to get a look at it.
She owns a clothing line that has the burlesque community raving, which includes a full comfy sweatsuit, t-shirts, pins, stickers, and prints. You can find these plus a list of upcoming performances on her website frankiefictitious.com.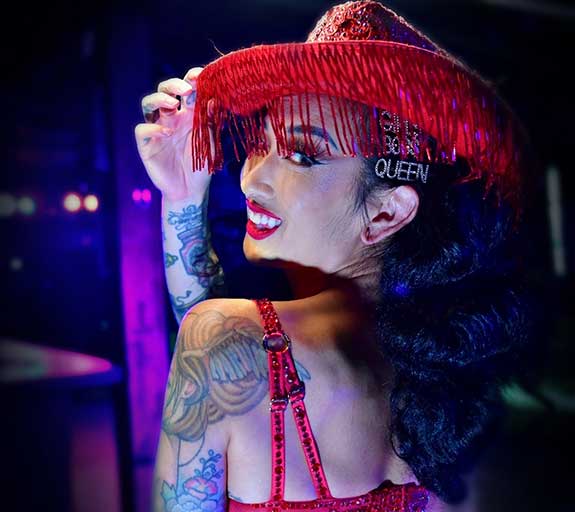 Currently Fictitious has a residency at Lost Spirits Distillery at Area 15 in Las Vegas, Nevada. She also will start a European tour in September and dates will be announced soon. She currently resides in San Francisco with her three dogs. A few weeks ago, in the middle of the women's stage at San Francisco Pride at the end of June; Fictitious proposed to her unsuspecting girlfriend, famed Twitch DJ, DJ Livv. The crowd at the women's stage went wild, once again proving that Fictitious knows how to put on a show that leaves us all talking about it days, weeks, and months later. One of Fictitious' goals is to enjoy life and keep exploring the world while performing. She seems to be doing exactly that and bringing her queer joy and feminine power to every venue, stage, or pride celebration she can. Buy a ticket and bask in it yourself.