EDC Las Vegas – A Vibe of its Own
Article & Photography by Megan Williams
"We'll see you under the electric sky" is a phrase widely used by Insomniac, the entity responsible for the world-famous dance music and experience company. Around 30 years ago, in the warehouses of Los Angeles an underground movement rooted in music, culture and creativity came alive. From the inner depths of his mind, Pascquale Rotella created the now infamous Insomniac around the sole point of trying to create unforgettable experiences of relentless positivity.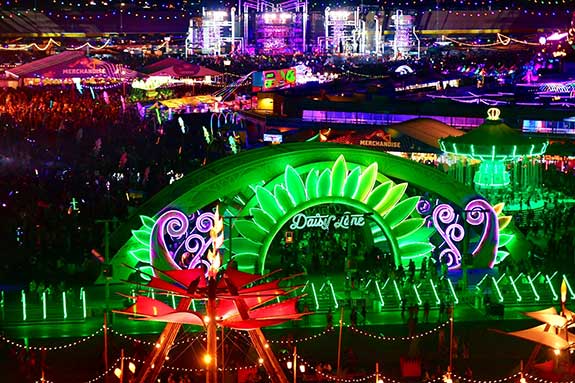 According to Rotella a key pillar of Insomniac, "it doesn't matter how old you are, or where you come from. What matters is we are able to come together in peace, express our individuality, and celebrate life."
In its reign of nearly 30 years, Insomniac throws parties, festivals, has a radio show and podcast, produces clothing, builds art, and makes music. The evolution is impressive considering we were just hit by a world pausing epidemic that effected the entertainment industry with a crushing force.
One of Insomniac's more infamous music festivals is EDC or Electric Daisy Carnival. The ambiance and environment is as off the wall and unique as its name. With an actual LED lit Daisy Row guiding you from stage to stage, it's truly a neon playland for adults. And suddenly the phrase, "See you under the electric sky" makes complete sense as the night sky of Las Vegas, a place known for its lights, glowed until in the sun came up.
The DJ's and artists at EDC Las Vegas were unparalleled. The best of the best took the several stages, expertly placed around Las Vegas Motor Speedway for three straight nights in the middle of May. Insomniac proved time after time what a well-oiled machine they were and why they have the reputation they have. The process of getting in, getting your weekend wristband, getting into the EDC Camp, where campers stayed in campers, air-conditioned tents or cars in a makeshift summer camp complete with a pool, skating rink, bingo, nice bathrooms, showers, vendors and other activities galore. It was very clear that good energy and positive vibes were the mission statement of everyone working, and of all the festival goers.
As you entered the venue from the top of the Las Vegas Motor Speedway bleachers, the whole festival was laid in front of you. The neon lights, the pyrotechnics, the massive stages bookending the speedway and all of the nearly 170,000 people who took to the desert each night. From one stage to the other you can see the world's most dominant DJ's and artists within feet of each other. Rotella, a self-proclaimed night owl, accurately dispalyed an impressively bright owl as the backdrop on one of their mainstages called Kinetic Field. Artists like Autgraf, Dom Dolla, Joel Corry, Zedd, Armin Van Buren, Fisher, Illenium, Alan Walker, AC Slater B2B Chris Lorenzo, Imanbek, David Guetta and Tiesto took to the stage night after night to make us shuffle and head bang.
Across the festival was another stage called Circuit Grounds we saw the likes of Rezz, Chris Lake, Excision, Nora En Pure, Sidepiece, Zeds Dead and Zhu. One of the more impressively laid out and optically pleasing stages was when you first walking into Las Vegas Motor Speedway the first sight you see is a cylindrical, impressive, turning and pyro-crazed stage called Cosmic Meadow. Artists like San Holo, Evan Giia, Dillon Francis, Diesel, Tchami, Tsha, Yellowclaw, Jai Wolf and Gigantic Nightmare elevated the experience.
All in all, if I could sum of EDC LAS Vegas in a few words, it would be, electric good vibes. For as big of a festival EDC is the attention to detail is gone over with a fine-tooth comb and handled with immense care and love. Everyone involved was delightful, hardworking, fun and vibrating higher. With a team like that running the show it is no wonder Insomniac is going into its 30th year; and all the EDC festivals all over the world are thriving, in a world where we all need a little more love.