We All Scream (for Art)
By Joslyn Hatfield
Photography courtesy of Corner Bar Management
What's two stories, 10,000 SF and the hot new nightclub from Corner Bar Management in downtown Las Vegas? If you guessed the spectacular indoor/outdoor art-centric confines of We All Scream, you clearly have your finger on the pulse of all things fabulous Las Vegas.
What you might not have guessed is that this art-filled nightclub is also a not-for-profit ice creamery benefiting local art. The walls of We All Scream showcase murals by renown artists, and an ice creamery funds local artists.
We All Scream is connected to the new Cheapshot bar and showroom from Commonwealth, you may recognize it as the scene of our last cover shoot featuring the one and only Miss Behave.
"Although we built Commonwealth as a bar, the space naturally evolved into what the community ultimately wanted: a club," said Ryan Doherty, owner of Corner Bar Management.
"But, with We All Scream, we were able to build it from scratch to be a club, infusing all the light, sound and production elements you'd expect, and then some. Now, we have two clubs that can coexist on Fremont, along with everything else on that block."
"That's the beauty of being able to take over several spots along that same street," he continued. "Each space can be a different piece of one funky puzzle. We All Scream is a club with ADD. It's a total collision of color and from the bar to the backyard to the rooftop, you have three totally different experiences, each with its own playlist. Plus, who doesn't love ice cream."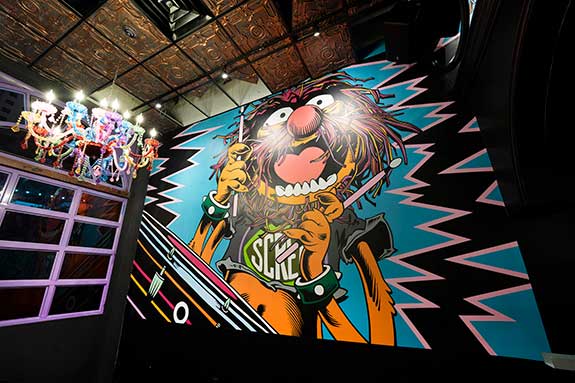 The nightclub made quite the splash amid neon-soaked views of Downtown Las Vegas at the grand opening in early May. The art-filled back alley came to life, fueled the precisely tuned Void Acoustic sound systems at the hands of showstopping DJs.
DJ Airwolf, who tours with American rock band Phish, headlined the grand opening event. His open format set took place on the Fremont-facing rooftop, which features a custom, ice cream cone-shaped DJ booth embedded with LED "sprinkles" that flash in sync with the music.
On the back patio, Corner Bar Management resident DJs, The Trash Pandas, ran the decks of We All Scream's ice cream truck-turned-DJ booth.
During the opening, art afficionados explored We All Scream's wandering, double decker layout, a sensory overload of floor-to-ceiling murals by internationally renowned muralist groups PichiAvo and Bicicleta Sem Freio. Each of the venue's three bars served up cocktails, and bottle service.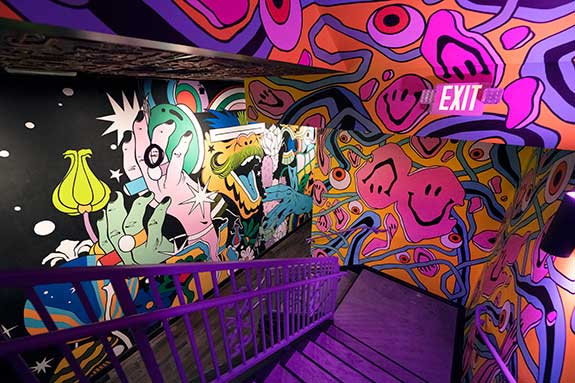 To help guests keep cool, We All Scream debuted its not-for-profit ice creamery, which will fund public works of art in downtown Las Vegas. Featured flavors of the night included frozen hot chocolate, sticky fig rum pecan, sour cherry apple pie, Georgia peach caramel, fluffy Nutella, double-dipped Oreos and cream, peanut butter chocolate truffle and fresh strawberry, as well as roasted banana snickerdoodle as a vegan option, a mango mint sorbet, and vanilla and chocolate custard.
We all Scream… for art. Check them out at online at www.weallscream.com, and on Instagram, Facebook and Twitter at @weallscreamdtlv.