Jolene Secrets – Miss Las Vegas PRIDE 2022
The first time I saw Jolene perform, I was at Charlie's Las Vegas. The music came on along with a music video on the screens (not usual for most drag performances), and Jolene took to the stage. The host welcomed them to the stage and announced the fact that Jolene is hearing impaired (in Jolene's own words, "Deaf Queen from Gaum," a title they are very proud to represent).
Over the years, I have had the opportunity to get to know Jolene more and to see them perform many times. Always bright, uplifting, fun, and effervescent, Jolene brings joy to everything they do. In June, Jolene will take on the title of Miss Las Vegas PRIDE, a title earned by many hours of volunteering with the PRIDE volunteer Board. They also serve on the Las Vegas PRIDE Associate Board of Directors.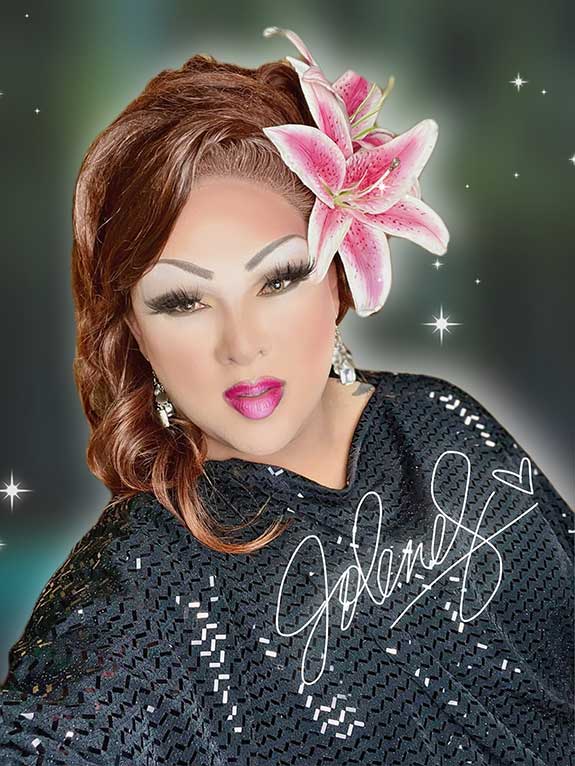 Similar to my first introduction, "Please, welcome to the stage: Jolene!". Born in Guam, Jolene has also lived in Oregon, Washington State, and Las Vegas. They have a real mix of talents, interests, and business focuses. By day, they work in photography (Instagram @Jolene_Secrets), culinary arts, and dabbles in fashion design for other performers. By night, for the past seven years, Jolene has taken the stage to encourage others to be themselves and not let any obstacle hold them back!
Now that we plan to be back to larger scale in-person events, Las Vegas PRIDE Royalty will travel to other Parades and Festivals to market and grow Las Vegas PRIDE events. We are all so excited to help Jolene and others celebrate diversity, inclusion, equality, equity, and overcoming challenges to celebrate together. Jolene's positive outlook, drive, and tenacity constantly remind us that nothing can hold them back! Welcome to the stage, Miss Las Vegas PRIDE 2022, Jolene Secrets!