Celebrating Latin PRIDE with Miss & Mr. Orgullo Latino Josie Cavallari & Jeffrey Alvarez
By Las Vegas PRIDE Magazine Staff
Photography by Yev Z Photography // Location: El Mercado at The Boulevard Mall
Josie Cavallari and Jeffrey Alvarez arrived at El Mercado in The Boulevard Mall with quiet confidence that became more evident as we set-up among the quinceañera dresses and bold colors on display in the tienditas. It doesn't take long to see why the pair is a walking embodiment of orgullo (PRIDE). Their undeniable charisma cuts through the curious stares of shopkeepers and onlookers.
Their reign will mark the return of the Orgullo Latino court at Las Vegas PRIDE and they will serve as royalty for both Las Vegas PRIDE and Las Vegas Latin Pride representing both organizations in their outreach efforts. We recently sat down with the sovereigns to talk heritage, advocacy and all things orgullo.
How long have you been involved in the court system?
Josie: I've been involved in one form or another for about 28 years.
Jeffrey: I moved to Las Vegas in 2016 from the predominantly Latino community of Boyle Heights in East L.A., but I have been all over California. I am relatively new to the court but have been very involved with various community serving organizations and advocacy groups for some time.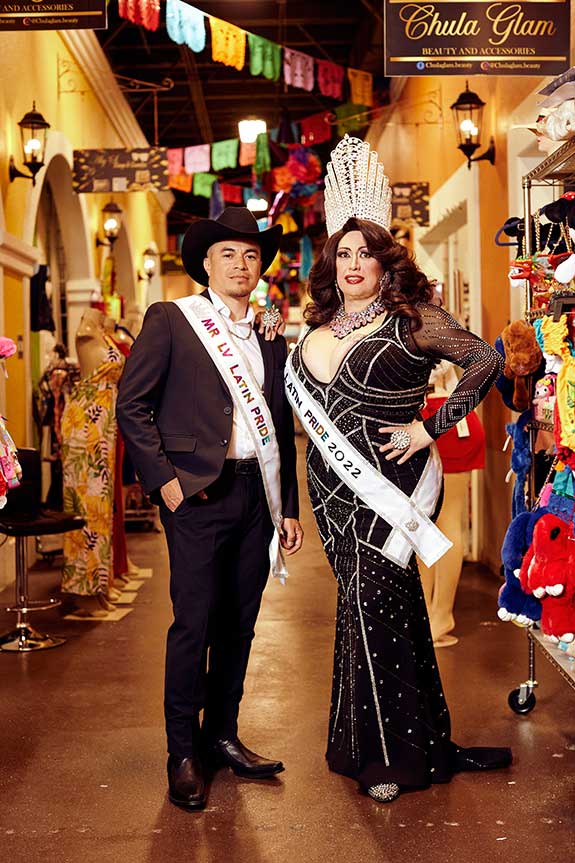 Miss & Mr. Orgullo Latino Josie Cavallari & Jeffrey Alvarez
How did you meet?
Jeffrey: The Center hosted La Parilla de Orgullo BBQ as a community event last year.
Josie: I was a performer for the event.
Jeffrey: Right. It was a free community event that drew over 200 people. It was a big success and something that has now developed into an annual event for The Center. Which was a good indicator that there was an unmet need in our community.
Tell me a more about that need. Why is it important to have Latin Pride?
Jeffrey: I am the Linkage to Care Coordinator of for the HIV POS community at The Center. I started in 2019 and my focus is the Latin community, Spanish language resources and services. It was clear immediately that language was a huge barrier to community involvement and inclusion. Not to mention health care.
Josie: Absolutely. When you think about it, language is so central to every aspect of our lives and the Latino LGBTQ community isn't going to engage with programs and services that aren't communicated in their primary language.
Jeffrey: That's human nature right? And that's a definite barrier for the Latin community, LGBTQIA or not. It has to feel inviting, it needs to feel like home. If not, it's a nonstarter. It's important for Latin Pride to exist because every community deserves to be celebrated authentically. I huge part of that is the Latin community leading their own expressions of Pride.
Let's talk a little bit more about language. Academics and activists have labeled the Latin LGBTQIA community Latinx. Does that resonate with you?
Josie: What's Latinx? Who is that? For me, no. That language doesn't resonate with me. I am from Chile and Latin resonates for me the most.
Jeffrey: I think the important thing about language is that it comes from a place of respect. I am not offended by the term Latinx necessarily, but if anything, I use Latin@ which is a gender non-specific shorthand in the language we use to describe our community.
Why is representation so important for the Latin LGBTQIA community?
Jeffrey: The need for greater representation and celebration of the Latin community is certainly not exclusive to Pride.
Josie: Right. Las Vegas is not particularly known for its celebration Latin culture and heritage.
Jeffrey: But, that doesn't mean it doesn't exist. Just that there isn't currently a real opportunity to find inspiration within the community and empower one another. That's a big part of our vision for our reign and beyond. It's important for both of us to know that the work we do now will help empower the next generation who comes after us.
Josie: It impacts a lot. Without representation in the community, it would be difficult to do things like working with the Mexican Consulate to ensure that the community can update their birth certificate to match their gender identity. That is something that matters for a lot of people. Representation helps create the opportunity for that.
What is next for Latin Pride?
Josie: Our dates for 2022 are set! We will be celebrating during Latin Heritage Month in September, the 15-18. And we will be helping close out the Temptation Sundays pool season with Latin style! We are excited to welcome Latin Pride organizers from across the country to our celebration.
Jeffrey: Yes, that's what we do as a community. You'll see other Latin Prides come in to support each other up. That's a significant part of our outreach as well.
What's next for J & J?
Josie: My dreams center around services and support for the undocumented community here and through out the southwest. Other markets, such as Arizona have transitional housing, food services and other support. I hope to have a center dedicated to Latino services, something that can really help people.
Jeffrey: I'd like to continue my work in HIV education, advocacy and outreach. But, I'd also like to build on that with advocacy work for substance abuse and undocumented people. It's well known that Nevada and Las Vegas specifically has a huge healthcare deficiency and provider shortage. This manifests quite quickly when you compare the number of people needing substance abuse treatment and the number of providers, support staff and detox beds available to treat them. Too many people have to be referred to other markets such as Los Angeles.
And, the statistics are far worse for the undocumented community. Not only are there not enough providers but we are also battling a very real and debilitating fear of detection that impacts their ability to access health services.
I'd like to continue to build that. If it's not available for me, it's not available for my community and I have a desire to build it, that was the case for me and establishing meetings at The Center.
Mr. and Miss Orullo Latino will be at the upcoming Las Vegas PRIDE Coronation ceremonies. Join us to learn more about the vision for their historic reign!