Binary Code: Spotlighting Queer Non Binary Excellence From Within Las Vegas
By Jennifer Howe (They/Them)
I sat down with D Marcucci in the afternoon at my home here in Las Vegas. They sat on a large area rug centered on the floor of a large open living room, surrounded by house plants with a 1970's orange, gold, and leopard print theme, called The Leopard Lounge. A normal interview might be conducted on a pair of opposing chairs or couches, but I knew this typical strategy wouldn't work if I wanted D to open up for this interview.
The floor is a canvas and their body is a brush. If I wanted to somewhat capture their energy and exuberance in this brief article, I needed to give them space to roll around and move.
D has curly brown hair cut shorter in the front than in the back, a petite frame, and a style that I would describe as chic and eclectic, like a 'young-at-heart Floridaian grandpa retiree'.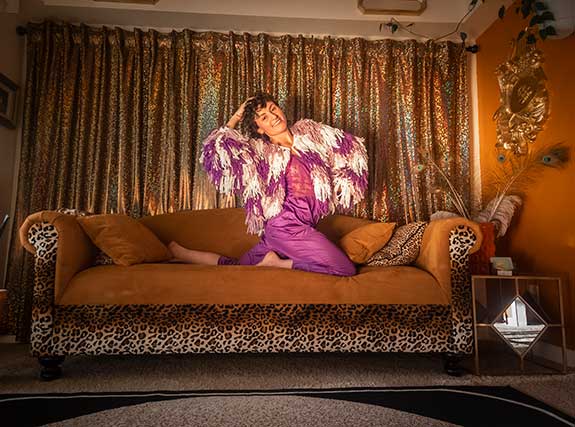 After a few hours of quality time together, I notice that the most expressive part about D are their hands. D is always using their hands whether or not they are speaking to express the moment. The way D speaks is slow and thought out. D's 'ands' and 'ums' bridge many statements and ideas, but one never feels bored, or allows their mind to wander while listening, because the spectacle of gesture, poses, and facial expressions animate any quiet gap of words. The uncertainty of what will happen next is one of the most engaging parts of D's personality.
Interviewer: So tell me about your gender identity?
D: Thanks for asking. I am non-binary, very happily. Day by day, I am becoming more at peace with it and by continuing to practice listening to myself and listening to my body, and just making sure that I'm the most comfortable where I'm at. Super stoked about it, really happy to be here at this point, it took a long time.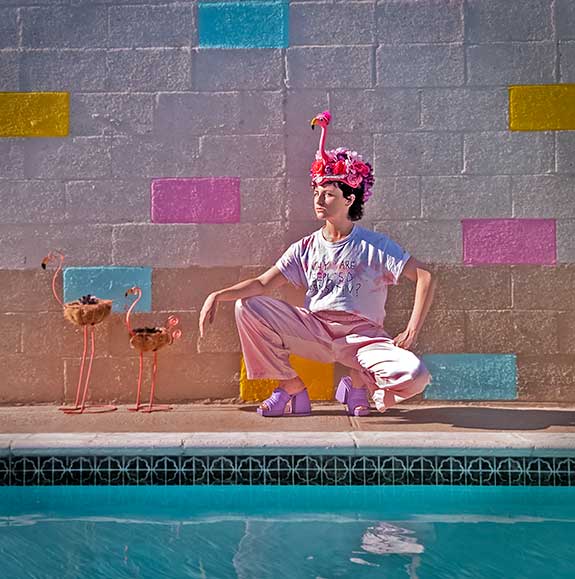 Where are you from and what brought you to Las Vegas?
I'm from Cape Coral, Florida. It's a Gulf Coast beach town, so no shoes, no shirt, no problem – unless you're female-bodied. [We both laugh.] I lived there for 18 years and moved to Los Angeles shortly after I got my associate's degree. I moved to pursue acting. My parents would politely remind me that I could still finish college when "I'm done."
I'm in LA to pursue acting and I found a much greater challenge in comedy and as I entered the school at The Groundlings. That is a well-established character school for comedy, a lot of legends went through there, they have gone to Saturday Night Live, they create their empire based on their skill set as character comedians. So I went there and really enjoyed the challenge of listening and being aware of my surroundings and also making people laugh. It helps people live longer, is a belief I have.
I came to Las Vegas because there was a job to be a clown which I have never heard of before. A teacher had sent out an email about the job and I submitted to simply put my name on their radar. I was told, by myself, and others that I would not get it and it would be a way to simply introduce myself to this company. The process was enjoyable for me, because it was like free workshops by professionals from Vegas. I think it was a seven month long audition process between getting a call back… and I got it. [They said this slowly, as if they are still surprised that it happened.] I had never been to Vegas before. Within two weeks of getting the job, I moved to Las Vegas, and jumped right in as a professional clown.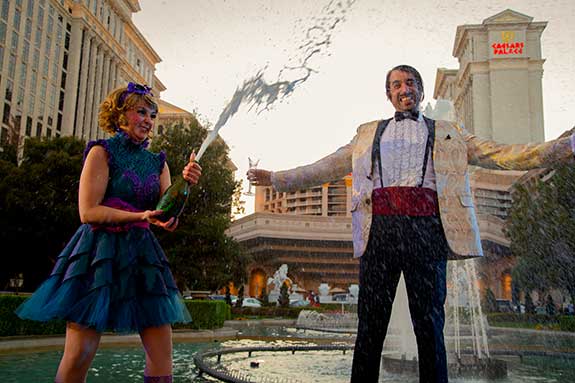 Absinthe photo featuring Wanda & The Gazillionaire in front of Caesars Palace, photo courtesy of Spiegelworld.
What are you up to now?
My dream drag job. I am a performer drag clown on the Strip. I get to go on stage and proclaim space as a perverted Shirley Temple type character in high-waisted dresses, tulle, and a blond, curly wig. I paint my face in some traditional clown makeup, from what I studied. I'm also adding all these femme accents, which is why I call it drag. I believe it is drag for me, because whenever I put makeup on in my life, it always felt like a performance, whether it was for a stage or if I was just going out socially in femme clothes. I play a character named Wanda, in the show Absinthe at Caesars Palace. [Their face crunches and contorts and their hands gesture wildly as they describe the grittiness of this production.] The show has an incredible variety of acts from all around the world. It's grungy, in your face and you won't forget it (pauses) or you wish you could.
I noticed that you're really animated and your energy comes through clearly in your body. Is that a way you like to express yourself? [While delivering this question, D made no less than seven quick silly poses before starting to answer, which wasn't the first time I found myself giggling in this interview and unsurprisingly, not the last.]
I have always had a difficult time verbally expressing myself, and I know my body does a way better job of that. I trust my body before I trust my words.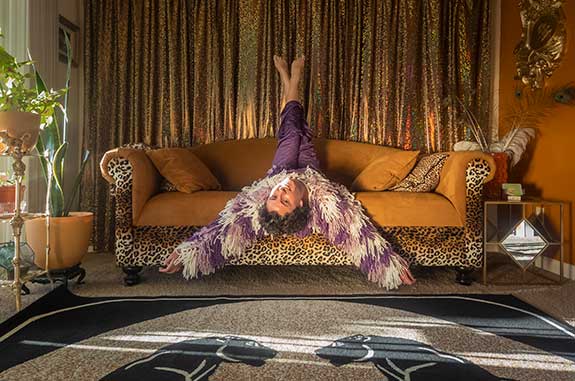 How did you discover that the movement in your body was more authentic than your words?
From an early age, I had a difficult time verbally expressing myself, as well as not being able to be understood by adults and my peers. I am well aware that I am somewhere on the spectrum, and the cherry on top is that in my family and community, small children (especially females) were seen and not heard. So that's a lot to keep in your little body. I was thrown into dance, karate, gym, anything by my parents to, ya know, get out my puppy energy.
Eventually, I discovered the only way I could express myself was through movement. I pursued dance through high school until that (dance) community became unsupportive of healthy life choices, and that's kinda where it stopped for me.
Then, in a class at The Groundlings, my teacher Chad Damiani did an exercise that involved music and no words. He pressed play for me and the song My Heart Will Go On by Celine Dion came on. I walked on stage, with my eyes already rolling, half-heartedly doing ballet arm positions. [At this point, they are actually reenacting this memory complete with their dance moves. They deliver the next part of this story with a large smile as they fondly remember what happened next.] Chad stopped the music and yelled at me, and I loved it, and um, that's a masochist thing, and that's for another interview.
So he stops the music and he asks me if I have any dance background. I said, "Yes." He politely raised his voice and asked me how dare I betray my body and he hoped to never see that from me again, and had me restart. He pressed play and I exploded like never before. And to understand the feedback from the audience, that I had finally been seen as a comedian and as a mover, was when I finally understood that I could fuse both worlds.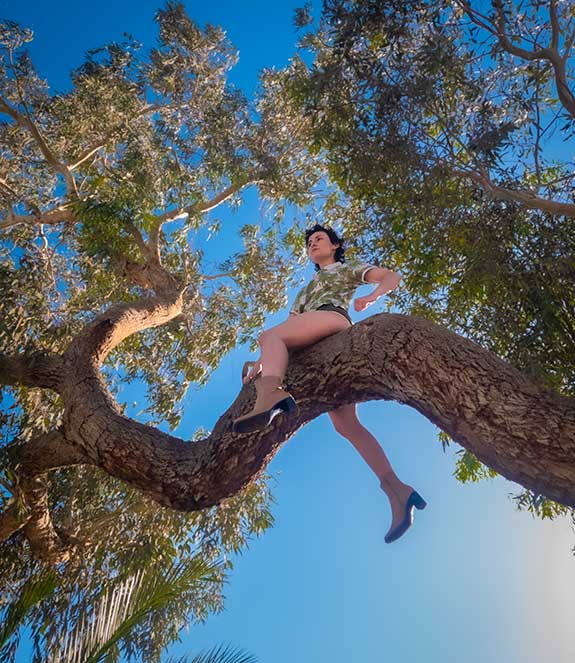 What do you think the queer community here in Vegas needs?
A space to roll around in the grass. They need a place to roll around, and by that I mean a movement studio. Maybe there are mirrors, maybe there aren't, but there is a clean floor so they can have a chance to move their bodies against the earth and figure out and explore what that means to them. A place for queer people to continue to learn about their bodies by themselves or with each other, in a small or large group. A place where queer bodies can just move from within, free of any expectations that have been put on them. A place for queer people to be empowered. The dominant paradigm constantly wants to tear us down, because there is so much power in queer bodies.
You can find & follow D Marcucci
@deedmarcucci on IG
Article and photos by
Jennifer Howe (They/Them)
Associate Board Member
@Ladycoquine on IG
jhowe@lasvegaspride.org
Please reach out if you are a enby person in the Las Vegas area and want to be featured.