Legend Rising: Adonis Laurent – House of Gorgeous Gucci – HOVP Ball Event Producer
By Joslyn Hatfield
Photography courtesy of Yev Z Photography
House ballroom has long been the scene where legends rise in the LGBTQ+ community. While the concept dates back centuries, ballroom culture as we know it thrives on the foundation of the Harlem ballroom scene in the late 1960s and early 1970s. The scene rejected the prejudice world of pageantry that celebrated white contestants over contestants of color in drag balls and became a queer renaissance lead by Black and Latin trans performers.
Ballroom quickly became a platform for self-expression and freedom while developing into a flourishing subculture for the queer community. By the time ballroom hit the mainstream on MTV in the late 1980s and in the documentary, Paris is Burning, the ballroom house system was well established, and house members were embracing chosen families guided by the mothers and fathers of ballroom.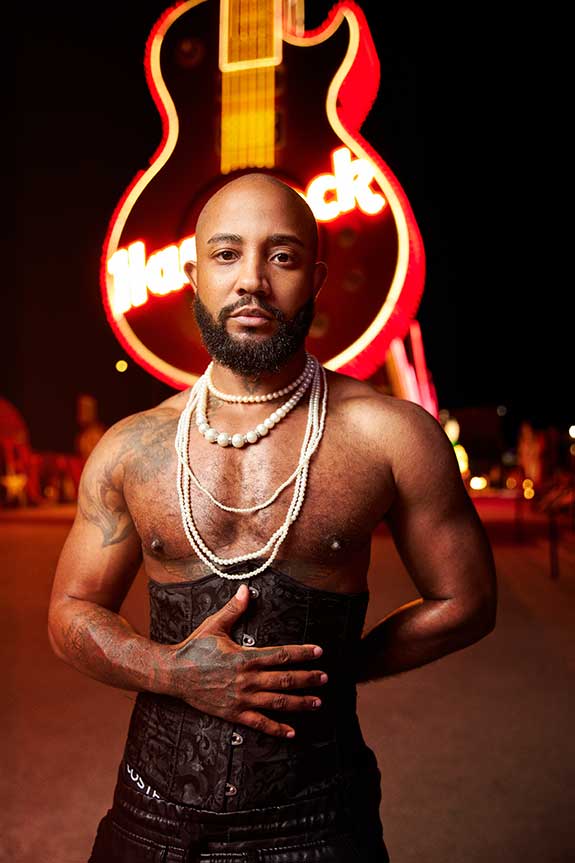 Long before the musical musings of Madonna, vogue dancing inspired by the poses of high fashion models dominated the battles of the ballroom. It wasn't long before vogue evolved into a fluid dance at the hands of LGBTQ+ performers. The old way highlighting pop, dip and spin reigned for decades before the 1990s ushered in the new way and vogue fem-hands, catwalk, duckwalk, spins and dips.
"(Voguing) is very much about telling one's story through movement… And that for me, because of who is doing it, is very much an act of resistance to an entire world that not only tells us that our lives are devoid of meaning, but also tells us that we have nothing to contribute," Julian Kevon Glover, assistant professor of gender, sexuality and women studies and dance at Virginia Commonwealth University has famously said.
We had the opportunity to explore this (and much more) with Las Vegas local, event producer, host of the United We Trans podcast and member of the Gorgeous House of Gucci, Adonis Laurent. The serial entrepreneur and owner of Astronoir, a genderful clothing essentials company made of Future Sustaining Materials, speaks candidly on ballroom, and opens up about his gender identity and navigating his transition.
Ballroom is having a mainstream moment right now shows like HBO's Legendary are exposing the masses to the ways (old and new) of ballroom. How does that feel?
Watching the world be introduced to ballroom has been a mixture of emotions. It's hard to know if it will be cherished the way that it should. When something is introduced to the mainstream it's for mass consumption, right?
Do they know the significance of the house structure? Do they understand the artistry? Do they appreciate the foundational elements? And is it really for everyone? It's impossible to say. But ultimately, I believe it's a good thing because it celebrates a vital component of queer history and a strong legacy that continues today.
It's wonderful to see international ballroom getting its flowers and, Las Vegas is coming into its own on the ballroom scene. Up until now, it's been easy for Las Vegas to remain in the shadows of larger West Coast markets such as Los Angeles and San Francisco. But I believe we are entering an era that will see Las Vegas shine.
Let's explore that, how did the Las Vegas scene evolve?
To be clear, the scene is here is not brand new. It's just been evolving and developing from a drag scene to something more robust and consistent.
Why is that?
It's hard to pinpoint a single factor. But, I think our community struggles with the transient nature of our city. And, by that I mean that it's hard to build a solid foundation for any community when people move in for a year, maybe two and then move on to the next thing. Vegas is not for everyone.
But I think we are entering a new era and just like everything else, ballroom will benefit from the economic development and growth the city is experiencing now. I think that will have an indirect impact on a lot things, ballroom included.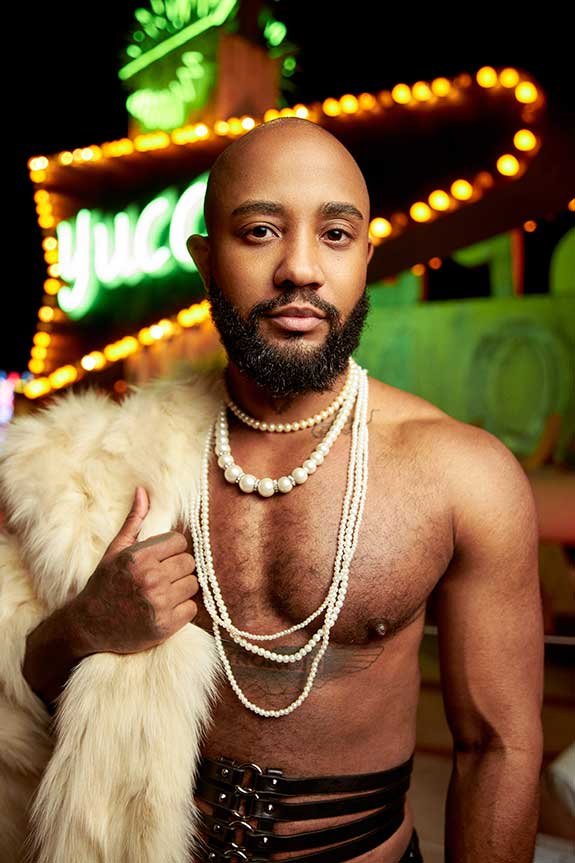 What drew you to ballroom?
I felt that it was an opportunity to explore my queerness. It gave me the lexicon to express and describe myself as I never had.
For me personally, I had always been very involved with advocacy work behind the scenes. I did a lot in my hometown of Kansas City, MO to support the HIV/AIDS community work. And, in that community those things were very intertwined (ballroom and HIV/AIDS advocacy), so it was natural and easy for me to get involved.
How did your involvement with ballroom impact your coming out as trans?
The world, including the ballroom scene, is constantly trying to tell you who you are. I was on the scene before my transition and starting walking women's face. I was winning fresh-faced, no-makeup. Yet, I didn't fit perfectly into a category.
You have to understand, I was an out lesbian. I was happy and I never identified as butch. It just wasn't me. I stepped away from competition during my transition. For me, that was important because I wanted to walk all the categories associated with male identified figures, not butches.
Has anything surprised you about competing since your transition?
It can be disheartening when people within the community still act surprised that a trans man is walking certain categories. Honestly, it's a little laughable. But, every time I hit the floor even as I lean into my transition, I have something different to show you.
I walk Butch Queen categories and win. That's unique, not may trans men walk multiple categories and win. In fact, it's historic. The role of house father is typically been reserved for Butch Queens, so it's significant that I fill that role as a trans man.
What are some of the unexpected challenges of competing as a trans man?
It's a challenge building a brand persona with a body and face that is evolving! It demands that you always bring it because it's so important that judges, commentators, and your fan base know you. Know your face. Social media helps with that a bit, but it's important that I stay in front of people to keep any brand equity I gain.
What advice do you have for those who follow you?
For anyone starting out in this world, recognize that you don't know what you don't know. My charge in ballroom is education and inclusion. Whether it's for my house or not, I believe I bringing more people to ballroom. And I have worked with over around 75 trans men and I have taken them through what it really means to be trans-masculine in ballroom and how that performance element differs from who they are in the "real world." Not all of those men are from my house, and that's ok. Because there contributing to the greater community and that's what matters.
Tell us a bit about you support system and how has that impacted your journey?
I generally had the support of my family when I came out as trans. Their biggest concern was keeping me safe. It was a relief because when I came out as a lesbian, the reaction was much different. So, it felt good to not experience that as I transitioned.
Let me tell you, my wife has been with me through it all. She has been such a huge part of my journey. She was the one who encouraged me to explore my gender expression and she helped me realize that I was trans.
In fact, she flat out asked me, "have you ever wanted to be a man?" At first, I was soooo offended! I hadn't asked myself that question. It took her asking it for me to say, "yeah, I think I am Adonis." To which she replied. "Yeah, that's your name." And, from that moment forward she has been my fiercest advocate and biggest supporter. I can't describe how that feels, to have that in a relationship, to be affirmed in that way.
What's next for Adonis Laurent?
I am going to continue to do me and create brave spaces for the next generation of performers. And I am also producing the the House of Vegas Pride Ball at the Official Summer Pride for Vegas where there will be $7,000 in prizes awarded to the top houses.