Binary Code
By Jennifer Howe (They / Them), Las Vegas PRIDE Associate Board Member // IG @LadyCoquine
Photography by Yev Z Photography
Hey there, I wanted to break the fourth wall here and quickly introduce this new series. Binary Code is a computer language that consists of 0's and 1's and with those two characters, endless possibilities are born. The idea that black or white, male or female, left or right, can birth a beautiful gray fluidity of limitless direction is the inspiration behind this series.
Here, I will be highlighting interesting local Vegas folks that identify on the gender spectrum that are participating or adding to the queer community in radical ways. Their visibility is radical enough, but their accomplishments and projects will be celebrated here in this ongoing series that looks to hack into the matrix and provide a few easter eggs along the way.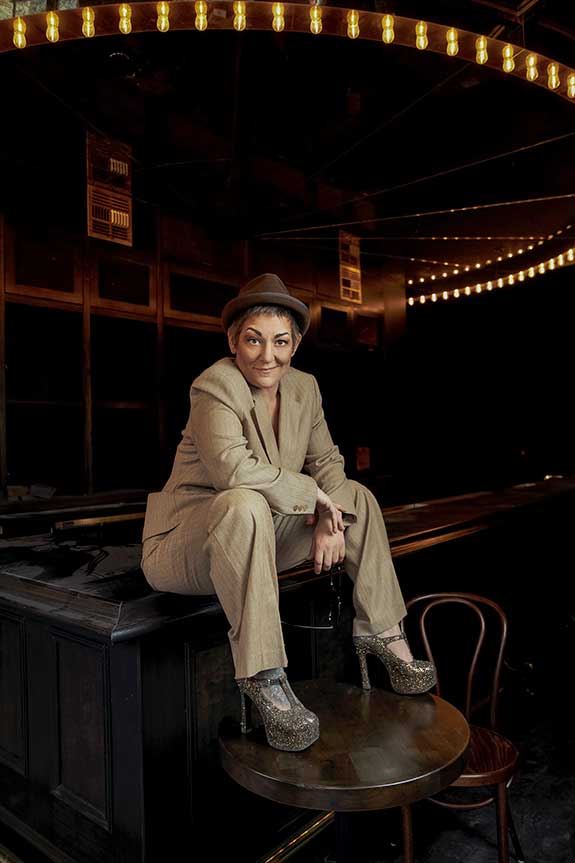 Sipping leisurely out of a classic white coffee cup, Amy Saunders more notoriously known as Miss Behave, was wearing a pushed-back black hat casually scrunched toward the back of their head and an oversized black t-shirt with a large, asymmetric white cat graphic. Once you get to chatting with Amy, one of the first things you notice is their sonorous voice and authentic British accent. Amy has a full, jovial, and nasally laugh that is accentuated by their habit of smoking tiny hand rolled tobacco cigarettes. It's district timbre adds to their overall androgyny and unassuming charm.
So, tell me a little bit about your queerness and gender identity?
Amy: Well, I have been thinking about that a lot lately because it's a conversation that has a lot more volume in the last decade, and I'm now what one would consider an elder. [They have their hands up behind their head at this moment and lean forward into a hearty laugh.]
So, there we go. My pronouns have kind of been decided for me my whole life, like from a pretty early age, and then in full makeup and naked or wearing bikinis, and in girl clothes or in boy clothes, I would always get, "Mummy, Mummy is that a girl or boy" or "What is that?" and kids don't lie, they just call it how they see it. The thing is, I just never had a problem with it. I've always quite enjoyed the androgyny of it and the sort of [used actual finger quotes] "mistake" because it gives a sort of relationship with the people.
Now, the conversation is much louder and I'm starting to look at myself through that lens and where I'm at, and I think this is partly because I am in showbiz, and partly because I am a chronic introvert. I really enjoy being a mirror or what people see and what they need to see. I really enjoy the sitting in the middle of it, and I firmly and loudly identify there. However, if I had to give myself an identity, it would be 'showbiz' and 'crazy cat person.' Those are my pronouns. You know what I mean!? Cuz it's like queer as blazers, performer by night in both straight and gay spaces, all over, but unabashed. Then introverted crazy cat parent by day, who never needs to see another person or talk about myself, thanks very much.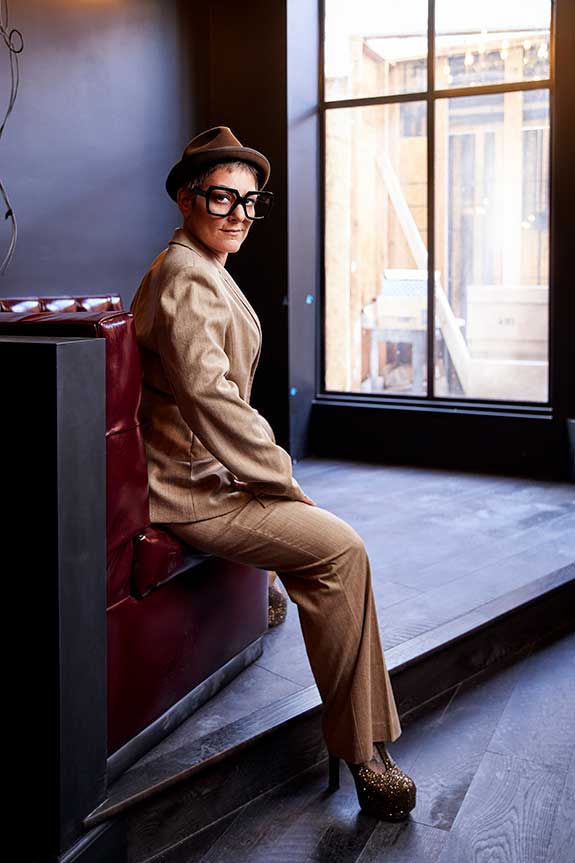 Now that you have told me a little bit about your evolution, tell me about your past. Where are you from and what is a little bit of your history in the showbiz world?
Amy: So, I'm a Londoner, from the UK, and I have been a traveling performer for 25 plus years. It's always been a mixed bag and moved through lots of different forms. I never intended to be a performer. I worked in fetish clubs, alternative clubs, and as a street performer.
Then I started doing fringe festivals around the world, then segued into Spiegel tent shows, which was sorta a thing, er– became a thing in the early 2000s through this show called Le Clique, that then became Absinthe. A fabulous-amazing-glamorous-fantastic life where you get to play in beautiful places. In those shows I was a sort of genderless sex clown, by that I mean, my one trick pony skill was sword swallowing. And, and the reason I became a swords swallower was, after I read a book about it, I thought, "Fuck, I want to learn that. I reckon I'd be great at that, I'm great at giving head." I was correct, it turned into a side hustle, but it became a main hustle, fast forward.
I am now wearing tight red and white relatively iconic latex as said genderless sex clown. Wandering around the ring, stealing people's drinks, man handling them with consent [chuckles] and uh, swallowing things.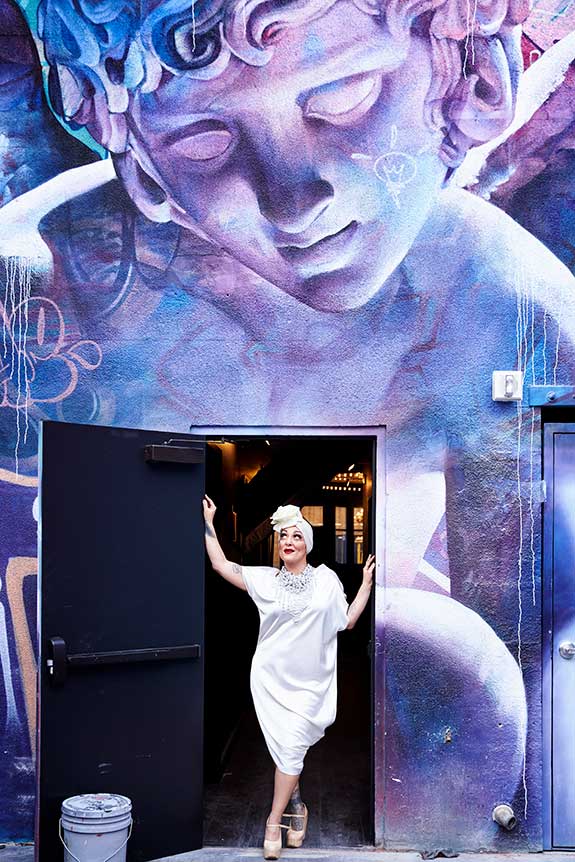 The switch flips almost mid-sentence, and I imagine the clown side of their showbiz personality takes control of the mic now. Their posture, voice and tone changes and it feels more playful, for this keen observer.
Amy: I had no boundaries as a performer, like no boundaries with myself or with the audience in a way. I was sorta at their service and so she [referring to their stage persona] sorta played with those relationships of sub/dom. I was very much at the service of the room. I'm not very good with people, but I am excellent with [at this moment they motion their arms wide in a fast sweeping gesture to express the size of a large arena] a crowd.
The genderless bit was because for me, I've always been quite a tomboy and there was a element of caricaturing these sort of uber femme [gives a hair toss of an imagined wig, and gestures in a way that is reminiscent of dramatic silent film starlet]. I didn't hold it, I didn't feel like I was uber femmy, I felt like I was playing it, which was enjoyable!
Then two years later, I started to put together this crazy Gameshow. I did that in a small sideshow tent in Adelaide, Australia. It worked instantly and then I started bouncing it around on what I would call my circuit, which was the festivals around the world, and some good (larger sized) cities.
Speaking of swallowing things, what brought you to Las Vegas?
Amy: So, I had been doing my Gameshow for about three or four years around the world and it had actually been a hit wherever it went, which was really fucking cool. And it was this ridiculous-anarchic-queer-subversive show that created chaos wherever it went, so it existed very well at festivals.
Then a friend of mine, a performer, had just got his hands on a theater in San Francisco and said, "Why don't you come over here and play?" I did a month in San Francisco and obviously that city and that Gameshow, fell in love with each other, ya know? Baby, that city is fantastic!
I managed to drag some people I knew from Vegas to see it in the hopes that maybe they would produce it. Again, through a sort of, oily rag and "little-show-that-could'' mentality we managed to open it up in a back room, that no one knew existed, at Bally's and somehow, we became a little secret cult hit on the Strip.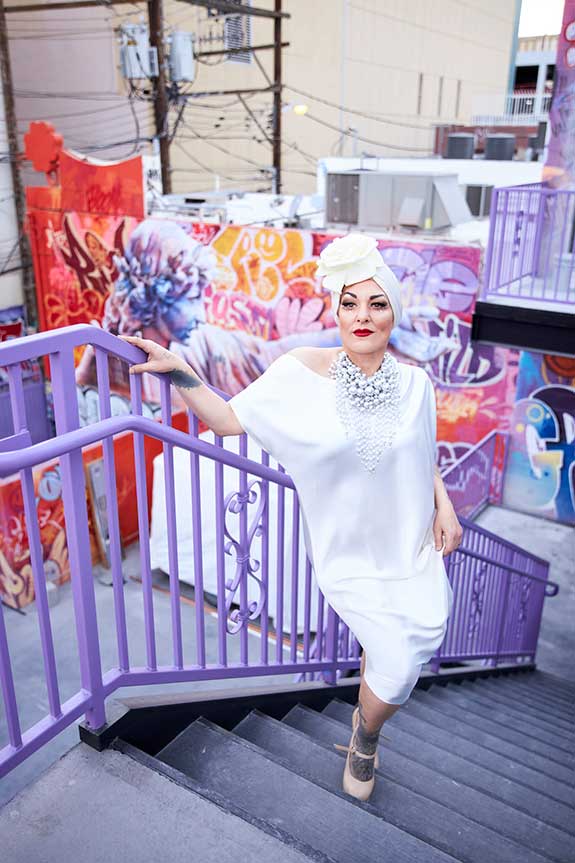 What are you doing now?
Amy: Well it's a weird thing now, because is it now 2020? Or 2022, right? So the reason I'm still here is because of Ryan Doherty from Corner Bar Management. While doing the Gameshow, I was talking with him, and he had bought a showroom on Fremont Street. He said, "I want you to run it." I was like, "I would love to do that, that is the dream," and that was back in 2019.
So I have been tap dancing and hustling for the last 2 years within the company, working with them and prepping Cheapshot. Which is where the old 'Don't Tell Mama' was – 517 Fremont Street – I get to open it at the beginning of April. When I first came to Vegas, I came downtown and I saw that little block: that New York style block stuffed between the Fremont Street Experience and the El Cortez with all the fabulous iconic neon and I stared at that little room, and thought, "That's perfect."
And here I am, and I'm going to get to open it. What I am hoping and what I'm gunning for is that it's going to be a bawdy little raucous showroom and discotheque. I'm using those words deliberately because I want a place that is lively and always, always welcome. In all the cities and all the festivals, I have been to around the world, I would like it to be one of those places where people who love showbiz and who are unabashedly queer hold space and where everyone is welcome. But we hold space, [They finished this statement with a firmer tone that was serious but with a softer twinkle in the eye that shows Amy's demonstrable commitment to radical inclusivity.] and you're in our front room now, let's have fun.
We're wrapping up this interview and discussing a few tangents. Amy hand rolls one of their tiny cigarettes and lights it, after the first few drags I can tell when the showbiz clown walks back up to the mic, to end this interview in true Miss Behave fashion.
But Fremont East is also Fremont East, baby! It's like the OG Strip and it's the dirty little sister of the Strip, and I'm fine with that. [With a large mischievous grin] I like hangin' with the dirty lil' sister, she knows all the later, smaller, and better places. And it's quicker to get home!