10 Years in the Making (of the Mob)
What is ten years old, a Las Vegas native and truly iconic? The Mob Museum of course.
Not being a sin city native, I can still remember the Mob Museum's debut on an episode of CSI, which does not feel like it was ten years ago.
Officially dedicated on February 14, 2012, The Mob Museum or the the National Museum of Organized Crime and Law Enforcement as it is formally known, is a 501(c)3 non-profit organization offering an immersive experience spread out over four floors. The exhibits and storytelling are intended to present patrons with the facts, the fiction and the gray area in between the Mob and law enforcement.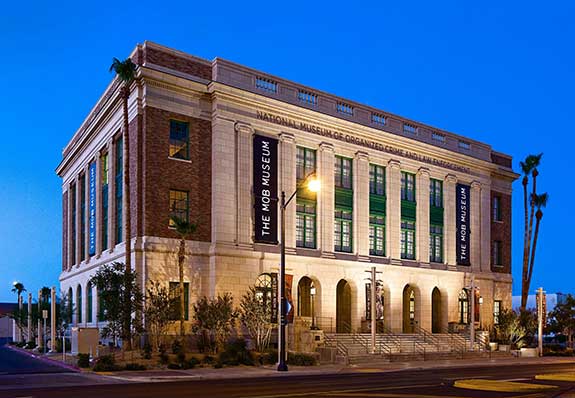 Exhibits provide a world-class journey through true stories, from the birth of the Mob to today's headlines. The Mob Museum offers a provocative, contemporary look at these topics through hundreds of artifacts and immersive storylines. Numerous interactive exhibits include a Crime Lab, Firearm Training Simulator and Organized Crime Today exhibit.
It showcases the events and characters that played an integral role in national and local history and attempts to thoroughly explore the ongoing power struggle between organized crime and law enforcement from the Mob's origination to today.
The building itself is a part of history as it is an immaculately restored former U.S. Post Office and Courthouse. In this 1930s neoclassical building, you feel the history, from the artifacts on display to the museum's own speakeasy in the basement. When you visit the Mob Museum, you have the opportunity to individualize your experience. You can explore at your own pace, join a tour, engage in a group scavenger hunt, solve real life crimes in the Crime Lab or test your instincts in the Firearm Training Simulator.
And, when you are all done museum-ing, head to The Underground. This immersive Prohibition history experiential exhibition features a distillery, speakeasy and private VIP room located in the basement of The Mob Museum. Its custom-made, copper-pot still, dubbed "Virginia Still" after mobster Benjamin "Bugsy" Siegel's notorious girlfriend Virginia Hill, has a capacity of 60 gallons and can serve up to 250 750-mL jars of moonshine per week.
The Underground also brews and serves craft beer onsite. Artifacts from the 1920s and 1930s on display tell the intriguing story of the Prohibition era, which not only saw a proliferation of bootlegged booze and the meteoric growth of organized crime outfits but also had a profound, lasting impact on society and culture. Complimentary entrance to The Underground is granted at the secret side entrance to visitors who know the correct password, which is published daily on Instagram Stories.
The Museum is open daily; visit the website for admission rates and operating hours. For more information, call (702) 229-2734, visit themobmuseum.org, or download the Museum's free mobile app.