WOMANOPOLY LV: Not Your Mama's Burlesque
Article and Photography by Megan Williams
About eleven years ago burlesque performers and entertainers, SGT. Diewies (pronounced Sarge Device) and Elyse Elaine were in the Bay Area listening to the Musiq Soulchild Album, when the song "Womanopoly" came on. In a glance, they both knew the rest was history.
Elaina and Sarge (a loving nickname) had been Bay area performers for quite some time. Spending most of their time in the Castro District of San Francisco and the strip clubs on Broadway Ave. The duo wanted to produce something different; something new; something entirely immersive, interactive, unexpected and assuredly in your face. They wanted to challenge the classic ideals of burlesque. So, they pulled inspiration from their bay area roots, the performances they had seen and been around, the culture they had marinated in, and the overall vibe of the entertainment happening around them to create something entirely unique.
In just shy of a year, they started what is now known as Womanopoly. In 2012, the inception of Womanopoly took off in San Francisco, primarily run by Sarge. The duo wanted something where they could interact with the crowd, where they could be powerful, dominant women, and make it more of a party environment than the burlesque of old. As Elaine puts it, "It's not your mama's burlesque". With that idea in mind, and two forces behind the brand, Womanopoly SF increased its presence and is today the highest paying burlesque show in San Francisco.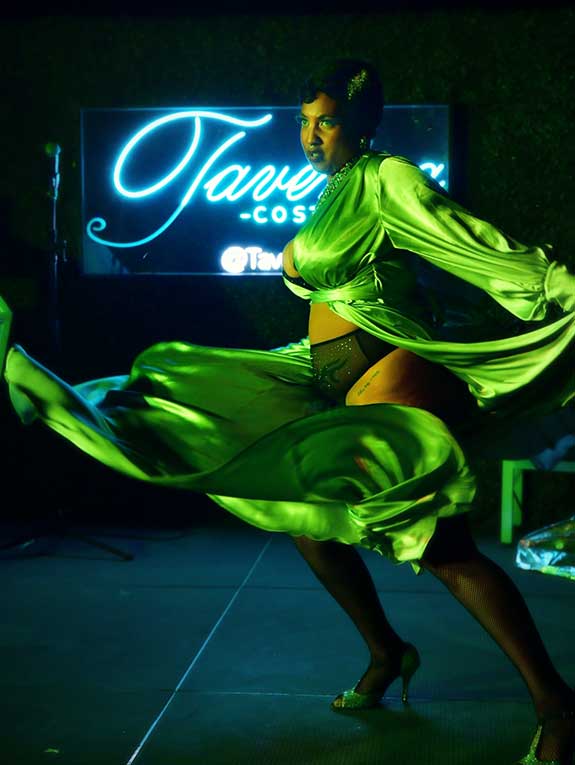 With its success in San Francisco, Sarge and Elaine saw opportunity for expansion. They have taken their Bay area swag on the road and secured their first satellite residency in Las Vegas. Their opening night was March 24th 2022 at Taverna Costera in the Arts District of Vegas. The environment was much like their shows in San Francisco, it was interactive, high energy, fun, the banter happening between their MC and guest DJ Sarge was hilarious. The charisma of Elaine and Sarge is undeniably why they have had so much success in the last decade.
Their performances spanned from a videogame inspired number, to sword balancing, old school burlesque to new school fiery and in your face burlesque. The crowd ate it up, me included. The vibe was electric, and we all knew something special was taking shape. With some Bay area die-hards making the trip to see the duo's opening night, the evening amounted to be nothing short of a wild Vegas party.
With Womanopoly's carried over success into Vegas, Elaine and Sarge hope that Womanopoly LV will thrive and continue to pick up momentum. In the future they hope to have a touring Womanopoly show, and perhaps even a Womanopoly Burlesque Festival. No matter where they end up their mission statement is the same, "We just hope to keep creating spaces that feel like home while simultaneously giving a platform to diverse performers to express themselves for all to see. Long story short, we hope to keep taking up space! Cheers to another ten years of black excellence and debauchery."
You can find Womanopoly LV every fourth Thursday of each month at Taverna Costera. Tickets are on sale every month, check their social media pages for more information. Thursday April 28th and Thursday May 26th are packed with incredible performers, I would highly recommend snagging a ticket, finding a friend and spending you fourth Thursday night of the month watching powerful women smash the stage.
You can find Womanopoly on Instagram: @womanopolySF / @womanopolyLV. You can also find their creator's Sarge and Elaine on Instagram: @diewies / @marilynwithmelanin.