Chippendales Celebrating 20 Years at Rio Las Vegas
By Las Vegas PRIDE Magazine Staff
Photography by Denise Truscello
Chippendales celebrates its 20th anniversary at Rio All-Suite Hotel & Casino in Las Vegas. Jersey Shore star Vinny Guadagnino "Vinny G." appeared as the special celebrity guest host at the opening. "I am so grateful to Chippendales and the fans for really making me feel like I belong on this stage and in Vegas," said Vinny G. of his return to Chippendales. "The best part about doing this show is that it's a family here and everyone welcomed me back as if I never left, including the fans."
Guadagnino's return was met with screams of joy as he once again stepped on stage and into the shower scene that made his last appearance "baring all" break the internet. Guadagnino credits his physique to his Keto diet and creative workouts due to gyms being closed during the quarantine.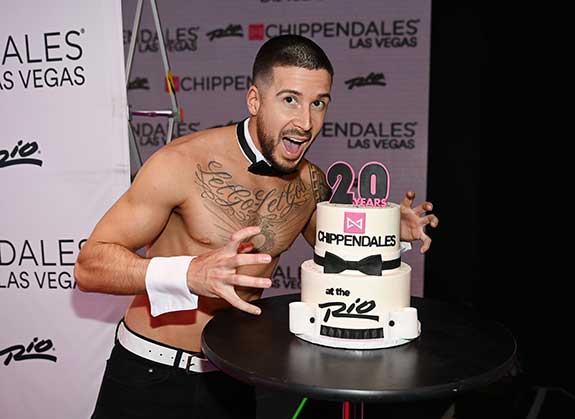 "I would go on runs and started riding my bike but when it got cold, I started jump roping a lot," said Guadagnino. This new workout has inspired his new Instagram account, @vinnyjumps, and is incorporated into his Chippendales performance.
In addition to steaming up the stage with his shower scene, Guadagnino personally invited fellow Vegas headliner, Lady Gaga to the show as his "dream guest" to watch him in action on stage.
"Lady Gaga has got to come to Chippendales," says Guadagnino. "It's right up her alley. I'll even give her a lap dance. I'll do whatever I can to get her here!"
The 20th anniversary celebration was held at the Flirt Lounge inside the Chippendales Theatre Complex at the Rio where Vinny G. and the cast of Chippendales mingled with partygoers who enjoyed small bites provided by Guy Fieri's El Burro Borracho, as well as cocktails.
Other celebrities who have donned the iconic cuffs and collar costume include international super model Tyson Beckford, Dancing with the Stars and America's Next Top Model champion, Nyle DiMarco, everyone's favorite Beverly Hills 90210 childhood crush, Ian Ziering, celebrity blogger Perez Hilton, DWTS celeb Tony Dovolani and actor/singer Joey Lawrence.
Every naughty fantasy you can imagine comes to life in a dynamic, immersive environment, perfect for any Girls Night Out occasion. Women looking to celebrate their bestie's bachelorette party in Las Vegas, their big birthday bash or just a wild night out, Chippendales shows are the ultimate way to let loose and have fun.
Chippendales Performance Schedule at Rio All-Suite Hotel & Casino:
Chippendales performs nightly at 8:00 p.m., with additional shows on Friday and Saturday at 10:30 p.m. (dark Monday and Tuesday).
Vinny Guadagnino's limited engagement runs Friday, March 11 through Sunday, April 10 (Friday through Sunday performances).
Tickets range from $59.95 – $149.95 (+ taxes and fees) and can be purchased by calling (702) 777-7776 or by visiting www.Chippendales.com.