Sin City Classic
By Lupie Janos // Photography by Joslyn Hatfield
The 15th Annual Sin City Classic returns January 13-16, 2022. The largest annual LGBTQ+ sporting event in the world is a multi-day sports festival hosted in Las Vegas by the Greater Los Angeles Softball Association (GLASA). This year, more than 8,000 athletes will converge on fabulous Las Vegas leading up to and during Martin Luther King Jr. Day weekend to compete in a variety of sporting and social events (many of which are open to the public).
Since 2008, the event has grown to include over 20 sports and a festival that provides an open atmosphere for LGBTQ+ athletes to connect and compete. GLASA is a Los Angeles-based 501(c)(3) sports organization that owns and operates the Sin City Classic and works closely with more than twenty other LGBTQ+ sports league partners to ensure the festival is a success.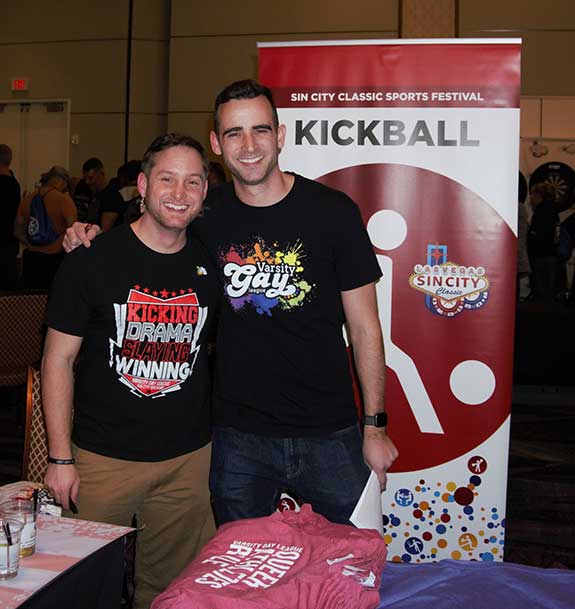 In 2008, the event was merely a softball tournament called the Sin City Shootout and hosted 70 teams. The next year, the tournament grew by almost half to 100 teams. In 2011, the tournament officially became a festival with the addition of basketball. A year later, bodybuilding, wrestling and tennis were added. A couple of years later in 2013, the event found a home for the next five years at the Tropicana Hotel and added bridge, dodgeball, ice hockey, soccer, ultimate frisbee and volleyball as events. 2014 saw the addition of kickball, which is currently the second largest sport of the tournament, (behind softball).
The event has consistently grown over the years, including in 2015 when billiards, bowling and soft tip darts joined as indoor sports, while flag football, golf and rock climbing were added as outdoor offerings. 2016 saw even more growth, adding diving, running, swimming, arm wrestling, badminton, water polo and powerlifting to available events.
In 2018 the tournament rebranded as the Sin City Classic and moved to its new home at the Linq-Flamingo complex. The festival was one of few that were hosted prior to the COVID-19 shut down in March of 2020. Due to the pandemic, the festival was not held in 2021, which brings us to 2022. And after a long two-year break, it's time to play ball! (or darts, or frisbee, or with pucks, etc.)
So, whether you are an athlete competing in one of the more than 20 events, or a spectator visiting sin city or even a local supporting some of your friends, here is a list of events to look out for over the course of the weekend.
Thursday, January 13
Compete. Sports. Diversity conference and Diversity award event that will honor athletes and organizations for their efforts in sports inclusion, diversity, equity, acceptance and leadership. $75.00 to $95.00 for the conference and $95.00 to $1,500.00 for the Awards event.
Official Welcome Party of the Sin City Classic held at Charlie's Las Vegas from 8:00 pm to close. Free entry with drink specials all night.
Friday, January 14
Two charity events benefitting the Ken Scearce Memorial Scholarship fund and both being held at the Flamingo Hotel in the Sunset ballroom. Cornhole for Charity tournament, 10:00 am; registration fee required to participate in competition, however, free to watch. Steel-Tipped Charity Darts Tournament, 12:00 pm; teams of 2-4 people with a $50.00/team registration fee.
At 5:00 pm, in the same event space, the Sin City Classic Registration party kicks off. And if you are in the mood for an after party, head to Piranha night club for their event: Score!, beginning around 9:00 pm. There will be an entrance fee; however, if you are an athlete with a wristband, the fee is waived. Wristbands are available for purchase on the Sin City Classic website for $20.00 to $80.00.
Saturday, January 15
Sporting events begin on Saturday and are at various venues across the valley. More information can be found at the Sin City Classic website – https://www.sincityclassic.org/
When competition is over for the day, return to Piranha nightclub for the Sin City Classic Jock Party, 9:00 pm to close. There will be an entrance fee; however, if you are an athlete with a wristband, the fee is waived.
Sunday, January 16
Competition wraps up around town and winners will be crowned. No matter how those games turned out for you, or even if you were just a spectator, be sure to check out the Sin City Classic Closing Party Presented by Lexus at the Brooklyn Bowl. The show starts at 8:00 pm; with the lineup to be released on the Sin City Classic website in January.