Resorts World Las Vegas
By Las Vegas PRIDE Magazine Staff
Photography courtesy of Resorts World Las Vegas & Megan Blair
As the first new resort to be built on the Strip in a decade, in a global pandemic no less, Resorts World Las Vegas joins a growing list of new and refreshed brands setting up shop in town. But that may be where the similarities end. The $4.3 billion resort from the Genting Group has 40 restaurants and bars, a 5.5-acre pool complex that includes the only infinity-edge pool on the Strip and 70,000 square feet of shopping.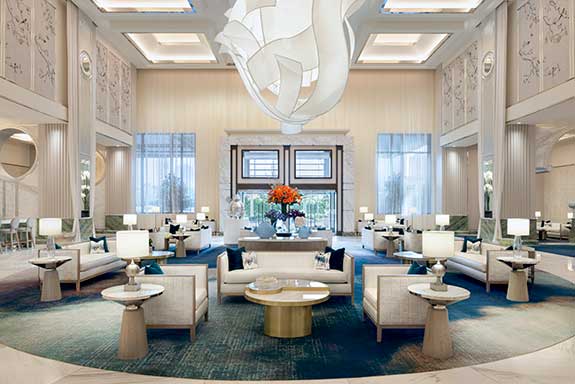 Crockfords Las Vegas Lobby at Resorts World Las Vegas
With more than 3,500 guest rooms, Resorts World is Hilton's largest property comprised of three brands: Las Vegas Hilton, Conrad Las Vegas and Crockfords Las Vegas. The trio offers a delightful mix of accommodations. From the 1,774-room property's grand return to the Las Vegas Hilton's storied history to the 1,496 rooms at the largest Conrad in the world and the super posh, ultra-luxurious digs at the Crockfords, Resorts World is truly ushering in a new era in Las Vegas. There is so much to see and do that we're distilling it down to some of our favorites of the moment, starting with the location of our cover shoot.
Gatsby's
Gatsby's is an absolute embodiment of glamour with a twist of 90s era hip hop. There are nods to the namesake The Great Gatsby everywhere. From the champagne bubble bath, a mini tub filled with muddled blood orange; aperol; gin; pineapple, monin strawberry and rose syrup; a heavy pour of cava for bubbles, a dusting of edible rose petals and two rubber ducks floating on top. To green light a lush libation with Mount Gay Black Barrel Rum, Chartreuse, Midori, coconut syrup, and different juices you'll swear Daisy Buchanan herself can't be far away.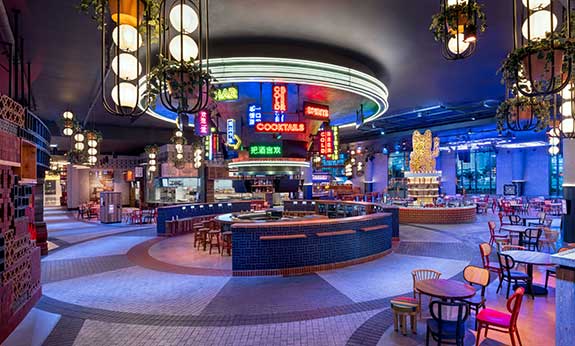 Famous Foods at Resorts World Las Vegas
Famous Foods Street Eats
Reminiscent of the famed Singapore street eats this is a primarily Asian food hall. In fact, diners can feast on everything from Hainanese chicken rice recipe that dates to 1979, or enjoy clay pots from the only Filipino restaurant on the Strip. Never fear, that sweet tooth is sure to be delighted at Sweet Eats featuring everything from a massive serving of shaved ice to candied apples and signature treats.
Here Kitty Kitty Vice Den
What is a new resort without a hidden speakeasy? To find it, go to Famous Foods Street Eats and make your way to Ms. Meow's Mamak Stall, a small shop hawking Asian snacks and adorned with lucky cats. The intimate venue only accommodates 34 adventure seekers but is a fabulous location for sipping tropical cocktails.
Wally's
Did someone say charcuterie? You had us at baguette and brie but will stick around for the wagyu beef salami and nutty L'Amuse Gouda. With over 100 wines available by the glass, Wally's is hard to leave.