iElevate+TV
Black LGBTQ+ Content Streaming Live & On Demand
By Joslyn Hatfield
Photography by Michele Dearing inside Gatsby's at Resorts World Las Vegas
iElevate+TV is a LIVE and on demand streaming service created, designed and developed to tell Black LGBTQ stories. After over a year in development the network launched on Apple, Amazon and is available for download online.
The award-winning duo of international, director Onyx Keesha and author, screenwriter and director B. Danielle Watkins signed on with the new network to help create a space for queer black film makers to shine. But the pair had already accomplished more in less than a decade than many content creators could in a lifetime.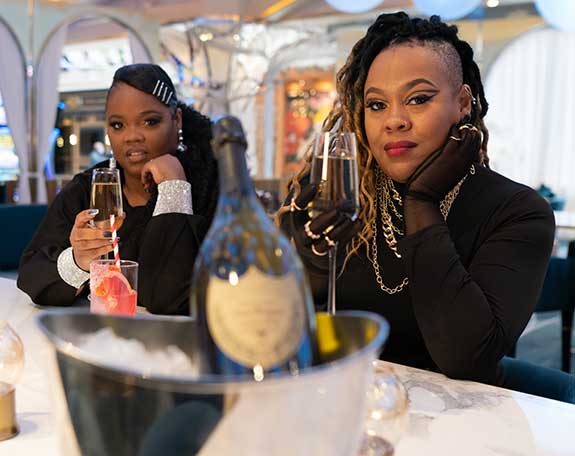 From left: Onyx Keesha, B. Danielle Watkins at Gatsby's inside Resorts World Las Vegas
Since the time that Watkins published her first book, she has published four novels, filmed a French-language web series on location in Paris and written, produced, starred in an original television series, launched Dream N 1 Productions, LLC and is now the Chief of Programming at iEvelate+TV.
Onyx Keesha founded her namesake film company – Onyx Keesha Films – to focus on untold stories within the LGBTQ community. With several film festival wins, over a million YouTube channel views, and a long list of web series to her name, she is known to tackle raw issues such as religion and sexuality as she did in the film Church Hurt.
You might say that these women most definitely understood the assignment. Their latest venture at iEvelate+TV has all the hallmarks of another trail waiting to be set ablaze in their relentless pursuit of excellence. "Queer, black filmmakers and creators need to know there is place for them," said Watkins. "We are invested in helping make that a reality."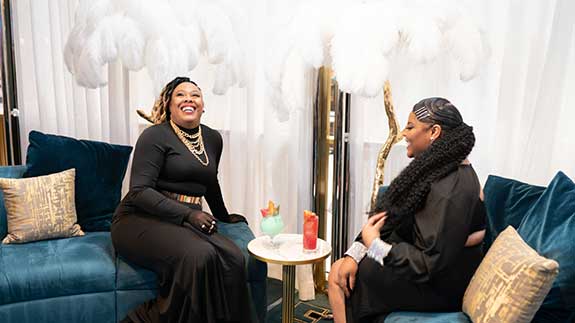 From Left: B. Danielle Watkins and Gatsby's Green Light: (Midori, Mount Gay Black Barrell rum, green chartreuse liqueur, lime juice, tiki bitters, liquid coconut, Bajan punch) // Onyx Keesha and Gatsby's Hibiscus Paloma (Casamigos Blanco tequila, hibiscus syrup, lime juice and grapefruit soda served with hibiscus sugar-salt rim)
The pair makes it look easy, but the journey to be in this position has not been without challenges. They know all too well that unmet needs don't always transfer to immediate commercial success. "A streaming service dedicated to telling Black LGBTQ stories is quite literally a game changer," said Onyx Keesha. "Yet, there has been a significant amount of market development necessary since the launch in July."
Representation is as important as ever in an industry dominated by predominantly white content creators and narratives. For iElevate+ TV this equates to building opportunity for mentorship and development into their workflow. "We take pride in providing opportunities for people to gain experience as they go," said Watkins. "Some of the most important skills you need to be a successful film maker, writer or director can only come from experience." These intangibles have certainly served the duo well in helping to building a space for queer black content creators to highlight their work.
Content creators can join the movement and submit content for consideration to submissions@ielevatemediagroup.com. Learn more and start streaming at ielevateplustv.com.
Like and follow @ielevateplustv, @onyxkeesha and @blacbutterflii to stay in the know about future programming releases.