The Challenging Lives Changing Minds Foundation Heads to Las Vegas
By Las Vegas PRIDE Magazine Staff
Viva Las Vegas! This mantra is not just a catch phrase, it's a way of life! And LGBTQIA+ persons from across the spectrum travel to the City to engage in a world class recreation and cultural experience. Now, the LV Eddie Challenging Lives Changing Minds (CMCL) Foundation, Inc. will be joining the ranks with the persons and organizations who have left their imprint on Las Vegas.
"Our foundation lives as a body focused on serving persons who identify as LGBTQ+ beyond the classifications of race, gender, or socioeconomic status," Board Chair Benard Postell said. "We have funded the creative arts, health initiatives, and provided scholarships to our people because we deserve an opportunity to elevate ourselves as well," Postell added.
"The Foundation" as it is affectionately known was started over 13 years ago by members of its counterpart social organization, The Academia Society, Inc. Since its inception, the Foundation has supported LGBTQ+ projects, programs, and service initiatives throughout the South. Continuing its work throughout the pandemic, because our lives and culture still mater, the Foundation alongside The Academia Society, Inc. are looking to expand their reach.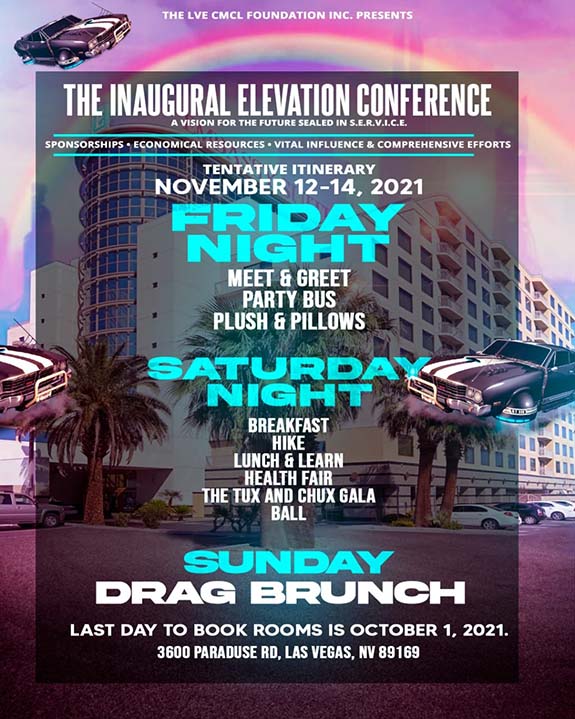 The Elevation Conference is an inaugural exclusive stand-alone conference, and it will be held in Las Vegas Friday, November 12 – Sunday, November 14. The weekend lineup includes a welcome reception, health fair, intimate pillow-talk event, health and professional development workshops and Chucks & Tux Gala. The event is open to the public and tickets to the Gala are $50 each.
"Dreams turn into reality, and reality elevates us all to another level," Conference Chair Willye Powell said. "This conference started as a dream for the Foundation to reach the lives of our LGBTQ+ population in the Las Vegas area and now it's a reality."
Group tables are available for purchase and advertisements for the commemorative souvenir ad booklet.
Contact Willye Powell at 346-803-7533 or willye.powell@gmail.com for more information or visit their page:
linktr.ee/CMCLfoundation for registration or hotel accommodations.