Sin City Sisters to Celebrate at Dia de Los Muertos-themed Project Nunway
By Las Vegas PRIDE Magazine Staff
The always-outrageous Sin Sity Sisters of Perpetual Indulgence proudly announces their annual Project Nunway Challenge fashion show event on Saturday, Nov. 13, 2021 at the New Orleans Square courtyard in The Historic Commercial Center District (953 East Sahara Avenue). Proceeds from this year's event will support the Sisters AIDS Drug Assistance Program (SADAP), which provides life-saving medications to people living with HIV/AIDS.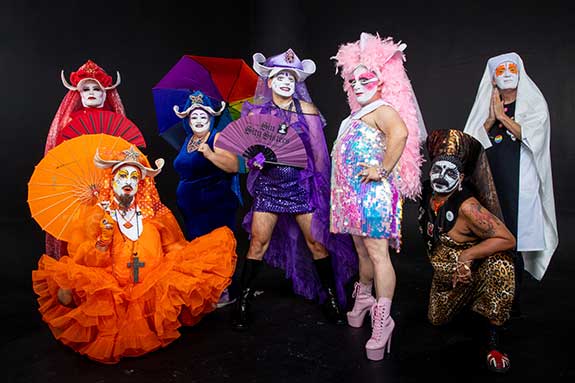 The competition will feature original, avant garde fashions from local designers centered around this year's theme, Dia de Los Muertos. In keeping with the anti-consumerism and eco-sustainable nature of Project Nunway, these fabulous ensembles will be executed with the use of recycled, found, and unpurchased materials. Designers will be paired with a Sin Sity Sister to interpret the theme design and execution. Each designer will be judged for their creativity, talent, individuality, vision, and overall garment creation. In addition to the grand prize, winners will be chosen for best overall look, interpretation of theme, audience response, and model 'werking' the runway.
Event tickets are available on-line at sinsitysisters.org and guests may opt for general admission tickets for $20, which grants access to the main event at 8 p.m. or VIP tickets ($30) which include access to a pre-event reception beginning at 6 p.m. with light food, donated bar, and other surprises.
Interested designers and sponsors should contact Saint Smashing Happy Hour Victor Rodriguez at 702-383-9805 or victor@euriecreative.com.
About The Sin Sity Sisters of Perpetual Indulgence
The Holy Order Sin Sity Sisters is a 501(c)(3) Nevada non-profit organization founded on Jul 4, 2005. Guided bycthe global mission of the Sisters of Perpetual Indilgence, Inc., to promulgate universal joy and expiate stigmatic guilt, the Sin Sity Sisters have raised more than $1 million to support Southern Nevadans in need through their SADAP program (Sisters AIDS Assistance Program). In addition, the Sisters raise money for the LGBTQ+ organizations throughout the year.
About Project Nunway
Created by Sister Baba Ganesh of the San Francisco House and inspired by Federico Fellini's 1972 film "Roma" and Bravo's "Project Runway," Project Nunway is an annual fashion fundraiser that pairs Sisters with designers to create a high fashion look based on a theme. The event celebrates art, fashion, design, queer diversity and creativity, while providing a venue for new and talented designers and students a platform to celebrate who they are becoming in the fashion world. Project Nunway challenges participants to create a look that celebrates Queer Nuns and innovative vision, encouraging creative designs that are made from non-conventional and recycled items with little to no cash.