Meet the 2021 Las Vegas PRIDE Royalty
Midori Ice & Mikey Choy Foo
Miss & Mr Las Vegas PRIDE 2021
Mr. & Miss Las Vegas PRIDE – Mikey Choy Foo and Midori Ice would like to introduce themselves to the Las Vegas community.
"It is with great elation that we have been chosen to be your newest reigning Royalties of Las Vegas PRIDE and we hope to meet as many of you as possible throughout our year."
About Mr. & Miss Las Vegas PRIDE
Mikey and Midori are natives from Hawaii. They laugh about saying that, "it almost makes us seem like we are savages." But Mikey is from Waianae and Midori is from Waimanalo, both on the island of Oahu. Both left the islands after graduating from high school to come to the mainland to pursue their dreams.
Mikey works in gaming and Midori in the Plumbing industry. They first met at a court function –Imperial Royal Sovereign Court of the Desert Empire – about 6 years ago. Mikey was King Diamonds and Midori, Queen of the Desert, both Court Camp titles! The following year they ran for Emperor and Empress of the organization and won.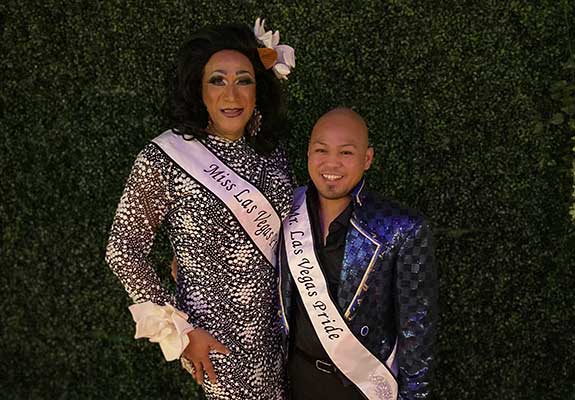 Midori Ice & Mikey Choy Foo
Miss & Mr Las Vegas PRIDE 2021
Once crowned as the new representatives for the Court, their schedules filled with meetings and fundraisers, and they got to know each other very well while attending events every other weekend in the community.
When the opportunity to serve once again, this time as Las Vegas PRIDE Royalty, presented itself the pair decided to continue their work together. "We decided, why not?" said Midori Ice, "Giving back is in our blood. We enjoy the fundraising events throughout the city, US and Canada."
"Each organization creates events we just love going to – whether its Bingo, a Lip Sync Show, Car Wash, Red Dress Event, Black and White Ball, we just love it." said Mikey Choy Foo.
The truth is Mikey and Midori love getting all dolled up and strutting their stuff and particularly enjoy appearing publicly in matching outfits. Mikey's beautiful custom jackets are made by his Aunty Helen Twelvetrees and Midori designs and sews her own gowns.
They travel to the LA Fabric district to find the latest in sequin materials about every two months, making sure to allot enough time to plan what's next in their busy performing schedule.
"So, when asked once again – why? why do we do it?" said Midori Ice. "Simply answered, because we enjoy giving back, and we have the time to do it."
The pair is known for their fun-loving, laid-back personalities and always find time to support other community organizations. It's the foundation of their work as Las Vegas PRIDE Royalty.
"Yes, it might not be for some, but we hope that the community can support all organizations and their chosen representatives and give what you can," Said Mikey Choy Foo. "We just ask that, when we step up in the spotlight, you show us some love!"